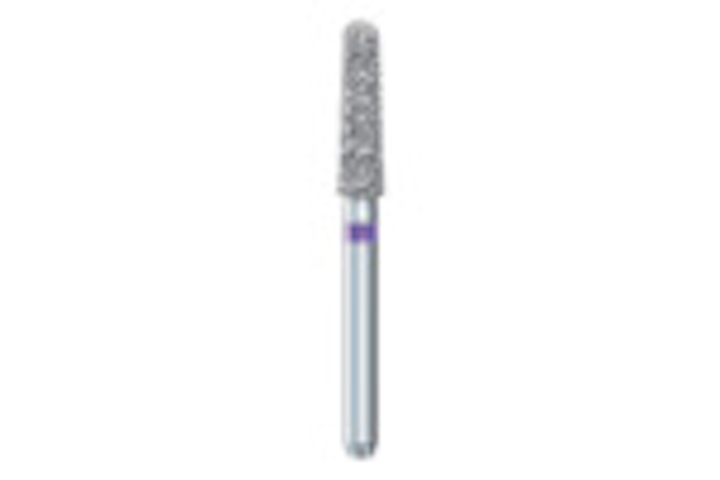 Wouldn't it be great if you could just sit back and do high margin clear aligner cases and implants all day long? Unfortunately, many of the patients that walk through your door need traditional, functional dentistry that involves cutting, finishing and polishing teeth. It's not always sexy, but it keeps your practice going until that next big full-mouth rehab.
Komet Deep Purple™ Diamonds are the real deal when it comes to high-performance prep for composite, ceramic crowns, and PFM. When the going gets tough, Deep Purple™ diamonds get going with extra-coarse diamond grains that are uniformly sized, and optimally embedded for consistent reduction. Deep Purple™ diamonds have been popular among dental practitioners and are specially designed for ultra-fast, effective substance removal, facilitating crown-preparation procedures.
"With Deep Purple™ diamond burs, the prep time for my crowns was significantly reduced. I highly recommend this bur to all clinicians." Elizabeth S. Morris, DDS Oxon Hill, MD.
Predictable finishing is about finesse and touch. Komet Q-Finishers® deliver optimal results and patient comfort. With innovative toothing, Q-Finishers® allow quality composite finishing in just two steps.
The last step is giving a restoration a natural shine and the importance of this cannot be understated since this is the 'proof' the patient sees with their own eyes. Engineered for durability and efficiency, Komet's Footsie™ Composite Polishers, CompoBrite™ Polishers, and ZR Flash Polishers offer versatility and impart a beautiful high shine.
By mastering cut, finish, and polish procedures, you can relax knowing that you can handle any case that comes in the door.
Learn more about the instruments that make Cut, Finish and Polish procedures go smoothly for your dental office by clicking here.