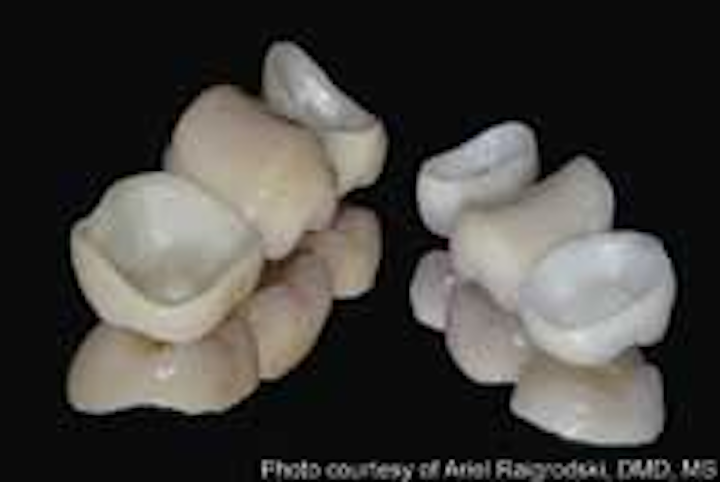 3M™ ESPE™ Lava™ Crowns and Bridges - If you are looking for all-ceramic crowns or bridges, be sure to investigate Lava zirconia crowns and bridges. I have found that Lava crowns and bridges give my patients excellent esthetics with a high degree of translucency along with outstanding marginal fit. Combined with its superior strength and high-fracture resistance, the fracture-toughening mechanism of zirconia allows you to forget about fractures. Your preparation technique is the same as for a PFM crown, with a chamfer or round shoulder recommended. I know there are other zirconia systems on the market, but this one is different. Lava crowns and bridges offers eight dentin shades for the crown coping or bridge framework to better match the natural tooth. You will more easily achieve a natural and vital appearance with these shaded copings. If your preparation is less than ideal or it has lost a large amount of tooth structure, the lab technician can use the Lava Wax Knife software to make the coping thicker in selected areas to avoid thick porcelain, which can fracture. It is really important to me to get the substructure support needed to keep porcelain from fracturing and ruining the crown or bridge. Bridges of up to four units - 38 mm - are available, with five to six units available in the near future. You can use it for crowns and splinted crown techniques as well. Lava crowns and bridges are available to you and your lab tech - without purchasing costly equipment - through the regional authorized Lava Milling Centers who mill the cores. Your technician then builds the porcelain. For more information, call the 3M ESPE Customer Care Center at (800) 634-2249 or log onto www.3MESPE.com/lava.
Kodak DX7590 Dental Digital Photography System - You should decide what camera to buy based on who is going to use the camera. If you are going to delegate your dental photography, then Kodak has a new camera designed with you in mind. Kodak Dental Systems has a new digital camera system that will capture dental images easily, so you can concentrate on patients instead of technology. The earlier Kodak models lacked a ring flash. Now, the Kodak system is complete with a dental ring flash and close-up lens that provides even, shadow-free lighting for those close-up shots. The large LCD screen with its built-in Dental Positioning Grid makes it very easy to get the exact image you want. Nobody in your office will be afraid of this camera. In less than 10 minutes, everyone on your team will be taking images. The Kodak DX7590 Dental Digital Photography System also features a high-resolution 5.0 megapixel CCD to provide excellent clinical image detail. Kodak also has doubled the internal memory to increase the storage capacity of the camera. The Kodak EasyShare printer dock makes it easy to create high-quality, four-inch by six-inch dye-sublimation prints directly from the camera. It is quick and simple to download your images to your computer software. Whether you use images for insurance documentation, patient communication, case presentations, patient documentation, or e-mail referrals, digital photography can greatly enhance patient care and improve your practice. And, the Kodak DX7590 Dental Digital Photography System will make taking images faster, better, and easier. Order from your dealer. Call (800) 933-8031 or visit www.kodak.com/dentalfor more information.
CLEARFIL S3 BOND by Kuraray - CLEARFIL S3 BOND is a self-etching, one-bottle bonding agent that provides significantly reduced postoperative sensitivity, and high bond strength along with being very easy and fast to use. With its one-bottle liquid, Clearfil S3 Bond dramatically simplifies bonding procedures while also providing a long-term durable bond; the improved features are the result of new and proprietary homogenous combining of hydrophilic and hydrophobic technology. Clearfil S3 Bond has minimal technique sensitivity, and is indicated for light-cured composites, desensitizing indirect preparations, desensitizing dentin, PFM repairs, silanating porcelain, and is especially excellent for use in pedodontic restorative procedures where speed is critical. Order from your dealer or visit www.kuraraydental.com for more information.
Cavity Busters Total Oral Healthcare Kit by PDC Press, Inc. - Dr. Gregory George is a pediatric dentist in Buffalo, New York, who has worked years to provide a well-done educational piece for his patients and, eventually, you. Greg markets the Cavity Busters Kit to dentists all over the United States. They've done all the work, so you can have all the fun! Anyone who works with children will want this kit. Good dental health care is a lesson that will last a lifetime. If you work with children in any capacity, this educational kit will be a big hit. Health-care professionals, dental hygienists and assistants, school nurses, teachers, public healthcare educators, and parents can use the materials to help children form good dental health habits. We also recommend the kit for daycare centers, after-school programs, and health clinics. This is an outstanding value and it includes Greg's famous book, Look Mom…No Cavities!, an educational adventure that teaches safe and effective ways to maintain good oral health care habits. Order by contacting PDC Press, Inc. at (888) 292-1991, Fax (716) 633-2435, or visit www.lookmom.com/drg.html for more information.
CompCore™ AF SyringeMix™ by Premier Dental Products Co. - Here is a new product that I came across at the Chicago Midwinter meeting last month. I was so impressed with the hardness of this product that I went over to a handpiece booth to try cutting on it. It is hard enough that it is almost like cutting dentin. CompCore AF is a dual-cure, fluoride-releasing, radiopaque composite core build-up material. The material will stack without slumping, and it comes packaged in one of the new smaller syringes that allows for quick and precise placement of the composite build-up. Because of the cross-linking of composite monomers - what Premier calls Hyperbranched Technology - you get more complete curing which results in better performance. More complete polymerization reduces composite shrinkage and contraction stresses that can lead to sensitivity, micro-leakage and secondary caries. Be sure to use IntegraBond adhesive, or check with your adhesive manufacturer for compatibility with dual-cure composites. This is a great new product that delivers on all of the promises! Order from your dealer or visit www.premusa.com for more information.