Best Pearls of 2009
It is always difficult to pick a "best" list, particularly when I feel that every "Pearl" was the best.
Dec 1st, 2009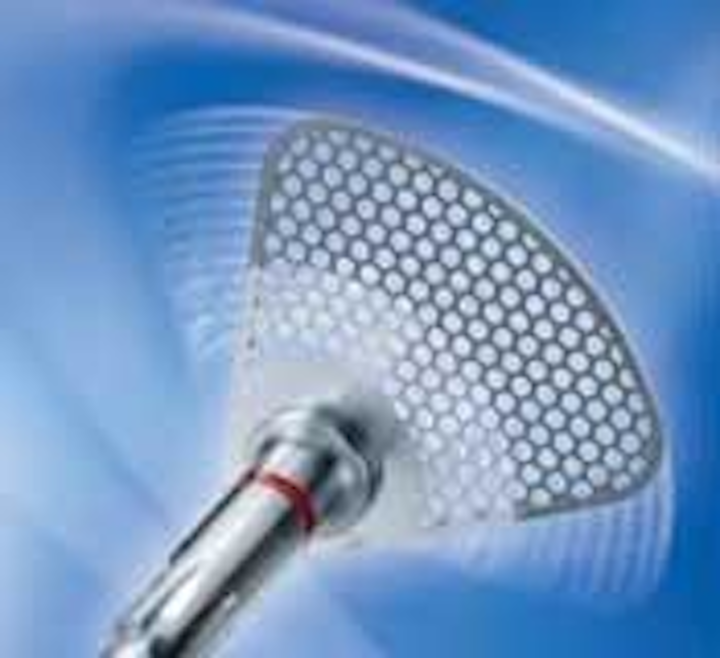 by Dr. Joe Blaes, Editor
It is always difficult to pick a "best" list, particularly when I feel that every "Pearl" was the best. This year I have chosen 12. They are listed in no particular order.
Oscillating Segment Discs for Interproximal Enamel Reduction from KOMET USA ... The oscillating 60° segment disc has a radius of just 1.4 cm and a pivoting angle of 30°, making it perfect for use in narrow areas. The discs are coated on one or both sides and can remove between 0.2 and 0.5 mm of interproximal tooth as required. The operator and the patient have greater comfort during the enamel reduction. Visit www. komet–usa.com for more information, or call (888) 566–3887.
The V3 Ring from Triodent ... These two rings have all molar and bicuspid sizes covered delivering separating force and tight contacts every time. The NiTi rings return to their original shape which makes them a longer lasting than stainless steel rings. The V3 Rings glass fiber reinforced plastic tines have been designed to match the buccal and lingual surfaces of the posterior teeth. To order call (800) 811–3849 or visit www.triodent.com for more information.
Traxodent™ from Premier® Dental Products Company ... This new product is a retraction and hemostatic system (with 15% aluminum chloride) for use prior to impression taking, cementation, bonding procedures or wherever tissue control is needed. Traxodent comes in a syringe with a bendable tip attached, ready for immediate use. After placement in the sulcus apply a Premier Retraction Caps, leave for two minutes and rinse. You will get detailed impressions! Visit www.premusa.com or order from your dealer.
Icon® from DMG America ... This product is minimally invasive dentistry at its best! Its name, Icon, stands for Infiltration Concept. Icon can arrest a carious lesion that is progressing in enamel only or is just barely into the dentin. On smooth surfaces, Icon combines early caries arrest with a cosmetic treatment of cariogenic white spots, and does this in only one sitting. Order from your dealer or go to www.dmg–america.com for more information.
EXA'lence™ Vinyl PolyEther Silicone (VPES™) from GC America ... In my hands, the answer to these perceived problems is EXA'lence, a new impression material from GC America that combines the best features of both VPS and Polyether. VPES is intrinsically hydrophilic without the surfactants that most VPS impression materials rely upon for wet ability. EXA'lence gives you the handling of VPS but with the detail of a polyether. Order from your dealer, or visit www.gcamerica.com for more information.
SureFil® SDR™ flow Posterior Bulk Fill Base from Dentsply Caulk ... Now you can bulk fill with a flowable base that will allow you to place a posterior composite in less time. The new stress–decreasing resin (SDR™) system allows for bulk placements up to 4 mm with a 20–second cure time. SureFil® SDR™ Flow delivers stress absorption, excellent cavity adaptation, and now the added benefit of bulk filling. For more information, visit www.surefilsdrflow.com or call (800) 532–2855.
Elipar™ S10 LED Curing Light from 3M ESPE ... This is a totally redesigned curing light in a seamless stainless steel case that is virtually unbreakable and is impervious to liquids making it easy to disinfect. The S10 can be set to timing intervals of 5, 10, 15, and 20 seconds, a continuous 120–second mode, and a 1–second tack–cure mode activated by keeping the start button pressed. Order from your dealer or visit www.3mespe.com/elipars10 for more information.
Estelite® Sigma Quick from Tokuyama ... Tokuyama has made the best anterior/posterior composite better. Estelite® Sigma Quick offers the same exceptional characteristics of Estelite Sigma, including outstanding polishability, high–gloss retention over time, wide shade–matching range with a chameleon effect, high wear resistance, less wear to opposing teeth, excellent radiopacity, and minimal shrinkage. Order from your dealer or visit www.tokuyama–us.com for more information.
Herculite Ultra from Kerr ... So while Herculite Ultra has many new benefits, the one that impresses me most is that the resin matrix now has a creamy, non–sticky consistency that makes handling and sculpting easy, and produces great esthetic results. The Vita® shade match blends with surrounding tooth structure so you often need only one shade to get the esthetic look you want. Order from your dealer or visit www.kerrdental.com/herculiteultra for more information.
QwikStrip™ from Axis ... These serrated strips are designed to make crown and bridge cleanup quick, safe, and simple after cementation of crowns, veneers, bridges, inlays, or onlays. Finish with the appropriate QwikStrip abrasive strip to smooth the final restoration. The depth–limiting design prevents soft–tissue irritation while the unique handle provides a comfortable grip for optimal tactile control. Order from your dealer or visit www.axisdental.com for more information.
Suni3D from Suni Medical Imaging ... The Suni system offers you many options to choose from. An all new 3–in–1 system allows you to go digital today and upgrade to 3D cone beam or one shot Cephalometric when you are ready. This is a great choice to have when planning for technology in your office. For more information, call (800) 438–7864 or visit www.suni.com.
OraVerse® from Novalar Pharmaceuticals ... OraVerse allows you to return patients to normal sensation and function in approximately half the time it took previously. It rapidly restores normal function so patients can speak, smile, and drink normally in approximately half the time. It is easy to use and requires only a simple injection. For more information, go to www.novalar.com.