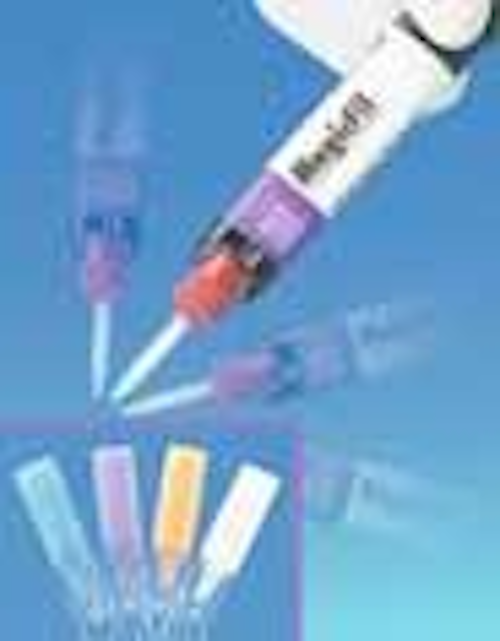 By Joseph Blaes, DDS
Pearl 1 — MagicFil™ by Zenith/DMG. How about having some fun the next time you place a filling in a primary tooth? Ask your patients what sparkling color they would like to have ... Ocean Blue, Wild Berry, Sunny Ye-llow, or Cool White.
You may want to show your pediatric pa-tients the new, sparkling colors on a model to help them choose. Once the color has been decided, fill that tooth with MagicFil, a new dual-cured, compomer filling material designed specifically for deciduous teeth. The kids in your practice will be showing all their friends their new, sparkling, colored fillings. Quickly place MagicFil into the cavity prep with the small Smartmix™ syringe and light cure for 40 seconds. Then, get out the mirror and show off the sparkling new filling! MagicFil has a low viscosity for easy placement, contains fluoride to help prevent decay, and zinc to reduce bacterial activity. Order MagicFil from your dealer or visit Zenith/DMG at www.zenith.com for more information.
Pearl 2 — Originate™ Disposable Impression Tray by Axis Dental. Finally, a dental manufacturer has listened to us and eliminated the palate in its upper impression trays. Originate impression trays are palate-free, which helps to control the gag reflex and uses less impression material. These trays can be used with any type of impression material that you use in your procedures for crown and bridge, bleaching trays, mouth guards, and diagnostic models. An innovative locking plate on the bottom of each tray securely locks the impression material into the tray, which eliminates the need for adhesives. I still use a little adhesive around the edges of the tray just to be sure. The trays are color-coded for easy identification of upper and lower and the size.
Another innovative idea from Axis: Each Originate tray is individually packaged in a plastic bag with an identification tag. Now your patients won't wonder where that tray has been before you place it in their mouths. If you have been looking for a disposable tray to make your life easier, this is it. Order Originate disposable impression trays from your dealer, or visit Axis at www.axisdental.com for more information.
Pearl 3 — Opalescence® NOW™ by Ultradent Products, Inc. This is a quick and easy way to give a patient a custom tray without all the bother of impressions, models, and lab time.
Opalescence NOW contains a soft, plastic tray that is heated and formed directly on the teeth. Once cooled, it can be scalloped easily.
Ultradent has special pricing that makes this an economical alternative to strip-type bleaching. Call (800) 552-5512 to order or for more information.
Pearl 4 — Tescera™ ATL by Bisco. This new, indirect composite restorative system is an innovative combination of water, heat, and light. Bisco has combined the TESCERA indirect composite system with the ATL processing unit. It is a proven fact that pressure prior to curing eliminates porosity, which gives optimal surface properties to the composite restoration. Most indirect composite systems use nitrogen to eliminate oxygen, but the Tescera ATL unit uses water.
The ATL allows the technician to build up the incremental layers necessary to build inlays, onlays, crowns, and bridges under pressure and light. The oxygen-free environment creates a high-gloss surface that is resistant to staining. The resulting Tescera ATL restorations not only will give you all of the advantages of composite-like polishability, bonding strength, and kindness to the opposing natural teeth, but you also will have the beautiful look of porcelain. This is a product you need to try to believe. The results are great!
For more information, call Bisco at (800) 247-3368, or visit www.bisco.com — you'll be glad you did!
Pearl 5 — Gelclair™ by John O. Butler Company. This is a new prescription product designed to coat the wound and soothe the pain of oral lesions. Gelclair is indicated for the management and relief of pain associated with lesions of various etiologies such as diffuse aphthous ulcers, mucositis, scaling, biopsies, grafts, irritations from orthodontic procedures, sores from ill-fitting dentures, and disease. Gelclair is dispensed in dose packs that are mixed with water and then swished around the mouth for at least one minute or longer as necessary to coat all oral tissue thoroughly. The material does not irritate, sting, or burn, and no adverse effects are anticipated.
In mild-to- moderate oral lesions and ulcerations, Gelclair provides as much as five to seven hours of pain relief. In severe mucositis (such as that from concurrent radiation and chemotherapy for head and neck cancer), Gelclair provides as much as 45 minutes to two hours for pain relief.
Please visit www.jbutler.com for more information and prescription instructions.
PEARLS UPDATE:
• Adper™ Prompt™ L-Pop™ Self-Etch Adhesive by 3M ESPE. The chemists at 3M ESPE have made some significant changes that have improved the bonding strength and the mixing of this product. The Adper Prompt L-Pop that is available today is entirely different than when the product was first launched.
The L-Pop delivery system has been improved to allow easier flow of the materials from one chamber to another, allowing a more consistent and reliable mix. Improved chemistry gives an even better dentin bond strength, and provides an aggressive enamel etch and a higher viscosity for a more consistent hybrid layer. It will now cure with any light source.
Order from your dealer or visit www.3MESPE.com for more information.
Dr. Blaes has a general practice in the St. Louis area. He is known for his expertise in dental materials and techniques and his innovative systems designs. He writes and lectures on "How To Increase Productivity and Profitability." Dr. Blaes is a member of the American Academy of Dental Practice Administration. He may be reached at joeb@pennwell.com.