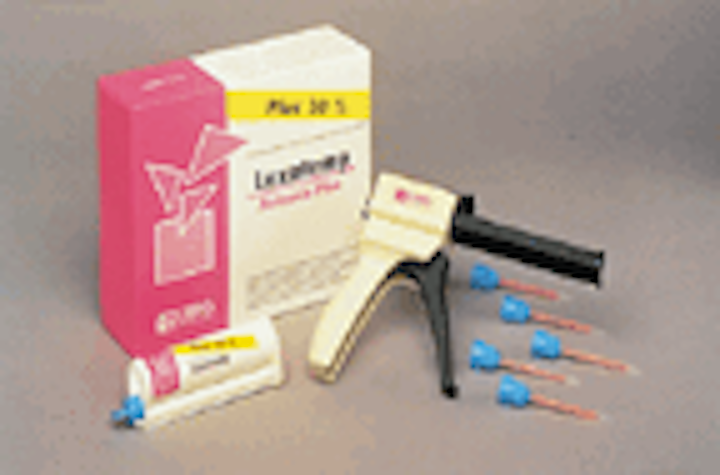 Joseph Blaes, DDS
Pearl # 1 - Luxatemp Automix Plus System by Zenith. You should be aware by now that a big change is occurring in cartridge systems that we use to mix and deliver materials in dentistry. All cartridge systems and dispensing guns are changing. The new cartridges will not be compatible with the old dispensing guns. It will no longer simply be a matter of changing the slide in order to accommodate a new temporary material or a new impression material. Out with the old guns; in with the new. That`s the bad news! The good news is that the new cartridges are stronger and usually larger. That is what has happened to my favorite bis-acryl temporary material - Luxatemp. The Automix Plus cartridge holds 30 percent more material, and the small catalyst port that has caused many of you problems in the past has been eliminated. The dispensing ports have been made larger and have been separated to eliminate cross-contamination of materials and clogging of the ports. This is an extremely important change in this delivery system because all of the waste has been eliminated. It no longer is necessary to bleed the cartridges each time before placing a new tip. This eliminates the most common excuse not to use a bis-acryl temporary material. Now, when you open a new Luxatemp cartridge, you bleed the cartridge once and place a tip. Deliver the mixed material into your matrix and make your temporary. Now you can remove the tip and replace the cap. The next time the cartridge is used, it is not necessary to bleed the material when you remove the cap and put on a new tip. Wow! What a great improvement. The new Luxatemp Plus cartridge fits quickly and easily into the new dispensing gun that was designed with the clinical assistant in mind. The new dispensing gun has a material flow with much less trigger pressure required. The new tips are smaller and more compact, which results in less air being incorporated into the temporary. This means you will have fewer bubbles and voids in your tempo
Pearl # 2 - DuraLite Instruments From Nordent. I recently came across these instruments made by a company that has been around for more than 25 years in Chicago. Somehow, I had never heard of them. I am sure that some of you probably know of the company and love their instruments. The DuraLite is a lightweight handle designed for all your favorite instruments. The handle is ergonomically designed to rest comfortably in your hand, and this is exactly what it does. This instrument really does all that it claims. There is an incredible weight difference between our standard instrument pack and the pack with our new DuraLite instruments. Now, here is more good stuff: The handles are all stainless steel and are all handcrafted. They won`t crack, peel, stain, or wear out - no matter what sterilization method you use. The handles have a light texturing that minimizes slipping. They are easy to clean because there are no deep grooves to trap tissue, blood, and debris. Because of the design, it will not roll around on the tray or roll off the tray onto the floor. Nordent has thought of everything, because it even fits in all cassette configurations. Whether you need diagnostic, hygiene, operative, or surgical instruments, take a look at Nordent for fine quality at a good value. My hygienist has tried the hygiene instruments and loves the feel and the lightness. She claims to have less hand fatigue at the end of the day. Take a look at this great line of instruments. They are guaranteed! Call Nordent at (800) 966-7336.
Pearl #3 - 3M Imprint II SBR Occlusal Registration Material. This material is an addition to the popular Imprint II line of impression materials. You will need the 3M Type HP dispenser to use this material, so be sure you have one of these before you order. As I told you before, be prepared for a wholesale changeover in the dispensing guns for cartridge-type materials. The material does a great job of getting a fast, accurate, and rigid interocclusal record. It resists slumping and offers very minimal resistance to closure, assuring a proper occlusal record. You have a 30-second working time and a one-minute set time in the mouth. You or the laboratory can easily trim the material. This is an all-around good material that is a great addition to the Imprint II line. Order from your dealer.
Pearl # 4 - Procera by Nobel Biocare USA. During the past few months, I have had the opportunity to use the Procera AllCeram crowns. Unlike other all-ceramic crowns, this one has been developed with extra strength for every position in the mouth, even in the posterior. This means you can eliminate the PFM crown in the posterior and get rid of metal allergies. Those ugly dark or discolored margins will be a thing of the past with this unique crown. The process of making this crown has eliminated three of the areas that cause laboratories the most problems in controlling the quality of their products, namely, waxing, investing, and casting. The coping is computer-machined directly onto the die. You can use conventional preparation techniques and only a 1 mm chamfer prep is required. There are no cementation restrictions, so you can use your favorite cement. The shades are fantastic. In areas where you need more strength, this is a great choice. One drawback: You must allow some extra lab time for the process. Call Procera at (800) 891-9191 for the address of a lab that belongs to the Procera Network.
Dr. Blaes has a general practice in the St. Louis area. He is known for his expertise in dental materials and techniques and his innovative systems designs. He writes and lectures on "How To Increase Productivity and Profitability." He may be reached at (314) 434-6808.
Pearl 1
Pearl 2
Pearl 3
Pearl 4