Pearls For Your Practice
Sonicare DiamondClean by Philips is the latest innovation in the Philips Sonicare product range that takes power tooth brushing to ...
Mar 1st, 2012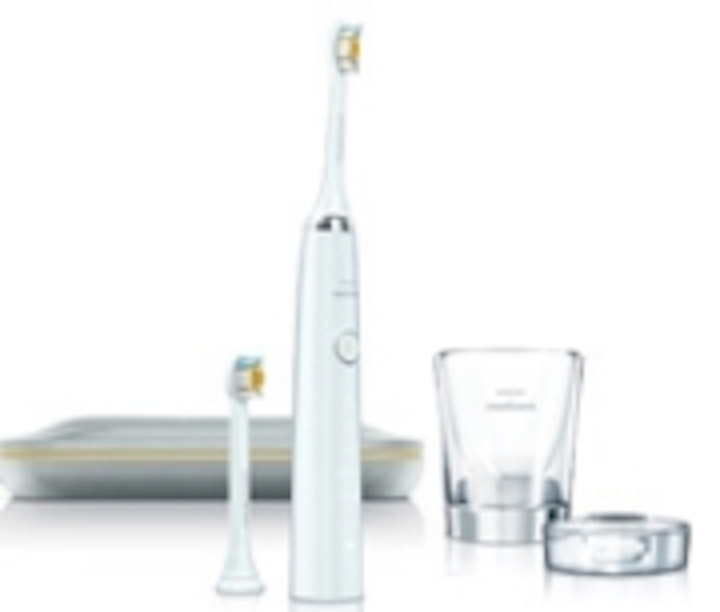 Joe Blaes, DDS
Sonicare DiamondClean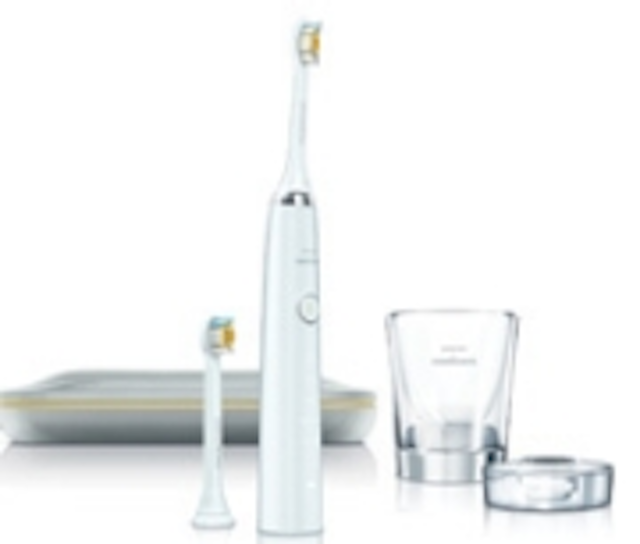 by Philips
Sonicare DiamondClean by Philips is the latest innovation in the Philips Sonicare product range that takes power tooth brushing to its most sophisticated level yet. In addition to its stylish, first-of-its-kind, charging glass, Sonicare DiamondClean has unique features to improve gum health in just two weeks, and whiten teeth in just one week, versus a manual toothbrush. Uniquely designed brush head: The DiamondClean brush head has 44% more bristles than the standard size FlexCare ProResults brush head, providing superior plaque removal and whiter teeth. It is available in two sizes — standard and compact. Stylish features: The power handle features a ceramic finish and a chrome accent ring. The brushing modes are illuminated through the handle when the power button is pressed, and they are selected by scrolling down using a one-button action. Five brushing modes: 1) Clean — this is the standard mode of a whole mouth two-minute clean. 2) White — this mode removes surface stains to whiten teeth. 3) Polish — this mode brightens and polishes teeth to bring out their natural brilliance. 4) Gum care — this is the mode to gently stimulate and massage the gingival tissues for three minutes. 5) Sensitive — this mode is extra gentle for sensitive teeth. Charging features and accessories: A unique charging glass will charge the toothbrush while it's resting in a glass. It is stylish enough to display in the most fashion-forward bathroom. A USB travel case can be plugged into almost any laptop or wall outlet for a powerful three-week charge.
Visit www.philips.com for more information
MI Varnish™ with RECALDENT™ (CPP-ACP)
by GC America.
The dental literature reports an increase in decay in children and older adults. GC America has introduced a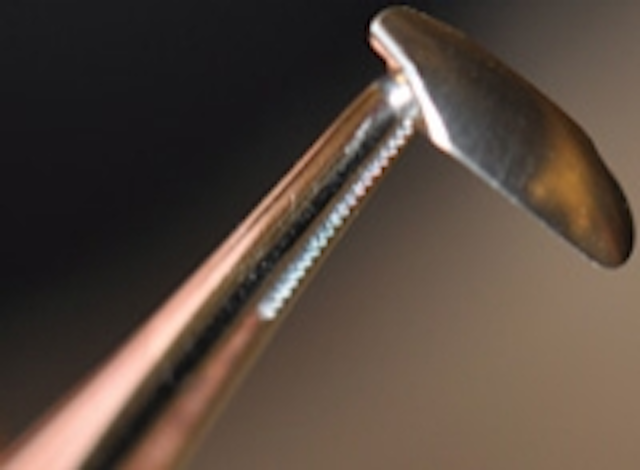 product that can easily slow down this increased threat to teeth. MI Varnish is for patients that are at risk for caries. Fluoride is an important component along with calcium and phosphate in the fight against demineralization and caries. MI Varnish helps to make fluoride plus calcium and phosphate more bioavailable to gain that extra boost of protection. It enhances enamel acid resistance and contributes to higher salivary calcium and phosphate levels. The fluoride (from NaF) along with the calcium and phosphate makes the clinical choice for you, your staff, and your patients. You can now offer your patients a comprehensive in-office and at-home treatment plan. MI Varnish joins MI Paste™ and MI Paste Plus™ in providing a comprehensive system for the dental team. If a patient has a moderate to high caries risk assessment, use MI Varnish in-office and then instruct the patient to continue their daily care at home with regular use of MI Paste or MI Paste Plus to enhance the calcium and phosphate bioavailability. MI Varnish, used in conjunction with MI Paste and MI Paste Plus, results in a well-rounded treatment plan for strong, healthy teeth. It is available in a 50-unit dose box. The unique unit dose containers are easy to open and contain enough material for a typical full mouth application. An application of MI Varnish is smooth and dries clear. The fresh strawberry flavor is appealing to both adults and children. Your team can also use this product for treatment and relief of hypersensitive teeth because it seals and penetrates into dentinal tubules, effectively blocking out external stimuli.
Order from your authorized GC America dealer or visit www.gcamerica.com for more information.
Relyant™ Scalers and Curettes
by Nordent®
When I told my hygienist, Karen, that there was a company that was guaranteeing that she would never have to sharpen instruments in the office, she asked what I had been smoking. I told her she could spend more time with her patients and still have perfectly sharpened instruments any time. This company is Nordent. NEVER SHARPEN AGAIN! Relyant Scalers & Curettes are the first Total Instrument Solution and come with free

unlimited Nordent Professional Sharpening services. Send them in for prompt expert sharpening as often as needed. They will take care of them for you for the lifetime of the instrument. Then when it's time for a new one, take advantage of a 40% off trade-in program on identical replacements. No more worries of burnishing calculus with a dull instrument. This is a hassle-free service with fast in-house turnaround. They can restore Relyant Scalers and Curettes to the original blade angels and factory sharpness any time you want! This is a superior alternative to instrument retipping companies. Rely on Nordent; they will keep instruments sharp for you, for free, for life.
For more details about Relyant and a free sharpening from Nordent, visit www.neversharpenagain.com.
THE Consummate Dental Hygienist –Solutions for Challenging Workplace Issues
A New Book by Dianne Glasscoe Watterson, RDH, BS, MBA
Dianne's new book is a compilation of Dianne's best and most interesting topics that she has written about the past five years. Dianne addresses challenging interpersonal relations with patients, coworkers, and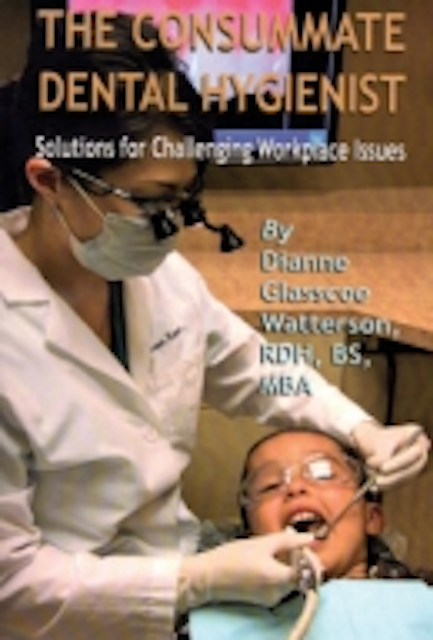 management. She also covers many relevant clinical issues, such as the importance of periodontal probing, periodontal maintenance, and blood pressure issues. Then Dianne covers a multitude of practice management and legal issues for dental hygienists. She ends with her thoughts on what it takes to be a consummate dental hygienist. This book will be a valuable resource for hygienists in all stages of practice life, as well as dental hygiene students. I asked Mark Hartley, the editor of RDH magazine who knows Dianne and her contribution to dentistry and the hygiene profession well, to comment on her new book. "Dianne Glasscoe Watterson is a friend to the entire dental profession. Her articles are words of calm during the storms of our careers. She reaches out to us to advise and encourage us to proceed full-speed ahead with confidence. The insights that she provides make us better professionals, and more compassionate at what we do on a daily basis. She makes us realize that, yes, being a dental professional is not easy, yet plentiful solutions are available as we make our decisions." Whether you are a hygienist or a dentist, you need to read this book. It will enrich your life and help you to serve those people we call patients better every day.
To order visit www.professionaldentalmgmt.com or call (301)874-5240.
To have Dr. Joe Blaes present his lecture, "Pearls For Your Practice®," for your study group or dental society, please call (866) 274-4500.
More DE Articles
Past DE Issues