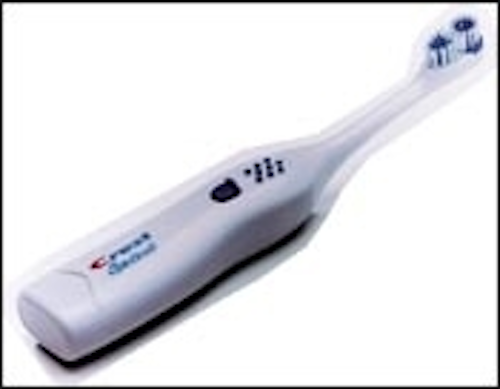 SpinBrush™ makes electric toothbrush technology affordable
The Crest SpinBrush™ is an easy-to-use, battery-operated toothbrush that gives families the efficacy of an electric toothbrush at manual toothbrush prices.
Designed with a combination of high-quality Dupont oscillating and stationary bristles, it is highly effective for cleaning teeth and removing plaque. The combination of bristles also allows people to use the manual toothbrush motion they're used to while getting the enhanced benefits of an electric toothbrush.
The Crest SpinBrush™ for Kids comes in four designs and the adult version features six vibrant colors plus the Classic white design. They are available in retail stores nationwide.
For more information, check out the Crest Family Care Center at www.crest.com.
CAESY unveils Beautiful Smiles Album
CAESY Education Systems, Inc. recently introduced a new edition of its popular Beautiful Smiles album, featuring 12 stunning examples of before-and-after dental artistry. The album is a subtle but extremely effective way to promote cosmetic services. By placing the album in the reception area, doctors will find that patients are more likely to ask about whitening, lengthening, or filling in the gaps between the teeth.
For additional information or to place an order, call CAESY Education Systems at (800) 691-9026 or visit www.caesy.com.
Clinpro™ sealant
3M™ ESPE™ introduces Clinpro™ Sealant, the newest member of the Clinpro family of preventive products. Featuring color-change technology, Clinpro™ Sealant goes on pink for easy-to-see application, and cures to a natural white. A convenient ultra-fine syringe tip makes application easy.
The 3M™ ESPE™ Clinpro™ Sealant introductory kit includes two 1.2 milliliter Clinpro™ Sealant syringes, one 3 milliliter 3M™ ESPE™ Scotchbond™ Etchant syringe, 20 sealant syringe tips, and 25 etchant syringe tips. Additional product pack-outs are available, including an introductory kit with sealant in bottles, and refill kits of syringes or bottles.
For additional information, call (800) 634-2249 or visit www.3MESPE.com.
Black dental floss
A new idea in dental floss from Oral Health Products, Inc. is now on the market. Percept, a black dental floss, is a great visual aid in teaching patients personal oral hygiene because the plaque removed contrasts with the color of the floss. The floss comes in spools of 100 yards.
For additional information, contact Oral Health Products, Inc. at (800) 331-4645 or visit www.oralhealthproducts.com.
LuxaCore® Dual Automix
Zenith/DMG recently released LuxaCore® Dual, a revolutionary new dual-cure version of its popular LuxaCore® core build-up material. LuxaCore® Dual gives dentists a choice: lightcure in as little as 20 seconds for maximum speed or allow the material to self-cure in minutes for increased working time.
Like the original formula, LuxaCore® Dual is a superior strength composite resin that cuts like dentin. It is also radiopaque and releases fluoride to reduce secondary caries. LuxaCore® Dual is supplied in both introductory and refill kits.
For more information or to place an order, call Zenith/DMG at (800) 662-6383 or visit www.zenithdmg.com.
Buy direct!
A&M Instruments, Inc.'s extensive line of quality dental burs now offers an additional new line of 40 disposable diamond burs in a variety of shapes and grits. Achieve desired results in one easy step, no more sterilization needed. The disposables are priced reasonably, but provide reusable quality. Your complete satisfaction is guaranteed.
Find out more information by calling (866) 264-4287.
DENTO Clinic® toothbrushes
Zion Miracle Products introduces the DENTO Clinic® premium brand of toothbrushes. Made in the U.S. with only the finest ingredients, DuPont Tynex® end-rounded bristles, and two-piece composite handles made with both rubber and plastic to ensure grip and comfort, they convey a quality image for your office to your patients, while saving you money. The brushes are available in adult and kid sizes.
For free samples or additional information on prices and imprint costs, call (888) 228-7706 or visit www.dentoclinic.com.
Twist2It offers a free air scaler
The success of the free ProphyMiracle Slow Speed Handpiece giveaway offer has prompted Twist2It to include The Pink Scaler as the next free handpiece with the purchase of a bulk order of the Twist Reciprocating Disposable Prophy Angle. You may choose between the Slow Speed Handpiece or the Air Scaler. Please note that supplies are limited for this special giveaway offer.
The Pink Scaler is simple to operate, with its slim, lightweight shape and balance, and it effectively removes the toughest of calculus buildup while remaining gentle to the patient.
For additional information, contact Twist2It, Inc. at (877) PROPHYS or visit www.twist2it.com.
Practice Development Package
Unprecedented within the dental industry, MicroDental Laboratories has developed a comprehensive Practice Development Package that is designed to help clinicians promote the benefits of cosmetic dentistry within their own packages. The kit, titled "Teeth, The Ultimate Accessory,™" can be purchased as a complete kit or in individual items.
For additional information or to place an order, call (800) 229-0936, Ext. 520.
Two new Next® Prophy Paste flavors
Preventech introduces two new flavors of its Next® Prophy Paste — Cinnamon Burst and Chocolate Mint. Both products are available in medium and coarse grits and guaranteed to please even your most discriminating patients.
Next® Prophy Paste features a nonsplatter, flash-rinse formula and provides the user with smooth handling characteristics and excellent stain removal.
For additional information, contact Preventive Technologies, Inc. at (800) 474-8681 or (704) 849-2416.
Brushless flossless hygiene appliance
Dentists now can recommend dental air force, instead of brushing and flossing. It is the only home appliance of its kind to receive FDA marketing approval. The electrical system uses a precision jet of air, water, and dental cleaner to remove plaque and odor from teeth, in between teeth, and around the gum line.
For additional information on this system, call air force inc. at (616) 399-8511 or visit www.dentalairforce.com.
Cookie Dough and Zinnamon prophy paste
NUPRO Prophy Paste introduces two new flavors: Cookie Dough and Zinnamon. Younger patients will love the hints of vanilla and chocolate in the Cookie Dough flavor, while adults will appreciate the zingy, zesty flavor of Zinnamon. Both flavors are available in fine, medium, and coarse grit.
For more details, contact Dentsply Professional at (800) 989-8826 or visit www.professional.dentsply.com.
Professional Crest Whitestrips available
Procter & Gamble recently announced an exclusive offering to dentists — new Professional Crest White-strips — that will provide even stronger results than the kit available for sale directly to consumers.
The Professional Crest Whitestrips kit will include a three-week supply of strips (vs. two for original Whitestrips), an increased level of peroxide, new Crest Dual-Action Whitening Toothpaste, and a Crest Complete Extra Soft toothbrush to keep new stains from forming.
P&G launched its national consumer advertising campaign last month, geared toward the Crest Whitestrips and the Professional Crest Whitestrips. Crest will be partnering with dentists in a number of ways. They include the dentist finder — the Crest Whitestrips Internet site allows visitors to identify dentists offering professional-strength Crest Whitestrips kits. Crest positions Crest Whitestrips as one of many whitening options available to dentists and patients, saying it is 10 times better than the leading whitening toothpaste. P&G also will be providing a wide variety of tools to help professionals build their whitening practices, including continuing education on whitening and practice management.
For more information, visit www.dentalcare.com.