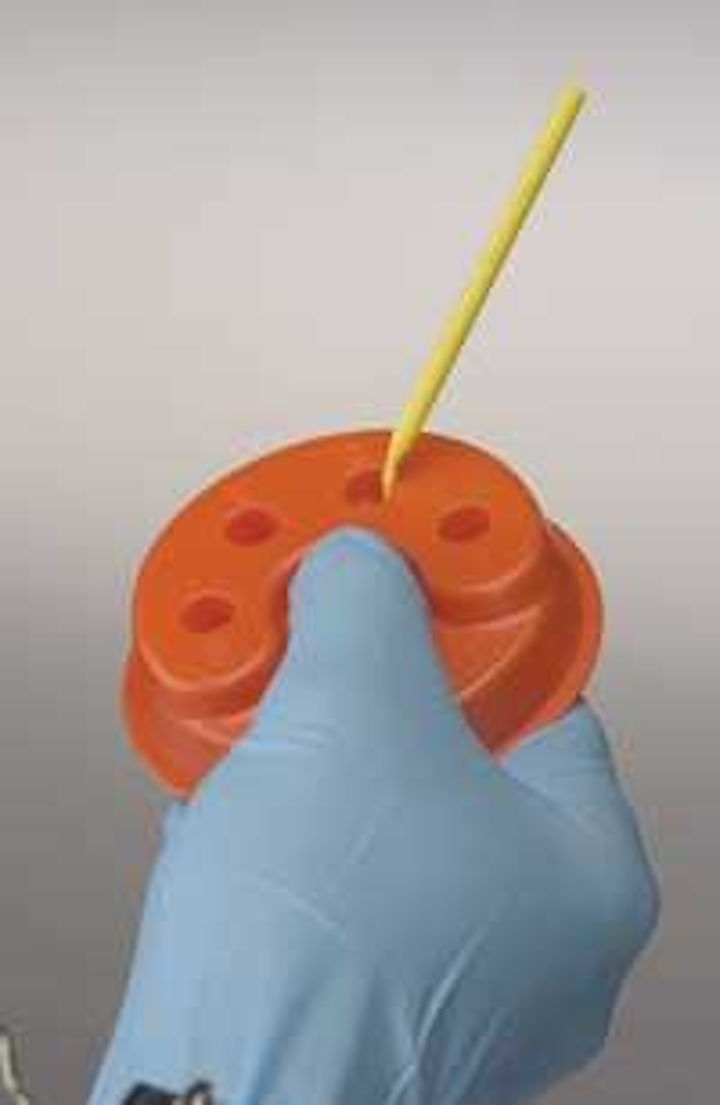 Benda® MicroWell™ by Centrix, Inc. - This mixing well is like nothing you have ever seen. This is a totally new design that when you see it, you will wonder why nobody thought of it before. Rather than the shallow wells you are used to in other products, these wells are deep and tapered with a rounded bottom. They are designed to pool drops of liquid rather than spread them out like shallow wells.
This gives you more efficient use of the liquid, and it also exposes less surface area to light and evaporation. In addition, the deep wells make spilling much less likely. The MicroWell is photo-block orange for almost no transmission of ambient light, and it comes with four wells arranged in a row rather than in an up-down-left-right grid. This ensures less potential for mix-ups, which can be disasterous. There are times when you may want to dispense additional liquids such as desensitizers, disinfecting agents, alcohol, caries detector, etc. The spare wells also can be used to hold extra brushes, cotton pledgets, etc. Centrix gives you four wells - use as many as you need. With deeper wells, the MicroWell is slightly larger but much more stable and easier to pick up and hold at chairside with the convenient "thumbprint" handle. Centrix designed MicroWell to fit the Benda® Micro applicator. It will stand up like a pen in a holder, even if it is bent to any angle. This saves time and wasted motion when doing a procedure. Other brushes commonly found on the market will fit as well. The MicroWell is designed to be single-use and disposable. I think you and your assistant will enjoy using the new MicroWell. For more information, call (800) 235-5862, visit Centrix online at www.centrixdental.com, or call your favorite dental dealer.
IntelliClean System from Phillips Oral Health Care - This is a whole new way to brush. The IntelliClean system from Sonicare and Crest is a powerful combination providing a deep cleaning that's one step closer to the results of daily flossing. This is the first integrated sonic toothbrush and liquid toothpaste dispensing system. It combines the patented Sonicare high­­­­-speed bristle motion with a new, specially formulated liquid toothpaste from Crest. The push of a button ­deliv­ers noticeable results. The system has been designed to provide a deep, thorough cleaning throughout your mouth by driving liquid toothpaste beyond the reach of the bristles into hard-to-reach areas, such as deep between teeth and along the gum line. The system has been proven to reduce gingivitis and promote healthy gums. Crest liquid toothpaste dispensed during brushing provides an extra burst of freshness. It significantly removes stains for naturally whiter teeth, yet is more gentle on dentin and gums. You and your patients cannot lose on this one - if you are not 100 percent satisfied, the company will give you a full refund. For more information, call an IntelliClean System specialist at (800) 676-7664 or visit www.intel licleansystem.com.
Ansell Micro-Touch® ErgoGrip™ gloves - I have been wearing hand-specific gloves ever since we had to start wearing gloves. Yes, they are more expensive to buy, but the fit of the gloves and the comfort of my hands has always been very important to me. I have observed many dentists and assistants in clinical situations, and it always amazes me that many times their gloves do not fit them. They are either too large or too small. How can you possibly do precision work when your gloves do not fit? Here's a great new hand-specific glove that fits well and is easy to put on because of a special polymer coating that allows either dry or wet hands to slip into the glove. The Micro-Touch gloves are powder-free to eliminate hypersensitivity, and they have an anti-slip, smooth finish. The gloves are made of natural rubber latex and are manufactured within the quality guidelines of ISO 9001 and FDA-QSR. These gloves have a great feel and are especially good for those very long procedures. Ansell packages the Micro-Touch ErgoGrip gloves 50 pairs per box in sizes 6½ to 8½. Order from your dealer or call (800) 952-9916 for more information.
Tongue Cleaner, Brush and Scraper combination from Sunstar Butler - What a great idea: Combine a brush and a scraper for an optimal, comfortable clean. This system controls bad breath by keeping gums, teeth, and tongue clean. Add years to your life by having healthy gums and a healthy life. This device reaches between the papillae on the surface of the tongue to loosen and remove bacteria and food particles that cause bad breath while it removes bacteria that are known to cause tooth decay and gum disease. It has a comfortable design with a narrow head to minimize your patient's gag reflex. The handle fits easily into the hand for a comfortable grip. To order, see your Sunstar Butler representative, call (800) 528-8437, or visit www.sunstarbutler.com.
Captek Update - The use of Captek continues to increase dramatically in the United States, owing largely to the esthetic advantages the system provides for crowns and bridges over traditional PFM restorations. And, since Captek restorations are indicated for many clinical situations and require no procedure changes vs. traditional metal ceramics, the choice is practical and often preferred over metal-free alternatives. Even though the esthetic potential is obvious, there are other substantial reasons why Captek continues be a popular restorative choice. First, it is important to understand what Captek is; there is still a misconception that it is just high noble gold. Captek is more than 90 percent gold, while high noble gold is slightly more than 60 percent gold. The secret to the system is that the gold is internally reinforced with a hard, stable structure of pure platinum and palladium. The structure of the metal coping is the key in providing an esthetic structure that is also high in fracture resistance. The research is compelling on this unique structure of Captek. Its resistance to plaque makes it a good solution for many patients, and it is highly recommended for patients who are predisposed to periodontal problems. Captek is now being used for crowns on endodontically treated teeth and implant abutments. Many other companies continue to mate their new ceramic products to the stable and beautiful Captek understructure. Most recently, Dentsply has released a research report on the benefits of using the Captek understructures with their ceramic product. Lab prescriptions for this product have increased every year during the past decade. Dentists have seen these crowns on recall after recall, and they have seen the long-term soft-tissue results. The company has developed and provided industry-recognized, technical training for the Captek certified laboratories, as well as developed laboratories that specialize in providing the frameworks for labs that do not have the system. For your next case, ask your lab to use Captek. Visit www.captek.com for more information.