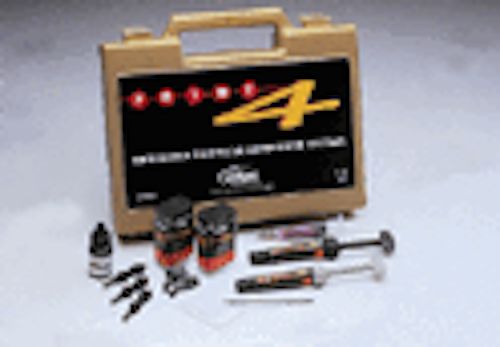 Joseph Blaes, DDS
Pearl 1 ? Point Four by Kerr. This is an interesting name for a new OuniversalO composite system. Point Four is an optimized particle composite system of glass particles that are consistently in the range of .4 microns. By accomplishing this regularity in particle distribution and size, Kerr has produced a composite that has the strength of a hybrid and the polishability of a microfill. Now you can simplify your procedures by having just one product for all your composite needs. Point Four is a direct composite that can give you the esthetics through a wide variety of shades and a true chameleon effect for blending with adjacent teeth. I have used this material during a period of extensive field testing and have had excellent results in all areas of the mouth. If you are ready to reduce composite inventory, call your dealer and ask for Point Four. For more information, call (800) KERR-123 or visit their web site at www.kerrdental.com.
Pearl 2 ? SoftLine by Micro Select. This is a new chairside silicone soft-relining system that is applied chairside via an auto-mix cartridge delivery system. The SoftLine material is easy to use, has a good consistency that will stay where you put it, is not runny, and sets in the mouth in three minutes or less. SoftLine can be used to relieve pressure areas, provide post damming in the case of adhesion problems, and for cushioning of implants when using an overdenture during the healing process. The bonding agent provided achieves a very strong bond with denture acrylic. SoftLine trims easily and polishes quickly with a varnish material to smooth trimmed borders. Micro Select is a division of MicroDental Laboratories. Call (800) 840-2650 for more information or to order.
Pearl 3 ? X-tip Anesthesia Delivery System by X-tip Technologies. Leave it to a couple of dentists to come up with the solution for Ofinding the hole!O The most frustrating problem with intraosseous anesthesia systems has always been to get the needle back into the hole that you have drilled in the bone. This problem was the major reason I gave up on a great system for getting instant profound anesthesia. Now comes a new system developed by Dr. Kit Weathers of Dental Root Camp fame. This system simply leaves a marker ? the X-tip ? where you drilled into the bone. I know you will find that this simple system will revolutionize your anesthesia technique. No more painful anterior injections, because placing an X-tip distal to the cuspid numbs all the teeth to the midline. Never again postpone treatment because you can?t get a tooth numb! Don?t even think about this one; pick up the phone and call (800) 215-4245 to order. If you are skeptical, order the Starter Kit for $29.95. I know you will be convinced and will shortly reorder a regular X-tip system!
Pearl 4 ? Biogel Gloves by Regent Medical. I discovered when I first began wearing gloves that I have less finger fatigue and a better fit and feel if I wear sized right/left gloves. Now Regent, the world leader in medical gloves, brings a powder-free, sized glove to dentistry to eliminate starch glove powder complications. The Biogel brand is the world?s finest surgical glove with a Biogel coating for easy donning with wet or dry hands. The gloves offer a curved finger design for outstanding comfort, fit, and feel, and they come with a beaded cuff to reduce roll-down. They are packaged sterile and are available in right/left in half-sizes from 51U2 to 9. Regent makes a number of other styles of right/left gloves. As you might expect, these gloves are more expensive than what you are using now, but they are extremely comfortable for those long procedures and are much more durable. Call Regent at (888) 566-3662 for more information, for samples, or to order.
Pearl 5 ? SmartBrush by The SmartBrush Corporation. I came across this brush at the ADA meeting in San Francisco and have been using it myself since then. I could hardly miss their booth since it was right across from the Dental Economics booth. This is a brush designed by a dentist whose patients had difficulty brushing those hard-to-reach tooth and gum surfaces of the mouth. It is unlike any brush you have ever seen in that you can rotate the head 45 degrees in either direction, and you can change the shape of the bristles by bending the head. I know this all sounds kind of crazy and gimmicky, but it really works. This is one of those things that you have to try yourself, so give SmartBrush a call toll-free at (877) 476-2782 or fax them at (770) 381-9038 and ask for a sample. I think you will like it as much as I do. SmartBrush is being marketed only through dental offices and is not available in retail stores.
Dr. Blaes has a general practice in the St. Louis area. He is known for his expertise in dental materials and techniques and his innovative systems designs. He writes and lectures on OHow To Increase Productivity and Profitability.O He may be reached at (573) 686-2388. To purchase these products as well as other recent Pearls, please visit www.dexpo.com.
Pearl 1
Pearl 2
Pearl 3
Pearl 4
Pearl 5