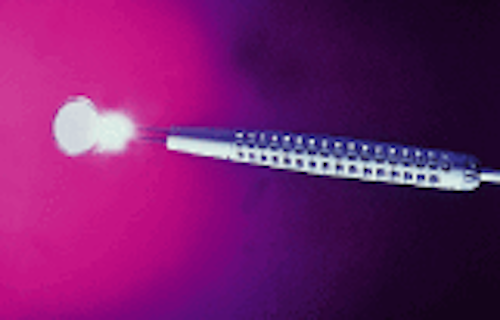 Joseph A. Blaes, DDS
Pearl #1-DenLite Self-Illuminating Intraoral Mirror by Welch Allyn (Figure 1). Proper lighting can make all the difference in producing quality dental treatment. The problem is that some dental offices do not have adequate light, so dentists resort to using lighted handpieces and mounted lights on headbands and magnifiers. Now comes a nifty new product from Welch Allyn-the DenLite. This is a unit-mounted handpiece with a front-surface, disposable mirror that contains a high-intensity, halogen-based, fiber-optic light. The light is activated when the mirror is removed from the holder. The DenLite puts a powerful, bright light anywhere in the mouth that you need it. The result is improved vision that allows you to make more-thorough examinations and diagnosis. Now you can see easily the distal facial of the upper-left second molar. The front-surface mirror provides a high-quality image and, when used as a retractor, a split beam allows light to come through the back of the mirror to illuminate the area. The handle is a little larger than a regular mirror, but you will become adjusted to it quickly. Most importantly, DenLite provides you and your patient with unparalleled infection control. Single-use mirrors ensure superior optics and cleanliness with every patient. All critical components-including the handpiece, fiber optics, cord and holder-are designed to withstand repeated sterilization. A better lighting source will improve your efficiency at the chair, so take a good look at the DenLite by calling Patterson Dental at (800) 873-7683 for an in-office demo.
Pearl #2-Nothing But Net. At the ADA meeting in Orlando, I ran into Dr. Barry Freydberg while I was looking for new pearls. He gave me a great one! "Nothing But Net" is a terrific video that solves the mysteries of the Internet and on-line services. As you know, Dr. Freydberg is one of the foremost lecturers on automation in dentistry. In the video, he makes the Internet so simple that even I was able to understand it all and get started. Barry explains how to have your own web site, how to send and receive e-mail, how to surf and everything else you need to get started. If you are interested in this tape or you are interested in hearing Dr. Freydberg speak at a meeting and fully explain the Net, give him a call at (847) 673-7118.
Pearl #3-Palatal Anesthesia Device (PAD) by Master Dental (Figure 2). This is a unique, simple instrument that will decrease greatly the pain associated with palatal injections. The instrument was developed by a practicing periodontist and uses the principles of pressure anesthesia and the gate-control theory of pain. Pressure anesthesia is administered by applying mechanical pressure with the "C"-shaped end of the instrument on the palatal tissue. The stimulation of the surface tactile receptors by the instrument "opens the gate" of the pain-transmitting fibers and interrupts their transmission to the brain. The pain of the initial needle penetration is reduced greatly. The "C"-shaped end is firmly pressed onto the palatal tissue until the tissue blanches. Then, the syringe needle is inserted gently into the palatal tissue through the open center of the "C." Remove the instrument and slowly administer anesthetic. You have just given your most painless palatal injection, and your patient will never be afraid of palatal injections again. I could not believe that a technique this simple could be so very effective! This is one that you have to try. Call Master Dental at (517) 792-4431 for more information or to order.
Pearl #4-Disposable Nitrous Hood by Accutron. For you nitrous-oxide analgesia-users out there, this is a product that I have been using since it first came out a few years ago. Our patients love them because they know they are getting a new, clean hood at each visit, and they don`t have to worry about who used it before they did. The hoods come in a variety of sizes and colors. The color signifies the scent that is associated with the hood. The patients really like the scent; it makes the experience much more comfortable. The hoods are readily adapted to scavenger systems and rubber goods. If you use nitrous oxide analgesia in your office, you owe it to yourself and your patients to try these hoods. This is just one more piece to the infection-control puzzle. Call Accutron about the Disposable Nitrous Hood or order from your dealer.
Dr. Blaes practices in the St. Louis area and has developed every type of dental practice from solo to a 10-man group. He is known for his expertise in dental techniques and his innovative systems designs. He lectures, writes and conducts "in-house" seminars. He may be reached at (314) 843-3300.
Figure 1
Figure 2