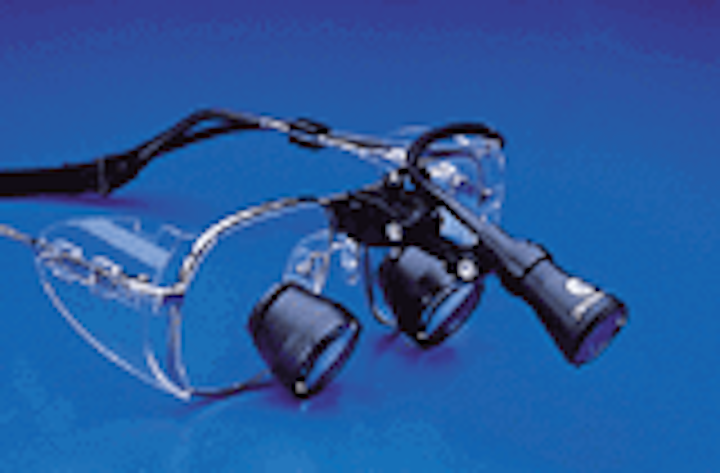 Joseph A. Blaes, DDS - Editor
I attended the Hinman Dental Meeting in Atlanta at the end of March. What a meeting! The weather was delightful, the flowers and trees were in full bloom, the programs were terrific, the food was great, and the people were very gracious. I discovered the meaning of "Southern hospitality!" The planners at the Hinman have come up with some innovative programming. Some of the popular speakers and programs were repeated on different days and times, so the choices were easier to make. Put the Hinman on your calendar for 1998 (March 12-15). I know you will have a great learning experience and a good time too!
Pearl #1-The Zeon Illuminator From Orascoptic Research (Figure 1). I have tried most of the light sources that come with dental magnifiers and have found them all to be either rather cumbersome and uncomfortable or the light was not very good. So I was reluctant to try another one. I finally ordered one from Orascoptic, and, when it came in, I was on the road. My new partner opened the box and set it up. He immediately fell in love with the system. I had to wrestle it away from him to try it for myself. Dr. Mark was right. The Zeon system is great! It is a lightweight system that will fill not only Orascoptic magnifiers, but other brands as well. So, if you already have magnification, you can add the Zeon Illuminator to it. There will be no more miner`s helmets or heavy wires to contend with. The light is fantastic! I have prepped with the operating light with the fiber optics in the handpiece turned off and had better light than I have ever experienced before. You will be amazed at what you can see. And this is brilliant, shadowless, line-of-sight illumination that frees you and your assistant of the frequent adjustments to the standard operatory light. Line of sight means that the light goes with you when you turn your head or look at an impression or temporary outside the mouth. Based on our experience with the system, I would recommend that you buy your handpeices without fiber optics and use the Zeon Illuminator instead. That is one less thing to go wrong with the handpiece. This is a no-brainer! Call Orascoptic Research at (800) 369-3698 for more information.
Pearl #2-Light-Tip by Denbur (Figure 2). I guess I am slow sometimes, but somehow this one got by me. What a great product! If it is used correctly, you can get tight contacts on your Class II composite restorations easily and consistently. The Light-Tip is a cone-shaped attachment that goes on the end of your curing-light wand, and the cone concentrates the light at the end of the tip. The cone is inserted from the occlusal into the resin in a typical Class II proximal box and then cured. This allows for curing of the most difficult area-the cervical margins. Composite does not stick to the Light-Tips. I have found the tips to be very useful for tacking porcelain veneers, so that I can clear excess material and be certain the contacts are open before my final cure. Four sizes of Light-Tips are available to fit most curing-light wands. Call Denbur at (800) 992-1399 for more information.
Pearl #3-Stabident by Fairfax Dental. This is a local anesthesia system that I have been using for years. It is a totally new method of achieving local anesthesia by using intraosseous injection. It can be used as your primary system or as a back-up system when conventional methods fail. Stabident is simple to use, and patients remark that there is little postoperative discomfort from the injection site. The system involves using a handpiece-driven needle to perforate the cortical plate of bone, and then inserting an injector needle into that hole to deliver standard, local anesthetic to the cancellous bone. This causes deep, pulpal anesthesia immediately. You will be amazed at the results you can achieve on "hot" teeth. The Stabident system allows you to overcome one of the big problems in dentistry-inadequate anesthesia. Call Fairfax Dental today at (800) 233-2305 for more information. The company has an excellent demonstration video and instruction sheet that come with your first order.
CORRECTIONS:
In the Spring issue of Dental Equipment & Supplies, Pearl #8-Integrity by Caulk-stated: "All other materials are inferior to Integrity." The sentence should have read, "All other temporary materials are inferior to the new bis-acryl temporaries." Integrity is not superior to the other manufacturers of bis-acryl temporary products.
In the March issue of Dental Economics, Pearl #3-Connect by Kerr. It should be noted that there is not a standardized test for testing the strength of fiber-reinforced dental resins. Thus, it is incorrect to state that the flexural strength of Connect is "almost double that of its competitors."
Dr. Blaes has a general practice in the St. Louis area. He is known for his expertise in dental materials and techniques and his innovative systems designs. He writes and lectures on "How To Increase Productivity and Profitability." He may be reached at (314) 434-6808.
Figure 1
Figure 2