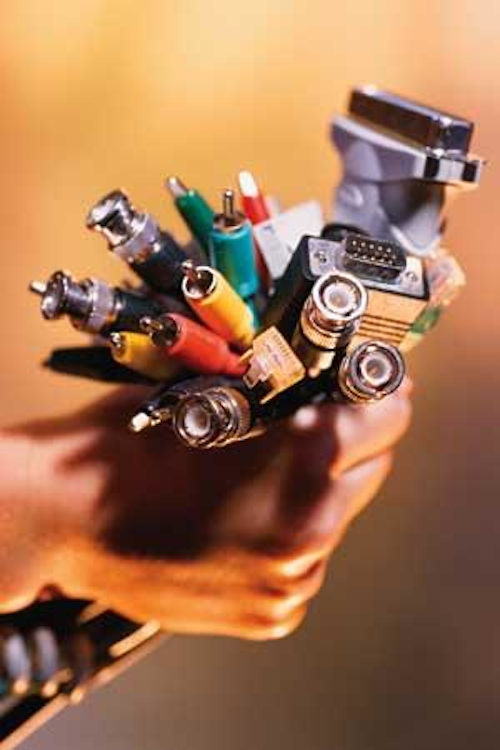 by Fred Abeles, DDS
Today, we have a new generation of techno-savvy dentists who have stepped out of the shadows and embraced high-technology communication in all of its forms: computers, the Internet, email, digital cameras, and imaging programs. The phone, fax, and regular mail are yesterday's news.
Right now we can pick up a digital camera while our patient is in the chair, snap a shot of her lovely new crowns — which she wants lighter, of course — load the image into our computer, and send an email message over the Internet to our technician with the photo of her new crowns and shade tab attached. How's that for enhanced patient/dentist/technician communication? You didn't think it got better than this, did you?
Even more fun is waiting around the corner. Some very forward-thinking people decided to re-invent how we communicate with each other. You know the ones ... they like to set trends. They think anything is possible. The people changing how you communicate aren't in dental companies. Not yet. It's the people in Microsoft, Sony, Samsung, Nokia, Sprint, Compaq, Dell, and others.
It all started a few years ago with terms like Wi Fi, Bluetooth, and wireless. These new technologies allowed us to zap info from one place to another via computer or PDA (pocket PC) without the constraints of a phone line. All so you can sit in Starbucks with your laptop and surf the Internet while you sip your mocha latte.
Well, wireless technology is here to stay! It's re-defined where and how we communicate with each other. Wireless networks are proliferating at an exponential rate. Soon they will be virtually everywhere.
About a year ago, Sprint, Samsung, and Nokia introduced digital cameras in their cell phones. This new technology means we can take a picture and transmit it to anyone else with the same device, instantly, and without a computer ! The early models were primitive with poor image quality and small pixel size. Allow me to bring you up to date on this optical alchemy. Today we have pocket PC's like the Sony NZ90 Clie with a 2 mega-pixel camera. It can transmit an image wirelessly to a PC or PDA. No computer needed. We have digital cameras like the Ricoh IDC i700 that can upload images directly over the web. No computer needed. Nokia has a Bluetooth-enabled device that allows you to beam images from your cell phone directly to your TV monitor. No wires. No muss. No fuss.
Thirteen million cell phones with cameras were sold in Japan in 2002. U.S. buyers will snap up over two million this year. The only question that remains now is how good can we make it? More pixels. More power. More speed.
Let's fast-forward two years. Here's my prediction: The unprecedented demand for real time, instant communications has produced 4-megapixel, high-quality digital cameras in our cell phones and pocket PC's (PDA's) and stand-alone digital cameras with Wi Fi and Bluetooth connections.
Now we can walk into the operatory, pick up our cell phones, PDAs, or digital cameras, take a picture of our patients' lovely new crowns — which she still wants even lighter — talk with our technician on the phone, and instantly send an image with the shade tab for him to see and discuss with us. No computer needed ... or wanted.
Of course, we're still in the early days of this revolution. American mobile networks are far behind their European and Asian counterparts. However, network upgrades will bridge the bandwidth gap eventually. The introduction of megapixel phonecams from Sony, Mitsubishi, Sharp, Fujitsu, and others suggests network device makers will be ready with better hardware.
AT&T network subscribers can now choose Nokia's 3650 model with Bluetooth to send to PC's and PDA's. Sony's Z1010 phone coming later this year is equipped with two cameras and two displays for applications like video conferencing.
The pieces have been around for a while, but as time and technology advance, the cloud of bits and bytes will begin to converge. So is this the future of dental communications? We're about to find out.
---
What about software?
ePocrates drug database available for Pocket PC
The popular drug database program ePocrates (www.epocrates.com) is now available to health care professionals who use Pocket PCs. The program includes continually updated information on over 2,800 prescription drugs and 400 alternative medications, as well as 45 clinical tables and guidelines. For a subscription fee of $49.99/year, healthcare professionals can now download ePocrates and run it on their Pocket PCs. ID and DocAlert messages will be added later this year at no additional cost, and ePocrates is evaluating new programs and features for future Pocket PC versions.
DrDrugs
A drug guide for all medical professionals, at any level of training or experience, who require quick access to clinical use of medications. The guide includes 4000+ trade and generic drugs, nearly 50 drug classifications, 1500+ drug monographs, and 475 commonly used combination drugs. Includes monographs on popular natural products, including drug/natural-product/food interactions. $49.95; use with: H/PC, P/PC, P/PC 2002, Ps/PC.