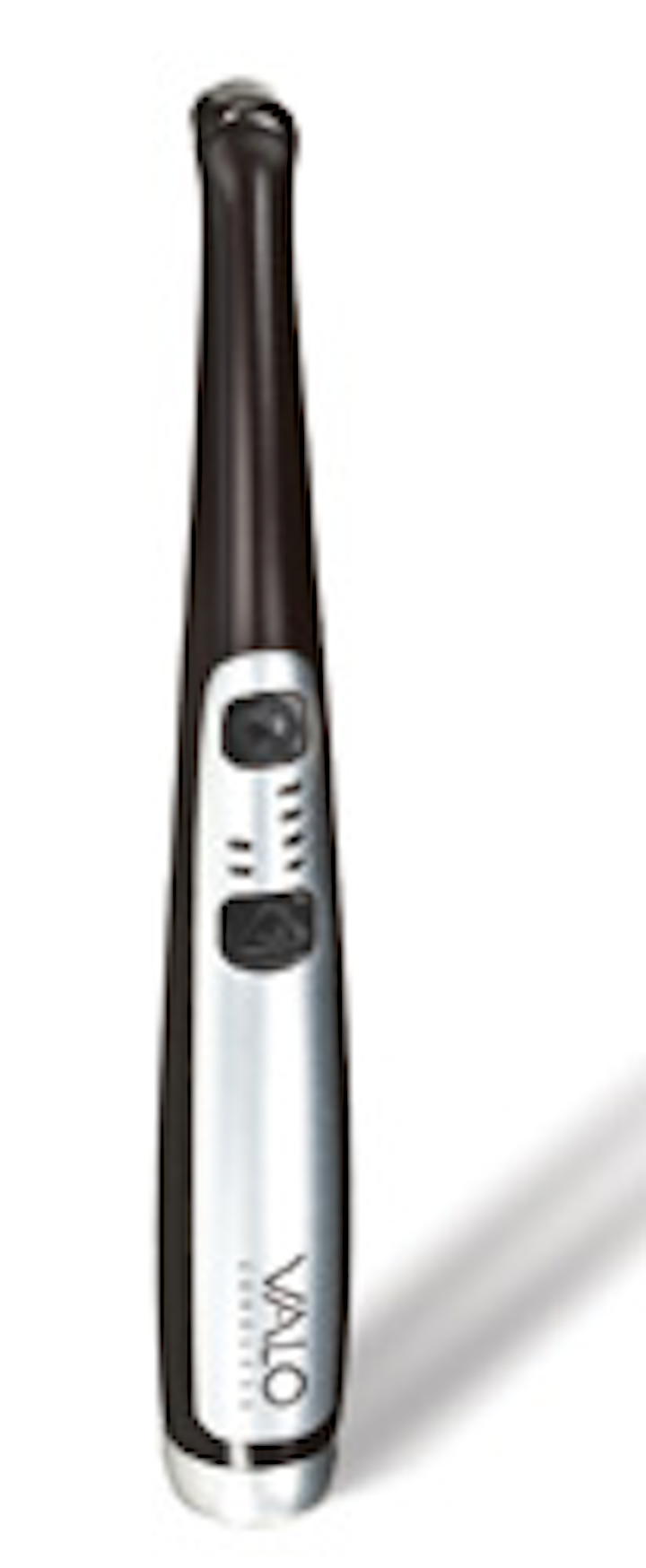 Joe Blaes, DDS
VALO Cordless Broadband LED Curing Light
from Ultradent Products, Inc.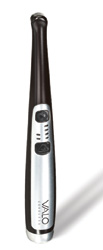 Dental curing lights were invented a long time ago, but they still are not perfect. We know that it is important to keep the curing light tip as close as possible to the resin that is being cured. We also realize that there are many variables with this technique, such as the power density, light dispersion, temperature, photo initiators used in the resin, light transmission, location and depth of the restoration, and distance of the light to the resin. When you consider this, it is not as simple as you might think. But the question that really needs to be asked is, "What is the right power to cure dental resins?" There is no single answer. But the engineers who developed VALO had to balance a number of difficult power factors to achieve the best possible results in each area in order to develop a curing light that has no power compromises. The collimation and uniformity of a curing light's beam directly affect the amount and quality of the power that reaches the restorative site. Studies have shown that the VALO Cordless beam remains collimated and concentrated to provide optimal power and prevent hot and cold spots. The VALO weighs in at six ounces. This makes it easy to hold and maneuver, even for my big veneer cases. With this curing light, I am not limited to any particular materials. The custom LED pack offers multiple wavelengths that will consistently cure materials within the 395 nm to 480 nm range. This includes camphorquinone and the range of proprietary photo initiators. I find that the five-degree head angle allows me or my assistant to easily keep the light source parallel to the restoration to prevent power dispersion and loss. I like the three curing modes - standard, high power, and Xtra power. (The latter Ultradent claims is just like a plasma light.) The modes give great flexibility in my restorative procedures, and the simple intuitive timer controls make switching between modes fast and easy. The VALO is made primarily from a single piece of high-grade aluminum that offers excellent heat dissipation and durability. It has a sapphire coating that is scratch-resistant, while its Teflon seal makes it easy to clean. If you are shopping for a new curing light, be sure to take a good look at this one!
Visitwww.valo-led.com to learn more.
---
Three-Quarter Arch T-LOC™ Triple Tray®
from Premier® Dental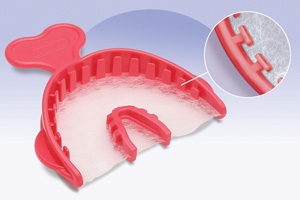 I've been using Triple Trays for years, and I'm sure that many of you have, too. I'm happy to introduce you to a new Three-Quarter Arch T-LOC Tray that captures more information for greater symmetry in the esthetic zone. As soon as I saw this tray, I told my assistant to order several. I have now tried these new trays, and my dental lab tech is happy with them because they give him more information, such as canine rise and incisal guidance. My final answer on impression trays has always come from him. If he's happy, so am I. This new member of the T-LOC Tray system has the same large, ergonomic handles that simplify the loading of the tray to enable easy transfer between my assistant and me to facilitate tray insertion. Flanges have been added to make for easy tray removal from the mouth. The tray has a patented adhesive-free design that features retention tracks that mechanically lock in impression material, preventing distortion of the impression. The T-LOC Triple Tray brand comes in three-quarter arch, posterior, and anterior styles for your impression tray needs. Three techniques in one saves time, money, and material.
Visit www.premusa.com to learn more.
---
To have Dr. Joe Blaes present his lecture, "Pearls For Your Practice®," for your study group or dental society, please call (866) 274-4500.