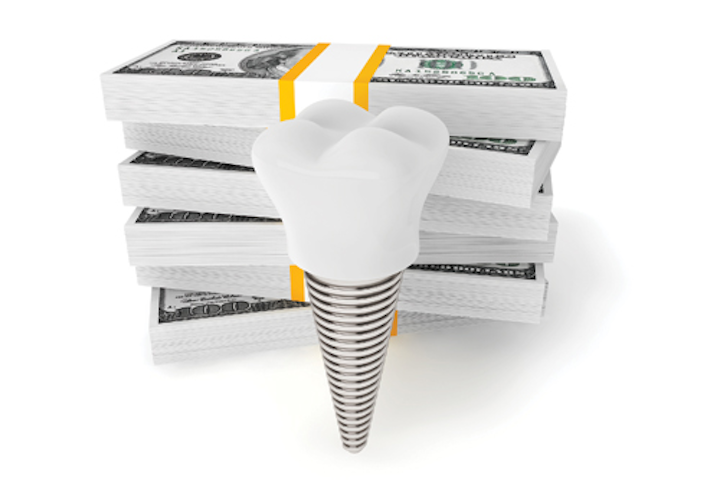 Bobbi A. Stanley, DDS, MAGD, DICOI, FLVI
In today's society, dental implants have become the standard of care and the top choice for tooth replacement. Skills training for dental implant placement is available through a myriad of institutes and organizations. Doctors feel confident in their dental implant clinical skills. Yet, for many, pricing dental implants remains a challenge. In this article, we will look at considerations for pricing dental implants.
Don't assume
As dentists, we often diagnose patients' financial capabilities before we present treatment. We presume that some patients will not be able to afford the best treatment, and we hesitate or appear uncertain when proposing treatment.
Many Americans have the financial ability to obtain excellent dental treatment. However, they must be reassured that they are investing their money wisely. In 2016, Americans bought more than 17.5 million new cars at an average cost of more than $35,000 because they recognized the benefit.1 As authorities on oral health care, we can and must establish value for dental implants—and our expertise.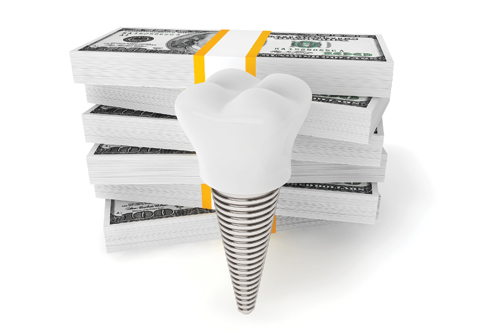 Team training
Dentists frequently believe that they must price implants competitively to be marketable providers for implant patients. But in doing so, they miss what patients truly want: excellent service, value at a fair price, and the confidence that their health is in capable hands. It is the job of dentists to help patients understand the value of what they are receiving.
In my practice, we begin with patient education. We inform patients that we are replacing a body part. When this perspective is presented, price shopping ends. Everyone wants exceptional service at a fair price, but rarely are people willing to trade health and well-being for a "deal."
Once patients understand that they are getting what they want and are making a wise investment, they find a way to move forward with treatment. This verification of a good value is more impactful when offered by a team member. Invest in training for your team so they are ready to respond appropriately when asked for their opinions.
For example, when doctors present dental implant treatment plans, the first response for most people is, "That's a lot of money." However, that does not mean they cannot afford the solution, and it definitely does not indicate whether or not they want treatment. Oftentimes they need a third party to assure them about spending this large sum of money. When the doctor walks out of the room, patients often turn to the assistant and ask, "What do you think?" This can be a pivotal moment. You need team members who will immediately respond in an honest yet encouraging way.
Possible responses by your team to patient questions are as follows:
• "Dr. Jones has done many of these procedures and you are in good hands."
• "This is going to be the best money you have ever spent."
• "Our patients who have done this procedure tell us they wish they had done it earlier."
If you do not train your team members to respond to inquiries from patients, they may respond with "Yes, that is a lot of money." That could be just enough to confirm to patients that they should not move forward.
Pricing single implants
When pricing dental implants, doctors are inundated with information and do not know where to begin. Keep it simple and start with the math, as shown in Figure 1. This is the starting point for pricing dental implants.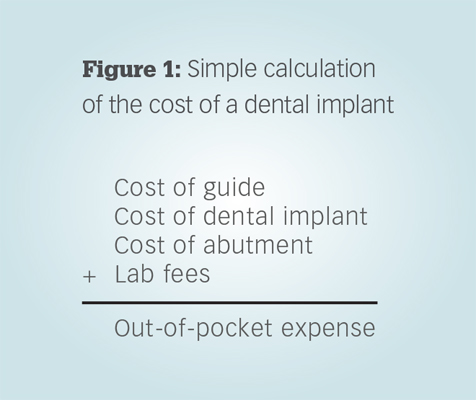 Now you must consider soft costs such as overhead (facilities, team salaries, equipment cost, depreciation, etc.). The last part of the equation is factoring in doctor planning and placement time. You can determine the value of doctor time by assessing your overhead costs. Knowing these figures establishes a baseline for pricing.
To fully understand how your fees compare, you can perform a fee evaluation in your market. Dental suppliers can help, as they are privy to area dental fees and can do a competitive analysis. Once you know your peers' rates, you can compare these to your overhead costs and price your dental implants appropriately. This is not to advise that you match or lower your dental implant fees—it is simply a place to start. Fees should always be based on your overhead.
Pricing multiple implants
After determining the fee for a single implant, the cost of multiple implants can be determined. If you are placing three dental implants, it does not make financial sense to charge three times the amount of a single implant when it takes relatively less time to place additional implants. Restorations and abutments remain at the full cost for each implant. Allowing a discount for additional implants encourages the patient to move forward with treatment.
This allows for a win-win situation. The doctor is able to provide full service for the patient, and patients realize they are getting a great deal.
Full-arch solutions
Pricing for full-arch dental implants should always be a global fee, meaning that it is an all-inclusive fee. À la carte pricing of full-arch solutions is usually cost prohibitive. Offering a global fee allows the dentist the luxury of placing as many implants as needed without the patient trying to limit treatment based on cost.
Pricing dental implants does not have to be complicated. Understanding your overhead and the cost of materials for dental implants will allow you to price your services appropriately. Once you have established the fees, your team can help patients appreciate the value of dental implant treatment.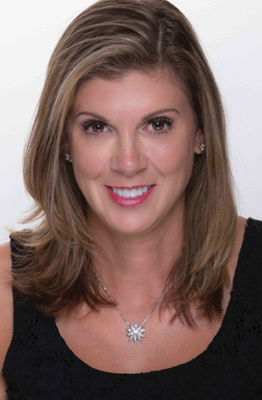 Bobbi Stanley, DDS, MAGD, DICOI, FLVI, has prioritized continuing education throughout her 25-year career. She is an adjunct professor of prosthodontics at her alma mater, the University of North Carolina School of Dentistry. She is cofounder of the Stanley Institute for Comprehensive Dentistry in Cary, North Carolina, where she is a senior instructor and offers classes in implants, prosthodontics, and practice management courses.
Reference
1. George P. Americans Bought A Record 17.54 Million New Vehicles In 2016. Jalopnik website. https://jalopnik.com/americans-bought-a-record-17-54-new-vehicles-in-2016-1790796926. Published January 5, 2017.