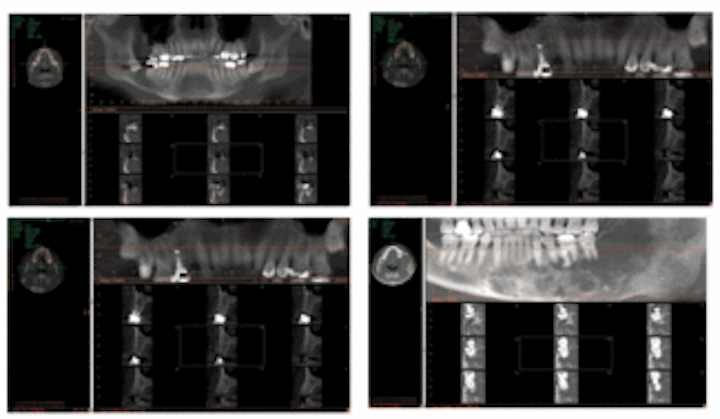 by Steven A. Guttenberg, DDS, MD, and Robert W. Emery, DDS
Cone beam technology is expensive, but more costly than the upfront expense is many dentists' apprehension to invest in what will become the standard.
We perform more than 1,000 implant surgeries a year at our practice, The Washington Institute for Mouth, Face, and Jaw Surgery, in Washington, D.C. That's hundreds of patients with unique anatomies and distinct surgical approaches. All of them must be examined, diagnosed, and planned.
We accomplish this with an in-office, 3-D scanner that uses the latest advancement in dental imaging: cone beam technology. We could perform these procedures with traditional 2-D imaging, but we wouldn't achieve such predictable outcomes and diagnostic accuracy. Our result is satisfied patients who tell family and friends about their successful procedures, which drives our case-acceptance rates.
Nevertheless, many dentists are reluctant to upgrade their imaging equipment to cone beam 3-D technology. This apprehension can be a significant and costly error - much more costly, in fact, than 3-D imaging's upfront expense. That's because 3-D technology represents the next level of patient care, which we believe will become the standard.
As such, dentists committed to building their practices, increasing case-acceptance rates, and improving their economic profiles should consider this dental care trend to experience 3-D imaging's proven medical and marketing benefits that can draw patients and profit to their doors.
Deciding on 3-D
Our practice's history illustrates this point perfectly. As we said, our practice performs more than 1,000 implant surgeries annually in addition to countless evaluations.
Though we had always used 2-D imaging, we found it increasingly difficult to get a complete appreciation of each patient's jaw anatomy and interrelationship with other facial features.
On occasion, we sent patients to medical radiology centers or hospitals for conventional helical CT scans. This exposed them to 10 times the amount of radiation, three times the cost, and a lot of inconvenience for the extra trip. Plus, the radiologists didn't always look for the same things on the X-ray that we did, so scans often had to be repeated.
This made us hesitate to send patients out, delayed treatment, and complicated procedures. Then, once we got the X-rays back, we had to study multiple 2-D images and assemble an approximation of what a patient's structures actually looked like.
This forced us to treat patients as if they were bilaterally symmetrical, an approach that doesn't take their unique soft tissue, bone, and tooth structures into account. The limitations soon became so acute that we started investigating digital 3-D cone beam radiography as an equipment option for our practice.
Three-D imaging creates virtual, rotating models that illustrate in 360 degrees the complete nature and makeup of the human jaw and face. It gives dentists greater accuracy, precision, and efficiency.
The complete 3-D scan of the face is then displayed on a computer screen, making it possible for all dentists and dental specialists to analyze the complete surface. The scan also exposes issues previously undetectable with traditional methods.
These features provide dentists with a patient's complete mouth, face, and jaw anatomy and allow us to clearly see all underlying dental structures, soft tissue, bone, and nerve canal details. This can lead to discovering the unexpected well in advance of a procedure.
In 2002, we decided to bring these capabilities in-house. After six months of research, we chose the Imaging Sciences i-CAT® system. We became one of the first private practices in the United States to use this machine.
Of course, purchasing the machine required substantial capital, but the superior technology justified the expense. We thought that even if we didn't gain additional income from the machine, it was worth it to better evaluate patients and improve implant planning.
To install the i-CAT, we converted a patient restroom into functional office space with lined walls and a leaded glass door to block radiation. There we put the i-CAT workstation, which requires only about 60 square feet and includes the machine, computer station, and access space.
An Imaging Sciences representative conducted the training on-site with our 15 employees. Our staff's learning curve turned out to be short because taking i-CAT images is a more straightforward process than taking traditional 2-D panoramic ones, and it produces uniformly better results.
Over the years, we have quickly and easily learned new software programs as they have been upgraded. Most of the updates happen over the Internet during off hours, so it doesn't interrupt workflow or require attention.
For example, Imaging Sciences recently installed its i-CAT Vision™ viewing software, a free, downloadable program that further improves diagnoses and optimizes our practice workflow with instant, accurate, and shareable images.
When we need to send patient information to outside specialists, we are able to store the images in manageable file sizes - less than 50 MB - on CDs. Even better, we can easily e-mail images to referring doctors, which is what we do 99 percent of the time. This process automatically installs the fully functional i-CAT Vision software on recipients' computers.
It makes sharing files with outside specialists fast and efficient with no additional time or money. Training time was quick, too. We walked through the program once, and 30 minutes later, it was business as usual.
3-D economics
Through the entire process, we had few costs besides the initial i-CAT purchase. The most apparent cost was retrofitting our office space. We also bought additional computer-storage space.
All upgrades and repairs were included in our service agreement and warranty. That means total cost of ownership over five years has amounted to about $25,000 more than the i-CAT originally cost.
Compare this to the annual revenue generated: more than $300,000 on average. The return on investment can be directly traced to having the 3-D imaging system in-house.
Consider the arithmetic behind the cash flow: Depending on the financial situation, practices can pay for 3-D scanners with cash, loans, or leases. Paying cash eliminates carrying costs and is relatively inexpensive in the long run.
In comparison, loans and leases provide an appealing financial alternative for bringing 3-D imaging into a practice when paying with cash is not manageable.
To illustrate, let's peg the average scan cost at $350. A regular practice typically conducts 40 scans a month. At that rate, the practice can reap annual revenue of $168,000.
Moreover, in-office 3-D scanners directly correlate to increased case acceptance. Basically, there's no part of oral or maxillofacial surgery for which we don't use 3-D imaging. It offers such detailed, accurate information that we are more confident in our surgery and able to achieve safer, more predictable outcomes. For example:
We can tell exactly where supernumerary teeth are located within the jaws and their proximity to nerves, sinuses, roots, and other anatomic elements.
We identify the exact location of the inferior alveolar nerve in relationship to impacted teeth and implants.
We evaluate the paransal sinuses for inflammation and neoplastic diseases.
We can see how deeply involved teeth are with internal and external reabsorption relative to the nerve.
We use it for all jaw pathology cases.
We use it for all orthognathic surgery cases, temporomandibular joint evaluations, trauma cases, and maxillofacial and airway evaluation.
Our patients benefit from the show-and-tell aspect of the scans. Demonstrating to them exactly what we're discussing in full 3-D color and imagery demonstrates problems in a highly visual and straightforward way, which is more easily understood by patients.
This reinforces patient education and involves them in their own treatment while building trust and confidence. Plus, they are exposed to significantly less radiation, pay less, and don't have to schedule out-of-office appointments.
Taken together, these 3-D benefits increase the patients' comfort and understanding of their treatment options and help them accept the treatment. The result? Higher case acceptance for the practice, which in our case, recouped the machine's cost within the first nine months.
3-D imaging's fourth dimension
Outside of the scan room, practices can leverage 3-D scanner ownership for marketing, advertising, and other outreach efforts, strengthening competitive advantages.
The selling proposition is threefold.
First, practice members will become better dentists diagnostically and surgically and reduce medical and legal risks.
Second, they will better educate patients and easily communicate conditions and treatment plans.
And third, it sets the practice up for the time when 3-D imaging is likely to become the standard of care.
In fact, simply owning a cone beam 3-D imaging system crafts a perception that a practice is on the cutting edge of technology and patient care - a favorable impression for patients and doctors alike.
As such, 3-D imaging capabilities can directly affect the number of referrals a practice receives. At our practice, even doctors who place their own implants could send patients to us for an Imaging Sciences i-CAT scan. Physicians also send patients for sinus, TMJ, and other scans.
We can see a patient and e-mail the actual images all in one day, and usually within an hour. The referring practitioners appreciate this fast, direct turnaround and can glean more information from the high-quality digital images than from traditional 2-D X-rays.
Dentists already using cone beam 3-D imaging technology can further differentiate by expanding service menus. This does not require buying a new machine every 15 years. Rather, a practice can buy a flexible device upfront, then upgrade the software as it becomes more sophisticated.
For example, the i-CAT in our office produces distortion-free images, making it compatible with other vendors' software programs. Applications such as Simplant and Nobel Guide help us plan major reconstructive surgeries. We also have stereolithic models constructed from our i-CAT to assist in major deformity and trauma reconstruction.
For young dentists about to open private practices, we recommend investing in 3-D imaging now. It sets a practitioner apart, demonstrates he or she is tech savvy, and spreads the investment over a longer term.
Our practice was the first in Washington, D.C., to install an i-CAT, establishing our competitive edge. With five years of use behind us, we've realized the importance of having 3-D imaging capabilities.
For that reason alone, we would use a 3-D scanner even if it didn't generate one cent of additional revenue. Its diagnostic benefits have improved the quality of care in our practice, reason enough to make the investment. Not fully utilizing its diagnostic and surgical strengths would hinder our practice and, worse, our patients.
Are cone beam 3-D machines an expensive proposition? Yes. But are they worth the investment for better patient care and your practice's case and revenue growth? Absolutely.
Drs. Steven A. Guttenberg and Robert W. Emery are the directors of the Washington Institute for Mouth, Face, and Jaw Surgery in Washington, D.C. Both are board-certified oral and maxillofacial surgeons (diplomates of the American Board of Oral and Maxillofacial Surgery), fellows of the American Association of Oral and Maxillofacial Surgeons and the American College of Oral and Maxillofacial Surgeons, and fellows and members of additionally recognized national and international dental, facial cosmetic surgery, and dental implant organizations.
They are both recipients of the annual Continuing Dental Education Award from the District of Columbia Dental Society and are continually recognized as among the best oral and maxillofacial surgeons by the "Washingtonian Magazine." Authors of numerous publications, the doctors are also recognized as leading lecturers on laser, facial cosmetic surgery, and implant surgery both nationally and internationally. They are devoted to the advancement of the profession of oral and maxillofacial surgery and dentistry. E-mail them at doctors@mouthfacejaw.com.