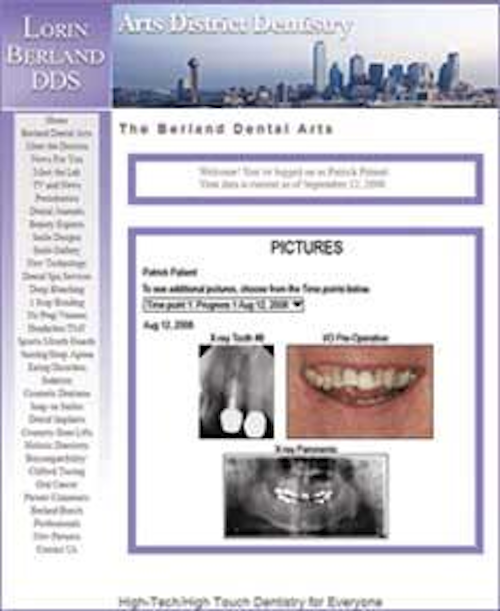 by Lorin Berland, DDS
For more on this topic, go to www.dentaleconomics.com and search using the following key words: digital radiography, radiography, X–rays, communications, Dr. Lorin Berland.
By this time, loyal readers of "The Power Practice" know that digital radiography has dramatically changed my life and practice. Everything is so much neater and accessible to me, my team, and our patients without messy, smelly, time–consuming darkroom equipment, and I have raved about the comfortable sensor with its rounded corners that made sharp–edged film passé. Now, just when I thought that digital had done everything to improve my practice, I discovered a new application that pleases me even more.
Communication among the general dentist, patient, referring dentists, and specialists is the lifeline of any practice. When my office used traditional film radiographs, communicating with other dentists was time–consuming and costly. Even after all that time and effort, it was a postal gamble — we never knew whether our X–rays were getting to the right address, much less the right person. I was amazed at how much easier digital radiography made communicating when I could e–mail the images on my computer; and now I have discovered the next level of enhancing communications.
Sesame Communications is an online communications company that specializes in "doctor–to–doctor communications." It's a great addition to my DEXIS hub where I store all of my digital images. The company integrates with my practice management and digital radiography software. It automatically extracts my office's digital data every two hours and stores it in the company's database. This may be the best idea since flavored dental floss.
My dental colleagues can log on to the secure Web site that looks like my existing Web site with their user name and password and access my patient's digital images, whenever and wherever they choose. They can view the 2–D images from my digital X–ray, my 8500 Pan, an intraoral camera such as AcuCam, or for those lucky enough to have upgraded to the cone beam, their 3–D images.
This type of communication keeps multiple collaborators in touch, avoiding phone–tag frustration and interruptions. When treatment plans involve a general dentist, an endodontist, and a periodontist, for example, each of the specialists can pull up the images, chart at their convenience, and write their treatment options or ideas on a "message string," which is saved for later review and consultation.
Patients benefit, too. Sesame's Web site notes, "In any given day, more than three–quarters of your potential patients are online, and in many metropolitan areas the figure is greater than 90%." That time spent surfing the Web can translate to treatment acceptance. With their secure user name and password, patients can access their own digital images from any location, show a spouse or friend, and make an informed decision rather than trying to remember what the dentist said. Especially in cosmetic cases, an image is worth 1,000 words. Being able to log on to their own records and images, especially before–and–afters on their own time, allows patients to have an active role in their treatment; plus, patients don't have to call the office for the information. Talk about referrals!
To deliver better care and build "the power practice," a dentist first must choose the right technology, and then facilitate the flow of information between colleagues and patients. This communications tool enhances the investment in my digital radiography system through greater case acceptance and increased referrals. Enter the digital age and be accessible anytime, through the computer. With DEXIS and Sesame, I can be online and in touch!
Dr. Lorin Berland is an internationally acclaimed cosmetic dentist and one of the most published authorities in the professional dental and general media. Dr. Berland, a Fellow of the American Academy of Cosmetic Dentistry, is the cocreator of the Lorin Library Smile Style Guide, www.denturewearers.com. He is the founder of Arts District Dentistry, a multidoctor specialty practice in Dallas that pioneered the concept of spa dentistry. Dr. Berland was honored by the American Academy of Cosmetic Dentistry with the 2008 Outstanding Contribution to the Art and Science of Cosmetic Dentistry Award.