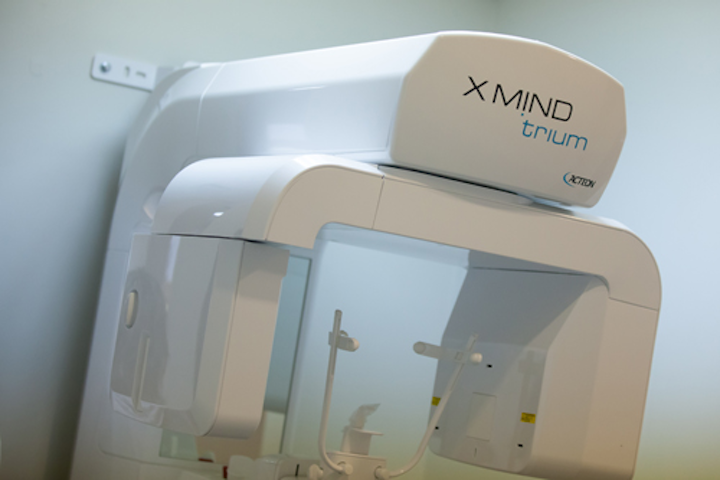 Justin D. Moody, DDS, DABOI, FAAID, AFAAID, DICOI, MICOI, FICOI
The most common question I am asked when talking about implementing dental implants into a practice is "What do I charge?" While this seems like it should have an easy answer, I believe that many factors should be considered carefuly before a doctor determines this fee.
First and foremost, one should consider experience. With experience comes efficiency. It is important to factor in the amount of time it will take to complete the procedure. As dentists, we don't always consider what we need our gross profit per hour to be, but it is a very important number to know for practice profitability.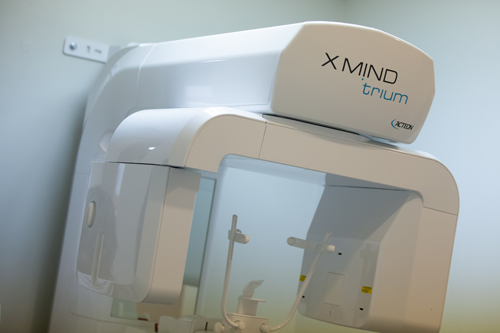 Cone beam computed tomography (CBCT) is the standard of care in today's dental implant world. Shown here is the Acteon Trium CBCT.
Another important consideration when bringing implants into your practice are the significant start-up costs and overhead. You need to invest in an implant motor, implant and prosthetic inventory, as well as new surgical instruments. CBCT is now the standard of care in implant treatment planning and placement. Therefore, this may be the time to finally acquire this technology. One must also seriously consider the investment in a good implant education program that incorporates hands-on clinical experience as well as team training. This will take time away from the practice but is essential to your overall success.
The single-tooth posterior implant is the most common procedure performed in implant dentistry and the one with which most practitioners new to implant placement start with. Let's use this procedure to determine the fee for the average dentist who places fewer than 40 implants per year (table 1).
Table 1: Pricing a common implant procedure
Implant placement (consultation and surgery)

One hour of doctor chair time

(Variable cost)

Cost of implant

$250

Cost of disposables for surgery

$100

Implant restoration (uncovery, impression, and seating)

One hour of doctor chair time

(Variable cost)

Cost of implant prosthetic parts

$100

Cost of custom screw-retained implant crown

$350

Total

$800 + two hours doctor chair time
In this example, the total hard costs of placing a single implant and its final restoration are $800—or $400 per hour of doctor chair time. We must now add our hourly office overhead to this number. This will vary for every office, as technology, office remodels, purchases, student loans, staff wages, etc., all affect this number. In this case, let's use $250 per hour. This brings our total overhead cost to $650 an hour, or $1,300 total for two hours. Now you must insert what you as the doctor want to make per hour. For this example, $1,000 profit per hour will bring the total to $1,650 per hour, or $3,300 total. Therefore, you would charge $3,300 for the implant placement and restoration.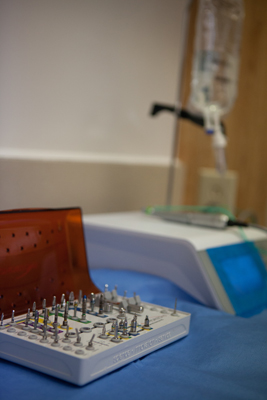 Dental implant systems should be easy to use and well-supported. Shown here are dental implant products from BioHorizons.
I personally think that the single-unit posterior implant and crown fee should compete directly with that of the three-unit bridge. For this reason, doctors who would like to place more implants might consider setting their fees at or slightly lower than this fee.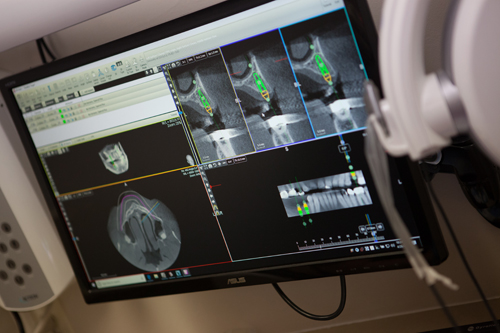 Software is the link between the actual technology and the clinician's ability to use the data that the technology creates. Shown here is AIS implant planning software from Acteon.
You will find that with more experience and repetition comes efficiency and speed. This is the key to profitability in implant dentistry. For instance, in the example case, what if you could complete it in half the time? I have found that when trying to increase net profitability, you should look toward improving your experience and therefore your efficiency. In addition, carefully selected technologies such as intraoral scanners can also save you very valuable clinical chair time as well as laboratory turnaround time. All too often, however, doctors look to the hard costs to save money and opt for cheaper implant systems, materials, and laboratories that don't use authentic parts. As a result, an increase in complications and negative outcomes occur. This only frustrates doctors and patients, while the profits quickly disappear in extra clinical chair time and costly do-overs.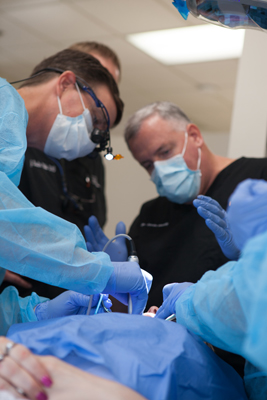 Clinical hands-on training is the bridge between education and real-life experience and, in my opinion, the only way to fully implement dental implants into your practice.
I challenge you to sit down and work through these numbers in your office. Start with determining your true hourly overhead. If you don't know how to do this, contact your CPA. Then calculate the hard cost associated with the implant system and laboratory you use. Lastly, consider what you want your overall profit to be. You will find that implant dentistry provides profitability that is great for you and your practice, while at the same time providing a great service for your patients—a win-win!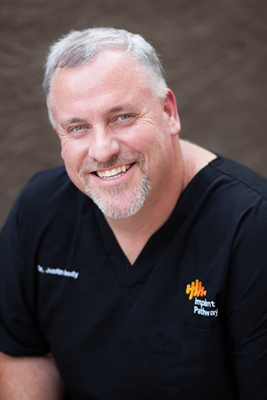 Justin D. Moody, DDS, DABOI, FAAID, AFAAID, DICOI, MICOI, FICOI, is a graduate of the University of Oklahoma College of Dentistry. He maintains a private practice in Rapid City, South Dakota, where he limits his practice to dental implant services. He is an adjunct professor at the University of Nebraska Medical College and a mentor at the Kois Center in Seattle, Washington. He is the founder of Implant Pathways and the New Horizon Institute in Tempe, Arizona, and hosts the Dentists, Implants, and Worms podcast. Reach him at justin@justinmoodydds.com.