RelyX Unicem self-adhesive resin cement by 3M Oral Care
You just know you can rely on some things in life, such as your favorite pair of jeans or a Craftsman screwdriver or cast-iron skillet that belonged to your parents—products that have always been there for you and will always be there for you. That's how I feel about RelyX Unicem (3M Oral Care).
This product has been around almost as long as I have been in dentistry and has earned excellent ratings the entire time it has been on the market. RelyX Unicem has been a workhorse cement for an entire generation of dentists and is still just as great of a choice today as it was over a decade ago. Don't sleep on RelyX.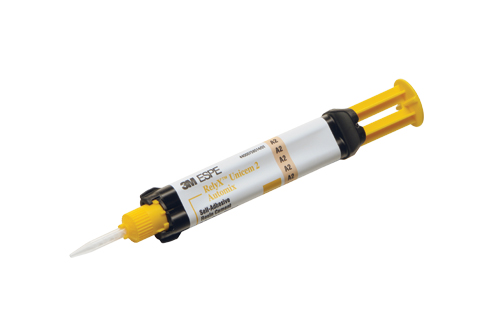 RelyX Unicem is a self-adhesive resin cement. It can be used with pretty much any material you could possibly use for an indirect restoration. Gold? No problem. Lithium disilicate? Duh. Zirconia? You're kidding, right? You know the answer: yes! Indirect resin composites? You got it! When you talk about a true workhorse resin cement, RelyX Unicem is the definition.
When it debuted, RelyX Unicem was only available via the Aplicap. It had to be mixed like amalgam, and if you were delivering more than one unit, you had the choice of trying to stretch the cement over all the units or mixing multiple Aplicaps. I hated that. Fortunately, you don't need the amalgam mixer anymore, which is good because you probably sold yours on eBay eight years ago. Now, you can get RelyX Unicem in an automix syringe and the 3M Clicker. This gives you more control over how much you use and minimizes waste. Of course, the Aplicap and Maxicaps are still available, but I love the newer delivery systems.
In addition to the multiple delivery systems, 3M has another killer feature for RelyX Unicem, the endo tip for post cementation. Pop the elongated endo tip onto the automix syringe and effortlessly load a post space with RelyX for a great post and core.
There are three shade choices for RelyX Unicem in the Clicker or automix syringe: A2 Universal, A3 Opaque, and Translucent. The Aplicap comes in those as well as A1 and White Opaque.
Evaluations of RelyX Unicem all show similar characteristics—little to no postoperative sensitivity and strong bonding with few debonds. The ease of use with the automix syringe or the Clicker makes this a winning combination. If you are on a crusade to find an everyday workhorse cement that works well with little stress, then RelyX Unicem is a great choice. Many of you have been having success with RelyX Unicem for years. For any of you struggling with something else, give the good ol' yellow RelyX another try. You might be pleasantly surprised! Line-drive base hit to center field for 3M Oral Care!
Sofreliner Tough soft denture reline material by Tokuyama
I have to be straight up with you. Dentures are not my favorite thing in the world. I can't explain why, other than to say I am not very skilled at or confident with them. When I do a denture, though, it is usually an immediate denture that will have implants involved somehow.
Immediate dentures mean one thing: soft relines. There is always a point during the healing process of an immediate denture when we need a soft reline. Sometimes we need it soon after the extraction day. Sometimes we need it a month after extractions. Sometimes we need both! But we almost always have to put something soft in the intaglio of the denture at some point.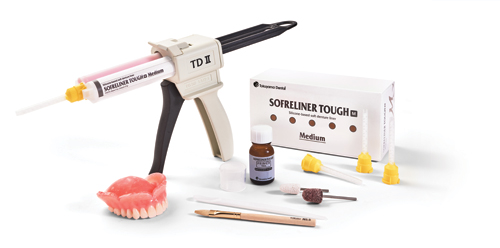 Traditionally, that has been a pain in the rear and a time suck. Most soft reline materials take at least 20 minutes to place. The powder and liquid need to be measured, then mixed. The mixed soft liner needs to be applied to the denture using a skinny spatula, which is awkward. It needs to be placed in the mouth to set partially, then be removed and trimmed, then be placed back in the mouth for the final set.
Tokuyama, one of my favorite companies, has a material that can save you some precious time and frustration with soft relines, all while giving you a great clinical outcome. Sofreliner Tough is a silicone material that comes in a cartridge, just like polyvinyl siloxane (PVS). It is mixed and applied to the denture just like PVS material. This prevents the headache involved with hand mixing material and yields a homogeneous mix every time. For me, this alone makes Sofreliner Tough an excellent choice, but just like an as-seen-on-TV commercial might say, wait—there's more!
Sofreliner Tough is more durable and stronger than conventional soft reline materials. That's where the "Tough" in the name comes from. It resists stains and retains a long-lasting surface smoothness. There are two different consistencies, soft and medium. I have only used the soft in my practice, and it has been perfect for healing after extractions during the immediate denture process. The soft can last between six and 18 months, although I have not had to keep it in that long. The medium can last up to two years.
The Sofreliner process is pretty simple: Clean the intaglio of the denture, apply the primer to the areas you want the silicone to bond to, and dry it completely. Dispense the Sofreliner Tough material into the intaglio of the denture just like you would if you were taking an impression. Seat the denture and have the patient bite gently for five minutes. After five minutes, remove the denture and trim the gross excess with a blade. Use the included shape adjustment point to smooth the surface and adjust the shape. Then use the included finishing point, and you are done. The entire process usually takes me eight to 10 minutes per arch and is much simpler than the alternatives.
If soft relines are something you do on the regular, take a look at Sofreliner Tough. Double down the third-base line for Tokuyama!
OperaDDS digital forms
My father was a dentist and is one of my heroes. I am sure I have written about him before. He practiced through the 1970s and 1980s. Not a day goes by that I don't think about him and what dentistry was like when he was practicing. I would venture to say that almost everything has changed. Rubber dams may be the only thing that are the same today as they were back then. Among the things that are different is all the medical-legal mumbo jumbo. I bet my dad went his entire career without having a patient sign a consent form. In the state of Texas (where I practice), and probably many other states, the state board has made it clear that we are expected to get consent for almost everything, including local anesthetic. Times have changed.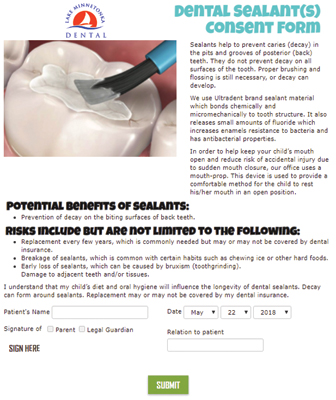 This kind of bureaucratic mishegoss can frustrate and bog down dental practices. We need to find ways to make getting consent simpler. A more automated system would be ideal. There are a few options on the market, but I think OperaDDS is the best. You may remember my review of OperaDDS from a while back. We still use this every single day in my practice. It is the default way we communicate with one another during the day. OperaDDS has other features too. Consent forms are one of the features OperaDDS does very well.
The process starts with the folks at OperaDDS digitizing your consent forms and putting them into their system. Simply send in all your consent forms and OperaDDS's team will turn them into digital forms. Many similar services charge up to $1,000 for this. OperaDDS does it for free.
Once your forms are digitized, you'll receive a link to all of your forms. You will save this link on your iPad's home screen. When it's time to get a patient to sign a consent form, open the iPad, and click the icon for the saved link. It will take you to your OperaDDS Forms hub. Select the appropriate consent form from the list, and it will load. All of the areas that need to be initialed and signed will be digitized, so your patient can simply use a finger to initial and sign all those pesky items on the form. Once the form is complete, the OperaDDS system will save a signed and initialed version as a PDF in your inbox.
Once the signed consent form is in your OperaDDS inbox, it can be imported into your practice management system to go into the patient's chart. You can also do your new patient paperwork, medical history updates, and referral forms digitally. Any form you need to have a patient fill out, OperaDDS can handle. OperaDDS's digital forms won't break the bank either. At $79 a month, this is a serious bargain. Simplify your consent form collection—check out OperaDDS today. Two-run home run for OperaDDS digital forms!