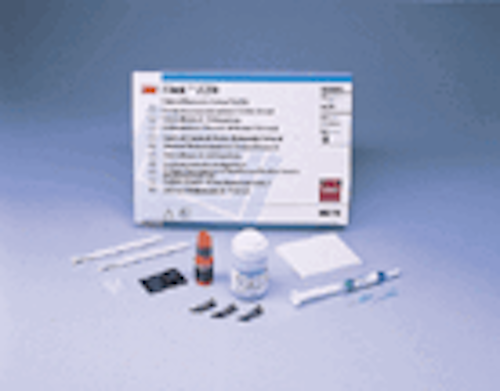 Joseph Blaes, DDS
Pearl 1 - Filtek Z250 Universal Restorative by 3M. 3M is introducing an exciting new composite that is the universal material we all have been looking for - Filtek Z250. 3M has improved on practically every physical feature of this new composite. During the four-year research phase of this new material, 3M went to hundreds of dentists to find out what they wanted in an ideal composite. Then they built the material with great handling characteristics. Z250 has outstanding resistance to slumping, which means that you can easily do occlusal carving and contouring prior to curing. It has ideal flow and viscosity, so it will not stick to your instruments, and you don`t have to worry about pull-backs. Now comes the really exciting news: It takes only 20 seconds to cure a 2.5 mm-thick increment. Wow! That is a 50 percent reduction in curing time over what you are using currently! This material will save you real time every day in the treatment room. Stop and think for a moment about what 3M has done. They have created a material that, with 15 shades, will allow you to place a superior restoration in less time than what you are using now. 3M also has simplified the workplace for you by introducing a true universal material. Now you truly can have one material in the treatment room that will solve all your restorative needs, both anterior and posterior. 3M accomplishes this with a smaller particle size that is actually stronger. Filtek Z250 comes in syringes and capsules. Try some today. I think you will like the results that you will achieve with this new material. Order from your dealer or visit 3M`s Web site at www.3M.com/dental.
Pearl 2 - Clinician`s Choice Quad Impression Tray. I have been using this quadrant impression tray for more than two years now, but I forgot to tell you about it. The Quad tray is a disposable, metal-framed "triple" tray, meaning that the opposing teeth are impressed at the same time as the prepped teeth in a closed bite impression technique. The metal frame, when combined with one of the new heavy-bodied impression materials, gives you a finished impression that is much more ridged than the plastic trays. Distortion is the biggest drawback of this impression technique. Your lab will like this because there is less likelihood of distortion as the impression is poured and mounted. This tray has a thinned-out piece of metal that spans facial lingual in the most posterior part. It is important to try this tray while empty to be certain that this posterior strip of metal does not impinge on tooth or tissue. This could cause the tray to distort. Of course, empty tray try-in should be part of your standard routine before any impression. This is a great impression tray that I could not practice without. Thanks, Peter, for another nifty product. Order from Clinician`s Choice at (800) 265-3444.
Pearl 3 - Encore Solo and ProxiDiscs From Centrix. Here are two great products that will make your life easier in the treatment room. Encore Solo is a light-cure composite core paste for no-mix core buildups. It comes packaged in prefilled syringe tubes so that you can go directly from package to mouth without cross-contamination. Use it once and then dispose of it. This material comes out of the tube in a translucent blue color that changes to pink to indicate complete polymerization. What a great idea! The material cures quickly and deeply. It releases fluoride, has good resistance to cutting with a diamond, and is compatible with all light-cure composite bonding agents. Try this one; I know you will like it. The second product from Centrix is so simple that you will wonder why someone did not think of it sooner. If you are doing any anterior cosmetic work, you must have the ProxiDisc. No matter how careful you are, you will bond two teeth together during a cosmetic procedure. When that happens, I try floss, strips, whatever to break the bond, and it usually takes longer than I like! Now you have the ProxiDisc as a solution to that problem. They are amazingly thin stainless-steel discs that are an indispensable tool in any dental practice. You simply roll the ProxiDisc through the interproximal area with minimal pressure to remove polymerized bonding agents and other hard-to-remove materials. They are much safer than a sharp instrument and are certainly more reliable and easier to use than floss or strips. ProxiDiscs are manufactured with a hole in the handle to allow tying of a safety loop of dental floss. They are sterilizable by any method and are available with smooth or sandblasted (abrasive) sides. This is a must-have product! Order it today by calling Centrix at (800) 235-5862 or fax (888) CENTRIX.
Pearl 4 - The DentaPedic Pad by DentaPedic Products. As I lecture around the country, there is always a lot of interest when I talk about this pad that will make any dental chair extremely comfortable. I am constantly asked about disinfecting the pad. DentaPedic products are covered with a PU Wetsafe impermeable material that will not absorb any liquid. The cover can be cleaned with the standard disinfectants that you use to clean your treatment rooms. The Swedish foam material responds to your body heat and then contours to relieve all pressure points. I have had the pads on my chairs for more than two years now, and my patients love them. Most say they have never been that comfortable in a dental chair before. This is the same material that John Glenn said was so comfortable on his recent ride into space. This is a great way to show that you really care about your patients` comfort. Call DentaPedic Products at (800) 500-0518 to place your order or for more information. Ask for Dick Roach.
Dr. Blaes has a general practice in the St. Louis area. He is known for his expertise in dental materials and techniques and his innovative systems designs. He writes and lectures on "How To Increase Productivity and Profitability." He may be reached at (573) 686-2388.
Pearl 1
Pearl 2
Pearl 3a
Pearl 3b
Pearl 4