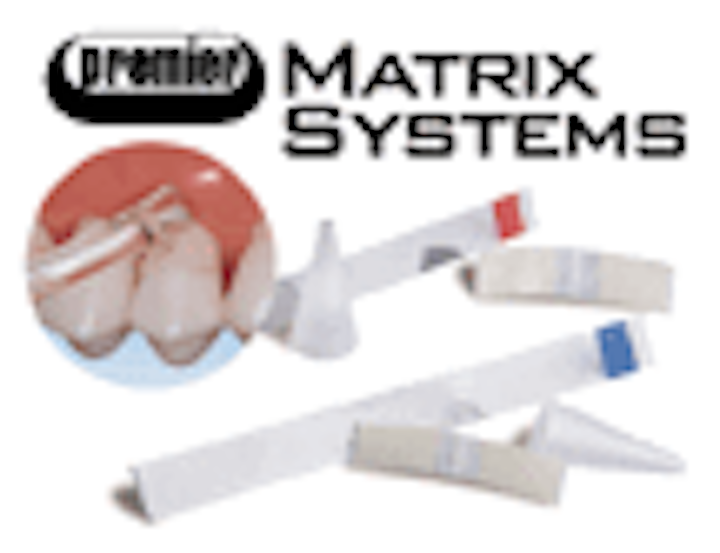 Joseph Blaes, DDS
Pearl 1 -
Matrix Systems for Composites by Premier. This is not a single universal matrix, but a number of matrices to solve many of the problems associated with placing composite restorations. The first is the Stop-Strip, which is a Mylar-band strip that you can hold in place with one hand for Class III and IV restorations. Stop-Strips actually take you from three-handed dentistry to two. The secret is a unique plastic stop that is permanently attached to one end of the strip. You simply place the strip interproximally adjacent to the tooth you are filling and snug up the stop in the contact area. Now you can easily and quickly pull the strip tight against the composite with one hand while curing with the other. It also enables you to get your hands out of the way of the curing light so you have better access. Number two is the Strip-Aid, which is a self-adhesive proximal strip that will hold in place without using finger pressure. This allows you to cure without holding onto the strip. Number three is a favorite of mine, the Accor Matrix for core build-ups. This is a simple, cone-shaped matrix that can be quickly contoured with scissors to fit the gingival, and then easily cut to size for the required height. No lubrication is required; you simply cut the matrix away when the build-up is hard. You can use the Accor in the anterior or posterior with glass ionomers or composites. Number four is the nifty little Cure-Thru, which is a clear, cervical matrix for Class V restorations. The seven sizes are flexible enough to match the exact contour of the tooth and rigid enough to apply pressure needed for dense restorations with excellent marginal integrity. So there you have it: matrix solutions to make composite placement faster, easier, and better! To place your order, call your dealer. For additional information, call Premier at (888) 773-6872 or visit their Web site at www.premusa.com.
Pearl 2 -
Delton FS+ by Dentsply Preventive Care. For many years, Delton has been a leader in pit-and-fissure sealants. Now an improved system offers a number of great features. Delton itself has changed and is now a 55 percent filled resin with fluoride that makes it a strong and wear-resistant sealant. In fact, you could call it a "flowable" resin. The resin material is packaged in the familiar Delton black with the long, bendable tip. But the end of the tip is new; a great "microbrush" is attached to it, allowing for better handling and movement of the sealant resin. You also can achieve total infection control with the new autoclavable applicator handle and the disposable sealant cartridges. The etchant syringe with a new microbrush tip ensures the etch gets into all the deep pits and fissures. Overall, this system makes sealing teeth faster, easier, and better. Order from your dealer. Call Dentsply Preventive Care for more information on Delton FS+ or visit their Web site at www.dentsply.com.
Pearl 3 -
The Optilux 501 by Kerr/Demetron. I have always been partial to curing lights by Demetron, because I am still using models that I bought in the early 1980s. The company recently has introduced the cure-all solution; a high-performance curing machine, which I feel is the value in quality light-curing. The 501 has a mode for virtually any curing you want to do: traditional curing in 10, 20, 30, 40, and continuous modes; ramp curing in a 20-second mode; bleaching in a 30-second mode; and a high-energy boost mode. This light will cure all composites and bonding agents on the market - guaranteed. The Optilux 501 offers a Boost 10-second cure mode, which will cure in excess of 4.7 mm deep. If you use the 8 mm turbo tip, you can cut that curing time in half. Dr. Ray Bertolotti refers to the Demetron turbo tip as the "poor man`s laser." The 501 comes with a built-in digital radiometer that displays readings over 1,000 mw/cm2 and a new filtering system prevents build-up of high heat generation. The 501 comes with the 8 mm turbo light guide and an accessory 11 mm light guide. It seems to me that the folks at Demetron have thought of everything! To order, call your dealer. For additional information on the Optilux 501, call (800) KERR-123 or visit their Web site at www.kerrdental.com.
Pearl 4 -
The ASDC Kid`s Mouth Book by Dr. Theodore P. Croll. My good friend, Dr. Ted Croll, sent me the recently published second edition of this great book. The first edition was published in 1993, and it has become the recommended source for parents, kids, pediatricians, school nurses, and anyone else interested in children`s dentistry. Many dentists have bought multiple copies for their own reception rooms and as gifts for local school libraries, colleagues` offices, or local pediatricians` offices. Ted has donated all of his royalties from this project to the American Society of Dentistry for Children (ASDC). Every dental office should have a copy of the Kid`s Mouth Book in the reception room. To place your order or for additional information, call the ASDC at (800) 637-2732 today.
Pearl 1
Pearl 2
Pearl 3
Pearl 4
Dr. Blaes has a general practice in the St. Louis area. He is known for his expertise in dental materials and techniques and his innovative systems designs. He writes and lectures on "How To Increase Productivity and Profitability." Dr. Blaes is a member of the American Academy of Dental Practice Administration. He may be reached at (573) 686-2388.