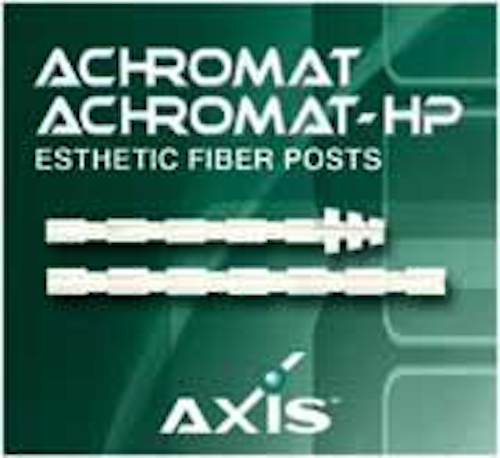 Joe Blaes, DDS
Achromat(tm) Esthetic Fiber Posts by Axis: According to the textbooks, the primary purpose of a post is to retain the core/crown assembly for a long period of time. I don't know about you, but in my experience with posts, most of them have failed rather quickly. They have failed either by splitting the root or by coming loose. Don't you love it when the patient walks into your office with the core/crown/post assembly in his or her hand? Then it's up to you to explain that it has failed, the tooth will be lost, and that you'll have to start over with something else to replace the tooth. This causes a lot of stress in the office, doesn't it?
Well, Axis has designed a post that has all the answers you need to solve the problems asso-ciated with posts. The surface of the Achromat Esthetic Fiber Post is ma-chined to provide micro-mechanical retention with adhe-sive bonding agents. Its overall design is macro-retentive; parallel-sided, with retention rings to lock in the resin cement and core composite. There's even a vertical vent-slot for excess cement to escape. The Achromat-HP(tm) version of the post features an arrowhead-shaped retention head that creates macro-retentive undercuts to grip and hold the core material. The arrowhead design saves time and materials in the core build-up procedure. Using the Achromat Esthetic Fiber Posts is straightforward, making selection and placement fast and easy. Prepare the canal with the appropriate drill that matches the post size you have chosen. Use of the Achromat-HP requires you to use the appropriate root facer to match the size of the post used to achieve a countersink. Then, simply try in the post and proceed to bond the post into the canal. These posts feature high strength and low elastic modulus along with high flexural strength, providing long-term retention. They are tooth-colored so they won't mess up your crown shade, and they are radiopaque. Don't place another post until you get some Achromats! Order from your dealer or call (888) 654-2947 to talk to a product specialist.
Maxcem by Kerr: Just when you thought you had the cement market all figured out, along comes a cement that makes the process even faster and easier. What could be simpler than removing the provisional, cleaning off any leftover cement, rinsing, drying (leave slightly moist), attaching a new mixing tip to the Maxcem syringe, dispensing the material directly into the crown, and then seating the crown? It took longer to write that than it does to do it. The other day, I seated 16 posterior crowns using Maxcem in the shortest time that I have ever cemented crowns. Maxcem is a self-etch, self-adhering resin cement that provides excellent bond strengths and aesthetics to enhance your ceramics. This paste/paste, dual-cure resin cement has a proprietary initiator system that allows all the essential ingredients to etch, prime, bond, and cement to be combined into one product. There's more! You can use Maxcem for indirect cementation of crowns, bridges, inlays, onlays, and posts. How about using this to cement your Achromat posts? Use Maxcem cement for everything except veneers (try Kerr's Nexus 2 for cementing veneers). Available in five shades, Maxcem will bond to all substrates including dentin, enamel, porcelain, composite, all-ceramic or metal-based restorations. This is a dual-cure material so you have a choice to either use a curing light or let the material self-cure. Whichever way you go, be sure to clean up the excess in the gel state. Maxcem really cleans up fast and easy while it is in the gel state. Well, what are you waiting for? Call your dealer and order some today! I know you will love it. Right now there is a great deal that allows you to try Maxcem with no risk. Buy a Value Kit and receive a free trial pack. If you're not satisfied after using the trial pack, return the unopened Value Kit for a full refund. Contact Kerr at (800) KERR-123 or visit www.kerrdental.com for more information.
Optra® Accessories by Ivoclar Vivadent: This is a new series of products that will help in the placement of composite restorations. These products consist of a specially designed line of contact-point instruments, selectively thinned matrix bands, composite sculpting and modeling instruments, and a lip-and-cheek retractor. I will cover each one separately.
The first two have to do with solving one of the most difficult problems with Class II composite restorations - interproximal contacts. OptraContact(r) instruments feature bifurcated ends that will help you achieve tight and properly contoured proximal contacts during the placement of Class II composite restorations. When used as directed with the first increment of composite, you cannot miss getting a nice, tight contact. OptraMatrix(r) is a matrix band that has been thinned to 10
Oraqix® by DENTSPLY Pharmaceutical: Here is a terrific solution to an age-old problem in the hygiene treatment room - anesthesia for scaling and root-planing. Many patients are needle phobics or just don't like being numb, so they decide to go without anesthesia but are uncomfortable for the whole procedure. They are often jumpy and want to stop a lot, which slows the whole procedure. Enter Oraqix (lidocaine and prilocaine periodontal gel 2.5%/2.5%), a needle-free anesthesia for adults. Oraqix has a novel formulation which allows it to change from a liquid oil to a gel when you apply it to the gingival margin and the periodontal pocket. This means that the Oraqix will stay where you put it. Oraqix has a quick, 30-second onset and provides 20 minutes of anesthesia. It is applied with an Oraqix(tm) Dispenser and a blunt-tipped applicator. My hygienist is careful to tell her patients that this is not an injection but rather a topical anesthetic that will keep them comfortable during the root-planing procedure. Typically, a single cartridge is sufficient for one quadrant. You can use a maximum of five cartridges if longer treatment time is needed. Oraqix can be used for a single tooth, a quadrant, or the whole mouth. To order, call (866) 273-7846 or visit www.oraqix.com for more information.