The hottest topics in dentistry
I just got back from the Chicago Midwinter Meeting, which is always one of the best dental meetings of the year.
Sep 1st, 2011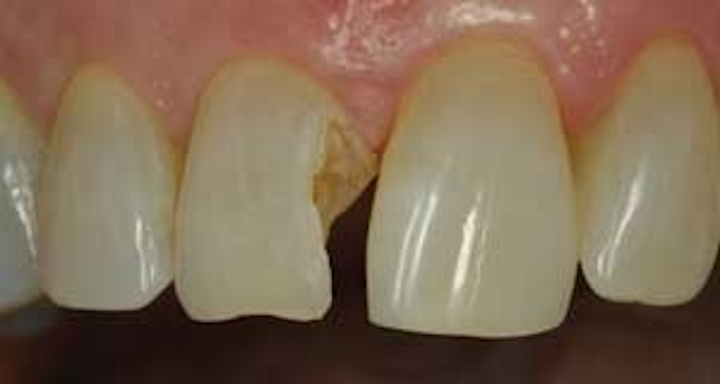 By Dr. Louis Malcmacher
For more on this topic, go to www.dentaleconomics.com and search using the following key words: dermal filler, Botox, black triangle, dental therapeutic, bruxism, Dr. Louis Malcmacher.
I just got back from the Chicago Midwinter Meeting, which is always one of the best dental meetings of the year. This is actually my 30th straight year at that meeting. I cannot wait until next year because the faculty from the American Academy of Facial Esthetics is giving its two-day live patient hands-on Botox and dermal filler course, which will make it the first live patient course given at the Chicago Midwinter Meeting in recent history.
You know, it's interesting that when I give my most popular course, The Hottest Topics in Dentistry, I talk about the full range of general dentistry, from what is new in restorative dentistry, crown and bridge, periodontics, endodontics, prosthodontics, and implants, to the next generation of no prep veneers and advanced practice management techniques. I also discuss Botox and dermal fillers in dentistry, which is one of the hottest topics on the agenda.
As a matter of fact, I save it for later in the day because if I address it first, it is often all the audience wants to talk about. One of the reasons for this is because it is new and exciting, and once dentists understand what Botox and dermal fillers actually do, their dental creativity immediately kicks in and gives them all kinds of new treatment options in every other dental discipline.
There is no question that Botox and dermal fillers are well known for their esthetic results in terms of smooth skin and replacing lost volume in the face, especially the oral and perioral areas. Botox is essentially a muscle relaxer, and dermal fillers, such as Juvederm and Restylane, are volumizers or plumpers.
Once you have been trained on these procedures and thoroughly understand the anatomy, physiology, pharmacology, dealing with adverse reactions, and everything else there is to know about them, then you will find many therapeutic uses in dentistry for both functional and dental esthetic purposes. Now that over 35 states allow Botox and dermal fillers for both facial esthetic and therapeutic purposes, we're finding many helpful uses for Botox and dermal fillers in dentistry.
Here are a few examples of therapeutic uses for Botox and dermal fillers
Botox dental therapeutic uses
▲ TMD cases
▲ Bruxism and clenching cases
▲ Facial pain cases including treating trigger points
▲ Treatment of angular cheilitis
▲ Gummy smiles
▲ Orthodontic relapse and depressed orthodontic appearance
▲ Reducing muscle hyperactivity for retention of removable prosthodontics
Dermal fillers in the nasolabial folds, lips, mentalis fold, labiomental folds, and intraorally are used in the following:
▲ Gummy smiles
▲ Establishing esthetic dental lip lines and smile lines in esthetic dentistry cases as an alternative to gingivectomy, crown lengthening, and veneers
▲ Treatment of angular cheilitis
▲ Eliminating "black triangles" between teeth after periodontal and implant treatment that did not preserve the papilla
▲ Reestablishing lip volume for proper phonetics (in addition or as opposed to teeth lengthening with fixed or removable prosthodontics)
▲ Adding lip and perioral volume around the mouth for retention of removable prosthodontics
In terms of these therapeutic uses, nearly every state in the U.S. and most Canadian provinces allow Botox and dermal fillers for the practice of dentistry as defined by the dental practice act. Many of these therapeutic uses of Botox and dermal fillers are actually quite exciting for dental practitioners because they help tackle some of the most difficult clinical situations we confront.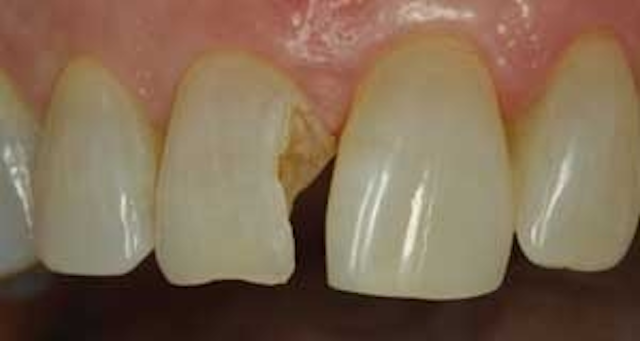 Fig. 1
As an example, TMJ and facial pain have haunted dental practitioners for years and are among the most frustrating cases we deal with. Studies show that nearly 85% of these cases are muscle related. As dentists, we have concentrated our treatment first on the occlusion and teeth and later on the muscles.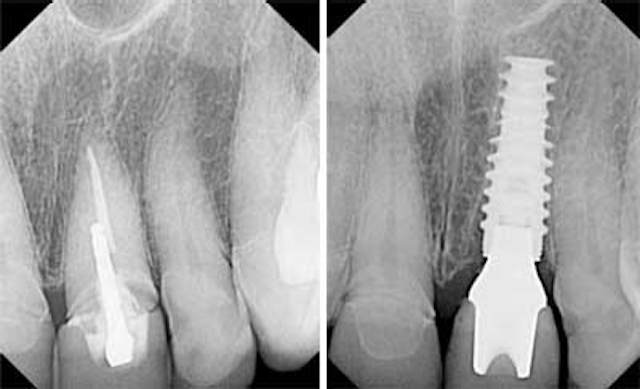 Fig. 2 (left) and Fig. 3
It is time to completely rethink this treatment progression. Now, using Botox therapeutically for facial pain and TMD, we can eliminate the pain from the muscle pathology first to see how much of that is a factor, and at that point we can go ahead and treat the occlusion or the actual joint more easily and accurately than ever before.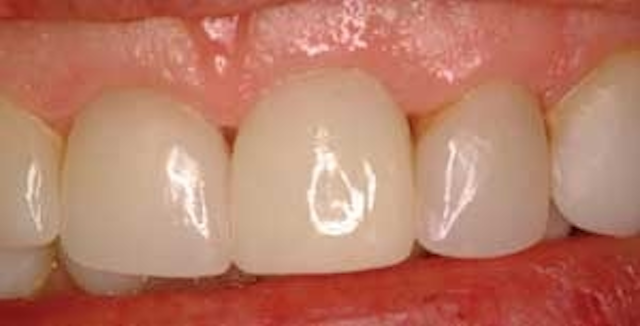 Fig. 4
The dreaded "black triangle" often tops the list of dentists' frustration after placing crowns, bridges, or implants, or after periodontal surgery. After treatment, patients finally have a healthy periodontium or nice new tooth, but it has two big black holes on each side, which the patient whistles or spits through or catches food in.
While patients should be thrilled that they don't have to wear a flipper any more, they are often disappointed at the esthetic results because of the lost tissue. What are our options? We can bond to adjacent teeth, redo the crown, remove the implant and try again with a new implant, or other frustrating treatment options that are very aggressive and may or may not work. The placement of dermal fillers to literally plump up papilla is a minimally invasive way to create proper gingival contours.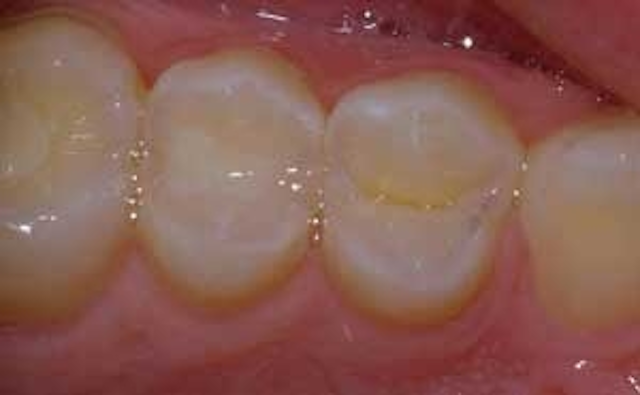 Fig. 5
Let's take a look at a case. Fig. 1 is a pre-op photo of a patient with two all ceramic crowns on teeth numbers 8 and 9 and some veneers. The crown on tooth number 9 is loose and the radiograph in Fig. 2 shows that the tooth has fractured at the gumline. Fig. 3 shows the new implant in place. The dreaded black triangles in Fig. 4 are one of the most challenging esthetic problems dentists deal with. Compare that to the patient's original pre-op picture in Fig. 1 and you can see why it bothers her.
In addition, food now collects in these areas, and when she speaks she finds herself spitting when she talks, which she has never done before. She both loves and hates her new implant. We treated her with a diode laser (Picasso Lite, AMD Lasers) to loosen the gingival attachment and then placed some dermal filler (Juvederm Ultra Plus XC, Allergan Corporation) into the papilla to rebuild it.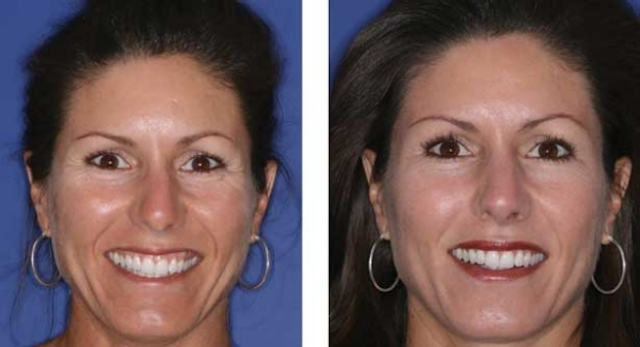 Fig. 6 (left) & Fig. 7
Fig. 5 shows the rebuilt gingival papilla that fills up the black triangles and takes care of her esthetic and functional concerns. The treatment appointment was approximately five minutes, and she can expect this to last for eight months or longer, at which point it will need to be done again. This is a very minimally invasive approach to a very difficult situation and it completely satisfied this patient.
One more example is a patient that comes in with a very common dental complaint in Fig. 6 — a gummy smile. If you look carefully you will see that this patient has an asymmetrical gummy smile. What are our choices here? Orthodontics is one, but that is an orthodontic case that even most orthodontists don't want to tackle.
We could send the patient to an oral surgeon to accomplish a maxillary Lefort I fracture and physically move the mandible up, and then hope that the mandible actually occludes into it. The way that most dentists would treat this is with surgical osseous crown lengthening followed by crowns or veneers.
Now we have a proven and safe minimally invasive fourth option — a 15-minute appointment for the use of Botox and dermal fillers. Fig. 7 shows the patient postoperatively with full lip competency, proper lip and smile lines, and esthetic results that rival any other dental options without picking up a drill or scalpel.
While this treatment will need to be repeated over time, the use of Botox and dermal fillers for soft and hard tissue dental therapeutic esthetic cases is as much dental treatment as any of the other options mentioned.
It is our legal and ethical duty to tell patients about all of the relevant options available for their dental treatment. In this day and age, dentists must become trained in the use of Botox and dermal fillers, as these are well-established and viable dental treatment options.
The faculty of the American Academy of Facial Esthetics (www.FacialEsthetics.org) has trained thousands of dental professionals to become proficient in the use of facial injectables in dentistry and continues to work with and educate state dental boards in this area of dentistry.
The treatments described in this article clearly fall under the definition of dentistry in nearly all of the state dental practice acts. Now that dentists understand Botox and dermal fillers in dentistry for therapeutic and esthetic cases and have become proficient in their use, we can offer them in addition to our current treatment options.
The outcomes will rival and many times surpass many of the dental therapeutic outcomes now available for both routine and challenging dental treatment cases.
Dr. Louis Malcmacher is a practicing general dentist and internationally known lecturer, author, and dental consultant known for his comprehensive and entertaining style. An evaluator for CLINICIANS REPORT, Dr. Malcmacher is the president of the American Academy of Facial Esthetics at facialesthetics.org. Contact him at (440) 892-1810 or send and an email to dryowza@gmail.com. His website is www.commonsensedentistry.com, where you can sign up for a free monthly e-newsletter.