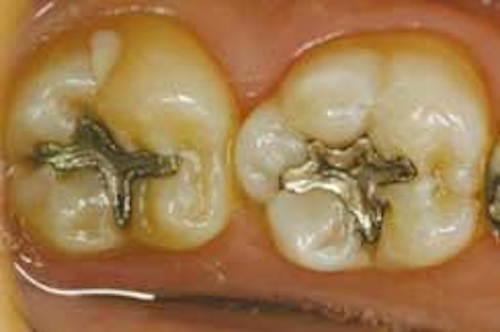 Gary M. Radz, DDS
Every general dentist has the potential to create a cosmetic practice within his or her existing practice. The media exposes today's dental patients to ways they may improve their smiles. Toothpaste ads, over-the-counter whitening products, and even chewing gums entice patients to make their smiles look better. Dentistry has entered the general public through the media. National advertising campaigns for Invisalign and BriteSmile bring even more attention to the public, showing how the dental profession can make significant cosmetic improvements. Last year, primetime television and Dr. Bill Dorfman promoted the benefits of cosmetic dentistry on ABC's popular program "Extreme Makeover."
Today's dental patients are more aware than ever that dentists have many options to improve the appearances of their teeth. To stay competitive and provide patients with the services they seek, general dentists need to become proficient in creating aesthetic restorations.
The ultimate clinical expression of cosmetic dentistry is multi-unit porcelain veneers. Nevertheless, veneers may be cost-prohibitive for many patients or they may not need them. Some dentists do not learn how to do veneers because they think there is limited demand within their patient populations. Even so, dentists can create cosmetic practices within general practices without ever doing a porcelain veneer case.
Every dentist desires to have a good reputation in his or her community, patients who are pleased with their dental work, and existing patients who refer their friends and family. Creating a reputation for doing cosmetic procedures will bring you all of these desires.
So, where do you start? Transitioning your general practice into a more cosmetic-focused practice is simple with Class I restorations. Class I lesions are the most common areas of dental decay and existing failing restorations. They also are the easiest, most predictable restorations you can provide.
Five years ago, I bought an existing general practice. The general practitioner from whom I purchased the practice had been in the same location for 16 years. Although the quality of the dentistry she did was excellent, the dentist preferred to restore posterior teeth with amalgam. So I inherited a practice that was not focused on aesthetics. My challenge in creating the practice I wanted was to make existing and new patients aware of aesthetic, cosmetic dentistry potentials.
From the day I bought the practice, all posterior restorations that could be restored successfully with composites were planned as such. I explained to my staff why we were doing posterior composites and why they would be more expensive. The staff effectively communicated with our patients, who in turn understood and appreciated our providing them with functional dentistry that looks natural.
Five years ago, we began photographing each preexisting tooth and its restoration for before-and-after photographs. This allows patients to see their restored teeth that look natural — like nothing was ever done to them.
Making the transition to Class I restorations is the easiest and fastest way to start. Figure 1 shows a patient's preexisting condition.
A photo of the teeth was taken before they were restored. A few minutes later, the teeth were restored with composite resin (EsthetX improved, Dentsply/Caulk). Before the patient was dismissed, a post-op photo was taken (Figure 2).
Then, via intraoral camera, digital photography, or — worst-case scenario — a mirror, patients see how their teeth have been restored to look as if nothing was ever wrong.
We keep a photo album in our office demonstrating procedures we can provide. For patients who require replacement of old amalgam restorations, we show them Figure 2 as an example of expectations.
After having old amalgams restored with composite, patients often ask if it is possible to do the same to other amalgam restorations. When this happens, we know we have communicated successfully with our patients. They understand that our office is the right place for them to improve their teeth and smiles.
Continuing the evolution to the cosmetic practice, the next procedure to add is Class II composites. Class IIs are more technique-sensitive, but, when done correctly, these last a long time and provide patients with beautiful aesthetic results.
Figure 3 is the before picture of one of our staff members. One day during a cancellation, we restored this quadrant of teeth with two Class IIs and a Class I composite resins. Figure 4 shows the final aesthetic result.
Upon completion of the case, we gave her the before-and-after photos. Since the completion of this quadrant, she has been an advocate for cosmetic treatments, quick to show patients her photos.
All general dentists can provide beautiful posterior composite restorations if they are willing to do them properly. Patients do not want silver or black teeth. The treatment is easy to sell because most patients want it, and most people are willing to pay extra money to have their teeth look natural.
As you start to provide your patients with posterior composite restorations, you will begin to get questions about other things patients dislike about their smiles. This opens opportunities to provide elective, cosmetic dentistry.
The patient in Figure 5 had been one of ours for eight years. After we restored a few posterior amalgam restorations with composite, she asked if we could correct her rotated teeth with the same material. We suggested direct-bonded veneers on Nos. 9 and 10 for a more symmetrical smile. She made an appointment for the next week.
The next week, in one hour, we made a noticeable change in her smile with direct-bonded composite veneers as seen in Figure 6 (Premise, Kerr). The woman is an excellent referral source for our practice because she is so happy with her smile.
The second case, in Figure 7, is a patient of ours for more than 11 years. She was aware we provided cosmetic services — we previously replaced some failing amalgams with a combination of direct-composite and porcelain onlays. Two years earlier, she had expressed interest in improving her smile. We gave her the option of four porcelain veneers to make some improvement or 10 porcelain veneers to create a "perfect" smile. The patient balked initially at the price. In January, she came into the office and told us she had $X to spend on her smile. The amount did not allow for four porcelain veneers, but she had enough for four direct-bonded composite veneers.
The final results in Figure 8 show a dramatic improvement in her smile that was created with direct-bonded composite (Gradia, GC America).
Learning to create direct-bonded veneers provides dentists with another tool in the cosmetic practice toolbox. Direct-bonded veneers are more difficult to do than posterior teeth, and dentists usually will need to attend continuing-education courses to develop the skill. Nevertheless, it is time and money well spent. When providing patients with new smiles, dentists create new ambassadors for their practices. This is the beginning of creating a cosmetic practice.
During the past five years, I have done many things to grow my practice and create a practice focused on functionally beautiful teeth and smiles. During this transition, using direct-composite resins has provided the tool to create thousands of restorations that mimic nature.
As we approach our five-year anniversary in the practice, more than 40 percent of our procedures are elective — and it all started five years ago when we stopped placing amalgam and showed our patients the potential that composite resins provide. We make many patients happy with their smiles, and they help us grow our practice in the direction I want to go.
Any practice can do what we have done. All it takes is determination and a commitment to provide functionally aesthetic restorations. Proper use and understanding of composite resins is a cornerstone to a cosmetic-based practice. With so many excellent composites and bonding systems available, every dentist should be able to find a material that works well for him or her.
Growing, thriving dental practices have significant focuses on composite resins. Our patients demand aesthetic dentistry. Grow your practice by providing it for them.