Precision every time
I am always looking for new products that will make seating veneers easier and more predictable. Veneer Styx is a simple device that will make your cementation appointment worries go away.
Dec 1st, 2004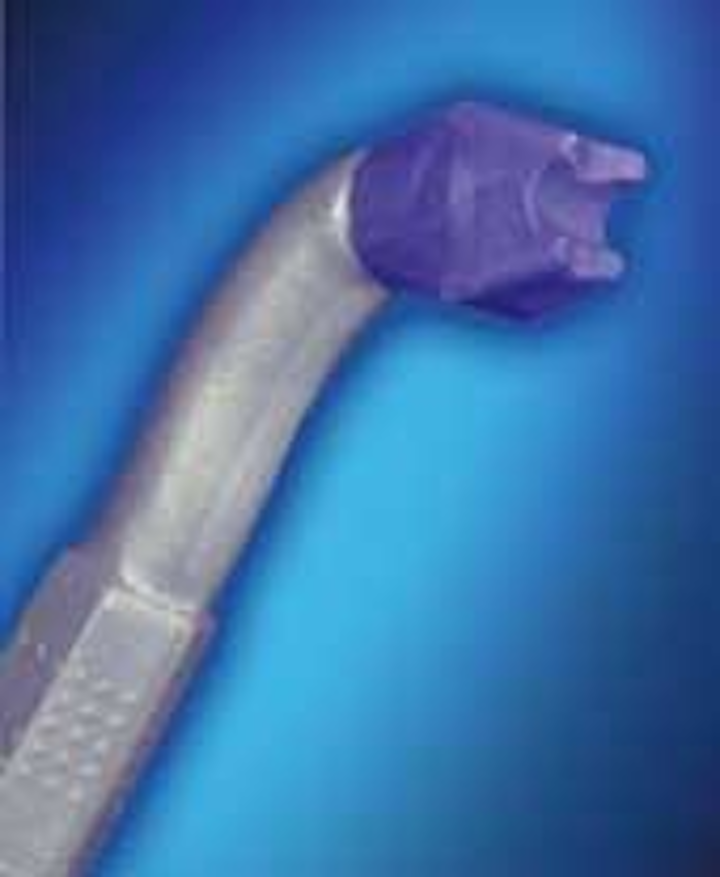 Veneer Styx by Cosmetic Innovations, Inc. I am always looking for new products that will make seating veneers easier and more predictable. Veneer Styx is a simple device that will make your cementation appointment worries go away. This is a "must-have" for veneer cementation.
The instrument is comprised of an autoclavable, slender handle and a unique blue tip. The tips are made of a semi-soft, flexible, and slightly tacky material that is ideal for positioning and holding the veneer in place. Veneer Styx is easy to use and is ideal for the positioning and cementing of porcelain veneers. Bulky fingers tend to obstruct one's view, making it difficult to both see the veneer and to direct the curing light to the correct portion of the veneer. Those slippery gloved fingers have compromised tactile sensation and can inadvertently cause the veneer to move, resulting in undesired results and costly problems. I also use Veneer Styx during the try-in phase of the appointment to help position the veneer and to clearly see that it is properly seated. The blue tip can be rotated on the instrument handle so that the narrow portion can be placed cervically and the wider portion more incisal. It can be used to fit on both the maxillary and mandibular, anterior or posterior teeth. Only Veneer Styx can give the assurance of predictable results while enhancing your vision during veneer placement. The slender, contoured design of the tip keeps the margins clearly visible and accessible, allowing easy access for the curing light, cement clean-up, and flossing. The instrument is autoclavable and the tips are disposable.
For more information or to order, visit www.veneerstyx.com or call (877) 3-VENEER (383-6337).
Detail™ Pre-impression Cleansing Gel by CLINICIAN'S CHOICE. Every time you cut a preparation for an indirect procedure, the tooth becomes contaminated. Saliva, tooth-dust, and blood are smeared across the preparation you just created. I have always just rinsed the prep with a lot of water and proceeded with the impression, that is until Peter Jordan introduced me to Detail.
If you really care about taking a great impression the first time and every time, reach for the cleanser that leaves behind a clean, decontaminated preparation with the ideal surface tension to ensure the best impression possible. Detail alters the surface tension of the prep allowing the light-body impression material to contact the prep more intimately, giving you the best impression with the best detail. The technique is simple - just syringe Detail around the sulcus and the entire prep. Wait no more than 10 seconds and then rinse with plenty of water until all the Detail is removed. Then proceed to get the best impression you have ever had!
For more information or to order, visit www.clinicianschoice.com or call (800) 265-3444 and start getting the best impressions ever.
IntraFlow™ anesthesia delivery system by Intravantage. I have always had a problem with intraosseous anesthesia because I had problems getting the needle back in the hole. But when it did work, the anesthesia was great.
What if you could drill the hole and inject the anesthetic all in one easy step? With the new IntraFlow, that is what you get. This device is a handpiece that will simultaneously perforate the bone and inject your anesthetic of choice in one step. You simply remove the slow-speed handpiece and use the four-hole connector to make the IntraFlow part of your system. Then it is simply a matter of choosing the area that you want to anesthetize.
I love this system for prepping anterior veneers. You simply place the anesthetic posterior to both cuspids and you have instant, profound anesthesia of the six anterior teeth with no numbness in the lips. This makes the whole procedure so much easier to prep and to cement. Imagine being able to treat lower teeth without lingering numbness and a painful shot for your patients. IntraFlow is proven technology that will deliver safe, profound, and reliable anesthesia. Your patients will love it and so will you. Reach IntraFlow by calling (877) 476-4299 or visit www.intraflow.com for more information.
G-BOND by GC America. G-BOND is a new, one-component, self-etching, light-cured adhesive that will make your life easier.
You simply apply this adhesive to the lightly dried tooth with a microbrush, thoroughly coating both the dentin and enamel surfaces. Leave the self-etching adhesive undisturbed for 10 seconds.
Then, thoroughly air-dry for five seconds. The G-BOND will now have the appearance of frosted glass. Light-cure for 10 seconds with an LED or Halogen curing light. Now you are ready to apply any light-cured composite. If you use a dual-cure composite, you must light-cure the material. That's it! G-BOND gives you a very easy-to-use adhesive with a short application time. Order from your dealer or visit www.gcamerica.com for more information.