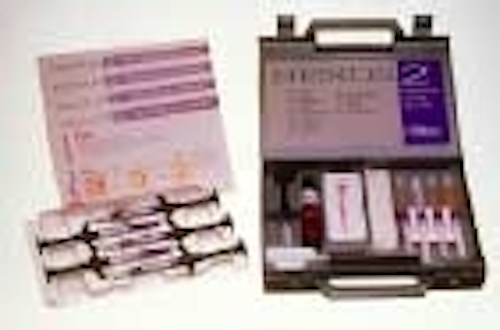 Joseph Blaes, DDS
Pearl 1 - Nexus2 by Kerr. At long last, Kerr has introduced the new Nexus kit. Many years ago, one of the first resin luting agents was Kerr's Porcelite. It was also the first resin cement to have a translucent shade in the kit, and it became my standard for cementing porcelain veneers.
The important part was that the cement did not change the shade of the veneer. I take time and effort to select my shades. I give the lab a stump shade and a shade map so they can create the shade I feel will best suit my patient. When those six, eight or 10 veneers come back from the lab, I expect the shade to be right. When I try in the veneers and the patient approves the shade, the last thing I want to do is change the shade of the veneers. So, when Porcelite came along, we had the perfect cement.
When Kerr introduced Nexus, it became my standard resin cement. Those folks at Kerr are always improving their products, and they now have introduced Nexus2. They have added five new shades to the kit and have developed a clear shade that has water-like clarity and the highest translucency of any cement. I was so happy to hear they still make my shade!
Completing the system is OptiBond Solo Plus, which is a filled, single-component bonding agent. This bonding agent offers great security against sensitivity. When you are ready to seat your next multiple-veneer case and want to match the shade you see on try-in, use Nexus2 to be sure. For maximum versatility, Kerr makes the cement in both a low- and high-viscosity, with a catalyst that will not change the base shade, making the cement dual-cure. When I am looking for quality dental products, I rely on Kerr because I know I won't be disappointed!
Order from your dealer. For more information, call Kerr at (800) KERR-123 or visit Kerrdental.com.
Pearl 2 - Bident Electrosurgery System. For more than 30 years, we have been limited to a "monopolar" electrosurgery unit, complete with a grounding pad. How many times has a patient asked you what that plate with the wire attached that you just placed under his shoulder was for? It is a hard question to answer. Say goodbye to all the limitations of "monopolar"! Bident is one the most extraordinary and useful technologies introduced to dentistry in recent years. This unit's multipatented waveform technology has been used by more than 90 percent of the world's neurosurgeons and many other medical specialties on a daily basis for more than 15 years.
This unit is truly amazing! It allows you to do things that you never dreamed possible with an electrosurgery tip. Since the electricity is confined to the electrodes, there is no current spread to the patient's body.
The Bident really shines when you begin cutting tissue! You will not notice the "drag" usually associated with your "monopolar" unit. As the tip moves smoothly through the tissue, you will notice that there is no charring and no heat. There is, however, a nice, clean cut. The tissue does not stick to the probe, so you don't have to wipe the probe continuously. Unlike your "mono polar" unit, the Bident can cut or coagulate in a wet field (in fact, it works better in a wet field). You can use it to cut around implants, crowns, and bridges without worrying about touching metal, because there is no spark and no tissue damage. Use the Bident to cut right to the bone without any worry of bone necrosis or sloughing.
With Bident, there are no restrictions with pacemakers or other electronic devices. The Bident system is more like cutting tissue with a scalpel, but without the bleeding. I find this system to be much more effective, more precise, safer, and much less expensive than any laser system on the market today. There are many tips available for any surgical procedure you can think of. You must have this system in your office! You will find many more uses than I have described here, and you will find yourself using it every day in many ways. Bident is FDA- and ADA-approved and has a no-questions-asked, 30-day return policy.
To order, call (800) 469-6369 or visit www.bident.com for more information.
Pearl 3 - Digital Photography Kit by Kodak. Kodak is back with a vengeance! They have been a hit at both the ADA Meeting in Chicago and at the Greater New York Meeting.
Kodak has introduced an imaging system based on a digital camera that is one of the best on the market. With their kit, you can show patients how they will look with a new smile. The kit includes everything you will need - from the digital camera with a ring flash to a photo-quality inkjet printer. A state-of-the-art dental imaging software platform makes it easy and affordable to add imaging modules, which can show patients before-and-after shots of tooth whitening, orthodontics (instant and regular), veneers, and more.
Kodak has formed an alliance with the DICOM Company to bring you the best software on the dental market today. But what's really great about this system is the ease in using the camera, printer, and the incredible software. And the whole package is very affordable. You can get in on the fun for less than $3,000. Wow! At that kind of price, why wait?
This is a terrific way to help your case-acceptance rate soar! Sell the sizzle - that is, the benefits of this treatment - to your patients, and they will move ahead every time. All of this from a great company ... but what would you expect from the most trusted name in imaging? I hope you will all take a close look at this system and move ahead if it seems appropriate for you. This system uses the new Kodak paper that I mentioned last month.
Order from your dealer. For more information, call Kodak at (800) 933-8031 or visit www.kodak. com/go/dental. You won't be sorry.
Pearl 4 - Profiler by Denbur. This is an extremely clever, new hand in strument that can be used for many ap pli ca tions. It was de signed first and foremost for finishing interproximal areas of restorations made from all materials.
The Pro filer is a hand instrument with interchangeable, diamond-coated tips with many different shapes and angulations. This versatility allows you to reach every area of the mouth and teeth. You control the amount of restoration to be smoothed and finished by selecting a diamond tip in the proper shape and grit. If you have a large amalgam overhang, start with the coarse diamond tip to remove most of it and then smooth with finer diamonds until you have a restoration that no longer attracts plaque.
Use the Profiler to finish and smooth preparations, to finish porcelain crown and veneer margins, and to finish and polish composite margins in direct restorations and resin cement margins. My hygienist has found all kinds of uses for these great new tips. This is a must-have instrument!
Order from Denbur at (800) 992-1399 or visit www.denbur.com. You'll be glad you did.
Pearl 5 - The Golden Ruler by Panadent. Here's another nifty product from this California company that has all kinds of great products for the cosmetic dentist. The Golden Ruler is based on the principle of the Golden Proportion, which was first described by Aristotle in ancient Greece. The principle has been recognized through the ages to hold the key to the secret beauty produced by scientists, artists, and architects like Leonardo Da Vinci, Sir Chris topher Wren, Michel angelo, and many more. If you have gazed on Michelangelo's David, you know in an instant about the Golden Proportion.
This instrument will give you optimum esthetics for your prosthesis. The Golden Ruler maintains the Golden Proportion ratio of 1:1.618 at different dimensions. It gives a guide to the dentist and technician of some of the esthetic factors. If you are doing cosmetic cases, you must have this instrument!
To order, call Panadent at (800) 368-9777 or visit www.panadent. com.
---
Dr. Blaes has a general practice in the St. Louis area. He is known for his expertise in dental materials and techniques and his innovative systems designs. He writes and lectures on "How To Increase Productivity and Profitability." Dr. Blaes is a member of the American Academy of Dental Practice Administration. He may be reached at (573) 686-2388.