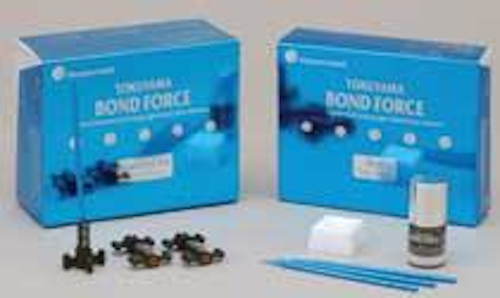 by Dr. Joe Blaes
Bond Force from Tokuyama® — This product has been a buzz on the market for more than two years now. I approached it with a "ho hum, another bonding agent" attitude and didn't try it. But friends kept telling me about this great product and the great dentin bond strengths that have been reported in research. Finally I gave in and tried it — and the result is that Bond Force has become my adhesive of choice, especially where dentin or uncut enamel are present. Bond Force is a 7th-generation, single-component, self-etching, fluoride-releasing bonding agent. With the patented SR monomer, it creates a 3-D link to the tooth, which generates an extremely strong bond to enamel and dentin. Bond Force requires only one application, and is designed to be used on both cut and uncut enamel and dentin. The material is available in a bottle or unit dose, but I'm convinced the only way to buy this great adhesive is in unit dose so you're assured of getting the very freshest chemistry possible. I do not use any adhesive systems out of a bottle any more. With the sensitive chemistry of 7th generation bonding agents, I will not take the chance of the chemistry changing by exposure to the air that is drawn back into the bottle. By the way, you will love the Bond Force unit dose that stands up for you on a base of its own. It has a neat, well-thought-out design. The benefits of Bond Force include outstanding bond strength, only one application required, no etching, no rinsing, no mixing, less technique sensitive, and no sensitivity. If that's not enough, it can also be used to repair fractured porcelain and composite. Order from your dealer or visit www.tokuyama-us.com for more information.
Estelite® Sigma from Tokuyama® — As you might expect, I ignored the composite from Tokuyama as well, and for the same period of time. Once I began using it, I found it to be an extremely innovative material. Many composites talk about a "chameleon effect," but Estelite Sigma truly has it. This composite actually takes on the color of surrounding tooth structure. Estelite Sigma is a light-cured, submicron-filled resin composite containing 82 wt% (71 vol%) of filler. Every inorganic filler contained in this composite is spherical submicron filler. Together with its outstanding mechanical strength, it offers superior esthetics as well as the strength required for posterior restorations. The benefits of Estelite Sigma are outstanding esthetics, excellent polishability, exceptional surface gloss that remains intact, low shrinkage, very high mechanical strength, high wear resistance, and easy, no-stick handling. Order from your dealer or visit www.tokuyama-us.com for more information.
Rinn Digital Sensor Loops from Dentsply Rinn — One of my favorite innovative companies that has been providing top quality X-ray supplies since 1923 has come up with a great solution for stabilizing your digital sensors. No more fumbling around trying to be sure the sensor is in the correct position; the Loop does it for you. This is a new, single-use Rinn Digital Sensor Loop for the positioning of the digital X-ray sensors when taking bitewing radiographs. With five different sizes to accommodate most brands, the Loops easily slip over digital sensors to hold them in place snugly, no matter what infection control cover is used. They help provide accurate bitewing radiographs, which save time and money because they cost less than other disposable holders. Rinn Digital Sensor Loops are fast and easy to use. Their small size and lightweight construction make them easy to place and comfortable for the patient. And since they are single use, there is no worry about cross-contamination. For additional information or to request a free sample, contact Jonathan Whiteside at (800) 323-0970 or visit www.rinncorp.com.
Septoject XL dental needles from Septodont — Forget everything you've learned or thought you knew about dental needles! You are about to be introduced to an entirely new and simplified system. There are only two Septoject XL needles: the Septoject XL Block and the Septoject XL Infiltration. That's all there is. Don't worry about needle length or gauge; with Septoject, just pick Block or Infiltration. It is not the size of the needle that makes an injection painless; it is the sharpness of the needle that makes the injection comfortable. As an aside, Dr. Stanley Malamed routinely challenges his audiences by saying that he can inject them with a 25-, 27-, and 30-gauge needle and they will never be able to tell the difference. He wasn't recommending Septoject needles, but simply making that claim. The lumen of the Septoject needles is 43% wider than a standard needle. This large-bore design makes it unique, requiring less pressure for injection, which leads to a more comfortable injection. The needles have a siliconized triple-bevel design that ensures a smooth, easy insertion into tissue. Orienting the needle is quick and easy with the bevel indicator. Order from your dealer. Call (800) 872-8305 or visit www.septodontusa.com for more information.
CLEARFIL™ SA CEMENT from Kuraray Dental — Here comes a new, innovative, one-step, self-adhesive, self-etching cement with all the benefits of glass ionomers, the features of resin cements, and Kuraray's famous adhesive technology. This cement was specially developed for the cementation of indirect restorations made of metal, all-ceramic (zirconia and alumina) hybrid ceramics, or composite. It does not require etching or pretreatment of the teeth before using. The clinical technique involved is very forgiving because the tooth may be dry or slightly moist. In addition, the water sorption of CLEARFIL SA CEMENT is lower and cleanup is fast and easy with shorter chair time and without damaging the gingival tissues. The features and benefits of this cement are: exceptional handling and ease of excess cement removal; very low technique sensitivity, with consistent bond strength even to over-dry and wet dentin/enamel; high bond strength to zirconia and alumina; good marginal sealing; low solubility and low film thickness for optimal cementation; and fluoride releasing. Order from your dealer or visit www.kuraraydental.com for more information.
THE "YES" SYSTEM: How to Make It Easy for People to Accept Comprehensive Dentistry by Dr. Nate Booth —
You can be the most skillful and caring dentist in the world with the best team and outstanding services, but your impact will be severely limited if patients don't proceed with the comprehensive restorative, implant, and cosmetic dentistry you recommend. In Dr. Nate Booth's The "Yes" System, you'll learn the six stages patients go through to accept comprehensive dentistry. Now, your entire team can "be there" for patients every step of the way, making it easy for them the say "Yes" to the care you recommend. I have known Nate for more than 20 years, listened to him many times, and always came away with life-changing information. I consider this program to be one of his finest works and I heartily recommend it to any dental office that wants to increase patient acceptance of their best and finest dentistry. The "Yes" System is a DVD-based, in-office program that contains everything you need to conduct 10, one-hour team meetings. I recommend it to any dentist. Check it out at www.theyessystem.com.