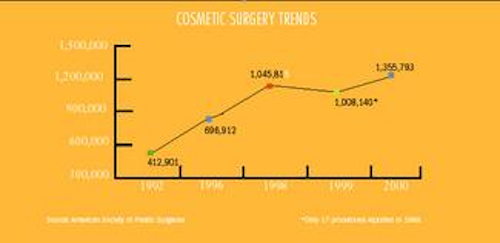 by Tom Hedge, DDS
ABC's hit show "Extreme Makeover" drew more than 12 million viewers the last week of April. That put it at No. 31 in popularity, beating out shows like "The Wonderful World of Disney," "Sixty Minutes II," "Frasier," and "Fear Factor." The population of the United States is obsessed with looking better. They watch it, they talk about it at work, and they are getting it done in record numbers.
The number of procedures performed between 1992 and 2000 tripled. Chalk this up to an aging population with more disposable income than any other previous generation. The parents of the Baby Boomers are beginning to pass on their great accumulation of wealth. This population was frugal and saved because they remembered the tough days of the depression and post-depression years. Baby Boomers have lived in an incredible era of prosperity and are eager to spend their inheritances on themselves.
The Census Bureau estimates that one in four people will be 55 or older in 2000. This is the highest percentage of over 50-year-olds our nation has ever had, and they will be the healthiest, fittest group ever that will want to recapture a more youthful appearance.
Another reason we see an increase in plastic surgery is because the procedures have become so much safer, faster, and predictable. Today's techniques are minimally invasive with fast recovery times. Cosmetic surgery is not just for movie stars anymore. It has moved into the mainstream, and people from all walks of life are having procedures performed.
Cosmetic dentistry has a similar opportunity to help people. Every patient who seeks cosmetic dentistry wants to look better. Patients can perceive problems with their teeth; however, they may need more than dental work. If dentists can help patients recognize other improvements they might make, they can provide a tremendous service.
Most people don't where to turn when they are interested in cosmetic surgery. They generally think of their physicians strictly as a health resource. They might ask their friends, but the decision to have cosmetic surgery can be quite personal. Many people may not want to share these private details with their friends. Patients may also ask cosmetologists, hair stylists, or estheticians as about cosmetic surgery. Advertising and the Internet may also play a role.
Yet, who would be a better source of information for patients seeking information on an aesthetic evaluation of the face and potential improvements than their cosmetically oriented dentist? Most patients see their dentist every six months; therefore, a familiarity and sense of trust is already in place. Dentists can facilitate this quest for their patients setting up an alliance with plastic surgeons and learn what they are capable of doing.
This past May, I spoke at the Academy of Cosmetic Dentistry meeting and had a free afternoon. I attended Dr. Louis Costa's lecture. Dr. Costa was trained first as a dentist, then as an MD, and then finally as a plastic surgeon. He showed us many procedures that could be done to enhance facial aesthetics.
After meeting him, a light bulb went off in my head. Why don't I meet with the plastic surgeons in town and share what we have to offer our patients? I sent the letter accompanying this article to all 20 specialists in my hometown. I received six phone calls from interested plastic surgeons almost immediately. We currently are developing a strategy to explore the many possibilities this concept has.
One of the meetings I scheduled was with Dr. Jon Mendelsohn, a plastic surgeon who had already arrang-ed to do a Cincinnati version of Extreme Makeover. He had teamed with the ABC local affiliate's morning news show. People were asked to submit a story and photo if they were interested in participating. The pictures and stories were posted on the station's Web site and viewers were asked to vote for the winner. The winner, Marlene, had a great story and an incredible personality. Fortunately, she also would benefit greatly by 10 upper veneers and lower whitening. A hair stylist and fashion consultant were added to the team.
The next step is to promote this event as much as possible. I've hired an agency to create a new campaign for my full-page ads in Cincinnati Magazine. Most cities have something like this. The ad will be a series of three in sequence. The series will consist of an ad followed by "the unveiling, " while the last ad will be "the dream team" that created the results. I am also approaching other media about coverage. They all seem very interested so far.
There will be no new Extreme Makeover shows this summer and no reruns. It will, however be returning in the fall at 9:00 pm on Thursday nights. This is a power slot, indicating the popularity and promise this show has. Dentists who want to capitalize on this trend should plan something for the fall now!
Summer is an excellent time to hit this craze. Print ads, radio, and direct mail over the summer will feed off the spring broadcast excitement and ties in perfectly with the summertime desire to look great.
---
Dear Dr. xxxxxx,
I am a cosmetically oriented dentist in West Chester. My patient base is from throughout the greater Cincinnati area. I have established a leadership role throughout the US over the past few years in the areas of dental cosmetics and digital photography.
Last week I was speaking at the annual American Academy of Cosmetic Dentistry in Orlando. I had the opportunity to attend Dr. Costa's lecture. Dr. Louis Costa was initially trained as a dentist, and later became a board certified plastic surgeon. He practices in Charleston, South Carolina.
He reviewed ideal facial esthetics and the procedures that could be used to correct them. I realized that many of these procedures could greatly enhance my results. I was particularly interested in the lip enhancement procedures, although a number of other procedures were also of interest.
I would like to meet with you in the near future to discuss the services you would have to offer to my patients. I would also like to get some images of before and after cases to show to my patients.
I feel that many people might be interested in facial cosmetics, if they knew more about the procedures, costs, etc. A one page facial evaluation form would be helpful. I also feel that it may often be appropriate for me to initiate this dialog.
Sincerely,
Thomas K. Hedge DDS