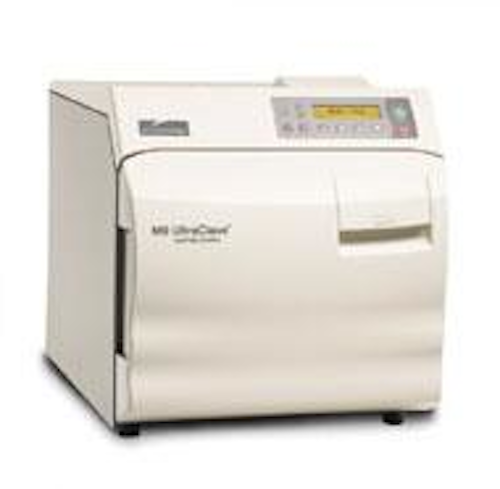 Joe Blaes, DDS
Pearl 1 — M9 UltraClave Automatic Sterilizer by Midmark. What could be more essential to a dental office than an autoclave? This tool is pretty boring but very essential! That's what I thought until my trusty old autoclave quit and the service department said they don't even make parts for that model anymore. When all this happened, I had a trip planned to visit Versailles, Ohio, the home of the Midmark Corporation. I knew they had a complete line of sterilizers so I figured I would get a presentation right at the home office before I selected a new model. Wow! They don't make sterilizers like they used to. Sterilization is easy with the M9 UltraClave — just a few simple steps complete the process. Select the type of cycle you want and the time is set for you. Press the start button, and the M9 fills with the correct amount of water. Once the sterilization is complete, the M9's door opens automatically to dissipate steam and dry your instruments. That means no more wet instruments!
This sterilizer has an LCD display message that lets you know the water level is low and needs refilling. Another LCD display message lets you know if the door is not securely closed. In both cases, sterilization can't continue until you have taken care of the unit. The M9 makes your life easier by placing both the water reservoir fill spout and the drain tube in the front of the unit, not on the top or in the back. So you don't have to wrestle with the unit anymore to do either of those jobs! A large-capacity water reservoir means that you have to fill it less often. Actually, the M9 is so automatic that you can load it, push a button, and forget about it. When you come back, you will have dry, sterile instruments every time. Visit their Web site at www.midmark.com or call (800) MIDMARK for more information.
Pearl 2 — Elipar® FreeLight 2 from 3M ESPE. You knew this was going to happen! LED technology is advancing so quickly in dentistry that better and more powerful curing lights are replacing the original models. A good case in point is the new FreeLight 2 LED Curing Light that replaces the original FreeLight. This new light has twice the power output of the original, and it will cure compatible light-cured materials 50 percent faster than manufacturers' recommended cure times. I could not believe this, so when I received my FreeLight 2 unit, I charged it up and began testing the composite and bonding materials that I use in my office. They did in fact cure in half the time. Now that's a timesaver! I have found that LED curing lights will sometimes shut down if you are using them constantly, such as when doing a final cure on veneers. This can be inconvenient when you are in the middle of something. So, I put the FreeLight 2 through another test that simply involved setting it for a 20-second cure and running it constantly to see when it overheated and shut down. I can tell you that I got up to seven minutes before it shut down. That's twenty-one 20-second cures — more than enough to cure 10 veneers. That's great! The unit will hold a full charge for 20 minutes while a built-in microprocessor monitors a constant LED output. Since the FreeLight 2 has no bulb, a fan is not needed, resulting in minimal heat and silent operation. The heat is controlled by unique heat-sink technology that cools the LED.
The fanless handpiece is much easier to clean. The light generated by the LED matches the absorption spectrum of the most frequently used photoinitiator systems. The light guides rotate 360 degrees and are designed to reach the hard-to-cure spots. If you haven't experienced the thrill of a cordless curing light in your practice, you owe it to yourself to get a FreeLight 2 and enjoy the lightweight portability of an LED curing light. Visit their Web site at www.3MESPE.com or call (800) 634-2249 for more information.
Pearl 3 — Affinity® VPS Impression Material by Clinician's Choice. I was walking through the exhibit area at the AACD meeting last May and ran into my friend Peter Jordan at the Clinician's Choice booth. I asked my favorite question when I stop at any exhibitor's booth: "What's new and exciting?" He asked if I had tried Affinity VPS. I said, "No, what's so great about that — I mean, isn't it just another VPS impression material?" Well, that was the wrong thing to say, because Jordan immediately challenged me with all the reasons why Affinity VPS was better than what I was presently using. I could not get away from the booth without taking some of this new impression material with me to try the following week. So I lugged it home in, adding a few more pounds to my already heavy luggage. A few weeks ago, I was prepping tooth no. 3 for a DOFL Empress 2 onlay and decided to try a number of impression materials, including Affinity VPS. Basically, what I did was take four triple-tray bite impressions in rapid succession of that prepped tooth. I checked them out and they all looked pretty good under 4X magnification. Then I numbered the trays and sent them to my lab guy, David Block, at Aesthetic Porcelain Studios and asked him to check them out and tell me which impression he preferred. Then I asked him to pour all the impressions and tell me which model he preferred. He picked the Affinity VPS impression and model. Now I know this is not a very scientific study, but it works for me.
One of the benefits that Peter told me about was the ability of this impression material to maintain the light body throughout the prep area. I used Affinity Light Body HF (the lowest viscosity wash material) in conjunction with Affinity InFlex (a heavy body material made especially for triple trays). The hydraulics of this tray material effectively move the Light Body HF into the sulcus area upon insertion of the impression tray, capturing the margin and preparation site with outstanding accuracy and detail. Upon closer examination of the impression, I found that the tray material did not displace the wash material in the margin and prep area, as is often the case with other impression materials. So the wash material did what it was supposed to do — capture the prep and the margins. Affinity also offers a light body, which is designed for those who use an air syringe to drive the wash material into the sulcus area prior to insertion of the impression tray, called Light Body RF. (I have never been able to master this technique without getting the impression material all over the patient and myself.) I have since used Affinity VPS in conjunction with the Heavy Body tray material on some larger cases and have had the same great kind of results. I am glad I ran into Peter down in Orlando! To order or for more information, visit their Web site at www.clinicianschoice.com or call (800) 265-3444.
Pearl 4 — Contax from Zenith/DMG. Contax Bonding Agent is designed to eliminate the confusion of which adhesive material to use with dual-cure, light-cure, and self-curing cements. It is a universal bonding agent that can be used with all materials, offering the security of a strong bond. It is a self-etching, self-conditioning system for dentin and enamel. The water-based primer offers dual benefits: It allows Contax to work in a wet, moist, or dry environment, as well as reducing patient sensitivity. Contax is a two-bottle system. You place the self-etching primer first, working it into the enamel and/or dentin for 20 seconds, then follow with Contax Bond, working it into the surface for 20 seconds. Then, light cure. Be sure to follow the manufacturer's instructions.
Contax makes your life easier by color-coding the bottles and caps for easy identification and for getting the right cap back on the right bottle. Contax supplies a third bottle of Activator for those cases where you use self-cure materials or when you utilize the self-cure option in a dual-cure restorative material. Simply mix the activator with Contax Bond and apply to the tooth structure. Just follow the instructions. Zenith/DMG has made this a simple system to use. It will give you good bond strengths to dentin and enamel, with no sensitivity. Use only with direct restorative materials. Visit their Web site at www.zenithdmg.com or call (800) 662-6383 for more information.