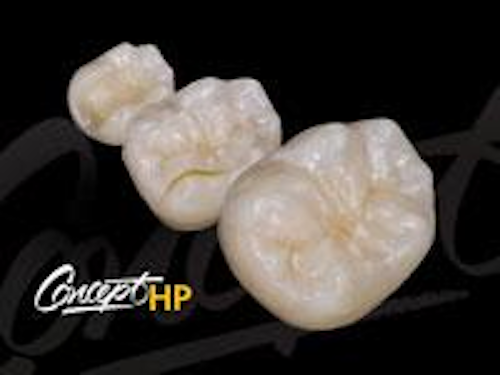 Joe Blaes, DDS
Pearl 1 — Concept HP® by Ivoclar Vivadent. Concept HP is an indirect resin restorative for inlays and onlays. Concept was originally introduced in 1987, and I used it in many cases for indirect restorations. It was an answer when some of my porcelain inlays began to fracture. Now it is back. Concept HP (Heat and Pressure) maintains the high performance levels of the original material with excellent aesthetics, ease of use, proven longevity, high wear resistance, easy placement protocols, and long-term luster. Improvements have been made in its shade range, radiopacity, layering fabrication protocols, and ease of handling, all of which culminate in improved bond strengths and more natural aesthetics. Concept HP has a new foundation material that increases bond strength and provides greater visibility on a radiograph. The new polymerization technique ensures excellent marginal integrity and minimizes clinical shrinkage stress to the restored tooth. The expanded range of shades makes this a great material for enhanced aesthetics. This material's reinforced microfill composition makes it ideal for posterior applications that demand high-wear resistance. The microfill chemistry makes surface polishing easier, which ensures long-term aesthetic success for the patient and the clinician. Chairside repairs or adjustments are easy to accomplish. For more information, call (800) 533-6825, or visit www.ivoclarvivadent.us.com for more information.
Pearl 2 — Template™ by Clinician's Choice. The temporization of veneers, crowns, and bridges was revolutionized by the arrival of auto-mix bisacryl temporary composites. Although temporization became quick and efficient, the methods that most dentists use to fabricate provisional matrices are still time consuming, frustrating, and not nearly as accurate as they could be. How are you creating your matrix? If you follow my "Pearls," you have certainly heard of the Dental Button, but read on — I think I've found an easier way, especially for large cases. Are you creating vacuum-formed splints? You have to take an impression, pour a model, wait for it to set, and then create the suck-down splint. These splints usually create excessive flash, forcing you to spend more chairtime finishing the temporary. Perhaps you have been using putty with a wash or alginate to form your matrices. Unfortunately, both putty and alginate can increase your procedure time by four, five, or even 10 minutes — simply waiting for the material to cure. Can you really afford to lose that much time on only one step of the procedure?
The folks at Clinician's Choice understand the value of chairtime and the costs associated with inefficient procedures. That's why they created Template — a heavy impression material that sets faster than anything I have seen. When you use this material, be ready to go because it will set outside the mouth if you are not quick. Template provides a very accurate and detailed matrix that will eliminate the need for a lot of adjustment and finishing of your temporaries. Template's fluid viscosity will easily capture the dentition detail you need with a cure time of only 30 seconds. A couple of tips — I usually extrude a small amount of material on the facial of the teeth at the gumline using the regular tip while the assistant fills the tray. Be careful not to seat the tray all the way so that the teeth do not hit the tray. You get a better matrix that way. Now you can cut your procedure time in half and get better accuracy than ever before by simply taking a Template before you temporize. Call (800) 265-3444 or visit www.clinicianschoice.com for more information.
Pearl 3 — The Art of Smile™ by SmartPractice. I was excited to see my new SmartPractice catalog when it arrived a few weeks ago because it announced a newly created alliance with High Impact Marketing. HIM founder Dr. Tom Hughes has agreed to offer the great HIM cosmetic marketing products exclusively through SmartPractice. This alliance enables them to broaden their product offerings with more tools that inspire our patients to improve their smiles. I have always been a great believer in creating an office identity that says, "We are about Cosmetic Dentistry." Most of the services we provide are purchased with discretionary dollars, yet we all have our reception areas filled with magazines that have advertisements for our patient's discretionary dollars. That seems rather odd to me. So cancel your subscription to People and Oprah. Educate your patients with before-and-after images using HIM Photo Atlases, Smile Gallery Photo Albums, and reception room videos that show smiles magically changing before your eyes. These tools effectively dispel your patients' uncertainty and shows them options that are available to change their smiles. This boosts expectations and the number of aesthetic procedures that you perform. You will also find some great new recall and prospecting cards, brochures, and appointment cards in this great catalog. Get yours today by calling (800) 522-0800, or visit them at www.smartpractice.com.