Cements come into new age
Pearl #1 - TempoCem by Zenith Brands. Zinc oxide/eugenol and noneugenol cements in separate tubes always have been a mess. The material oozes after you squeeze the tube, and it gets all over everything. It has been this way for years! Now someone has finally done something about it. Zenith has introduced TempoCem. This product brings these cements into the new age of automix cartridges. No more messy tubes! Dispense only what you need! I said that
Dec 1st, 1997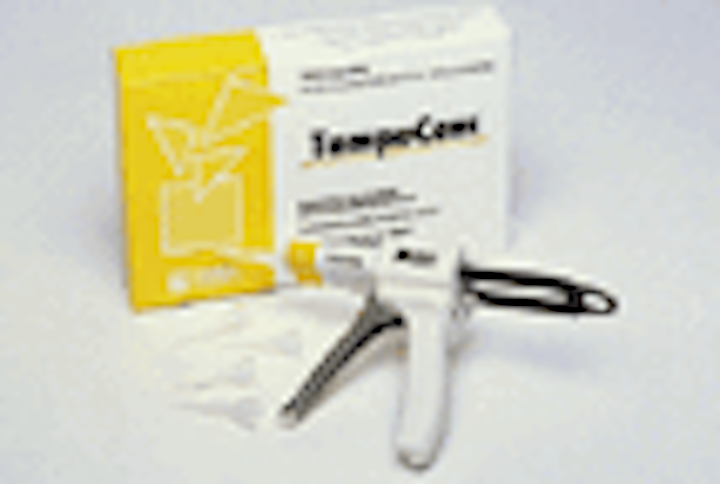 Joseph Blaes, DDS
Pearl #1 - TempoCem by Zenith Brands. Zinc oxide/eugenol and noneugenol cements in separate tubes always have been a mess. The material oozes after you squeeze the tube, and it gets all over everything. It has been this way for years! Now someone has finally done something about it. Zenith has introduced TempoCem. This product brings these cements into the new age of automix cartridges. No more messy tubes! Dispense only what you need! I said that
this product would not go over until I used it. It is so convenient for all the staff. TempoCem comes in three distinct formulations. The first is TempoCem, a zinc oxide/eugenol temporary cement designed for use with all types of provisionals. The presence of eugenol gives a sedative effect to the pulp. The second is TempoCem NE, which is a noneugenol cement for cases where a residue of eugenol may inhibit the polymerization of resin materials. Noneugenol cements have become very popular for cementing temporaries in cosmetic cases. The third is TempoCem Soft, which is modified to set to a softer-end hardness and is indicated for long-span temporary bridges. This formulation permits easier removal of tight-fitting temporaries. TempoCem will be a terrific companion product for Zenith`s great temporary material, Luxatemp. If you are looking for a way to simplify temporary cements, call and order some from your dealer or call Zenith at (800) 662-6383.
Pearl #2 - EZ Contact by APS Block Dental Technologies. One of the most frustrating things for me in doing crowns and bridges is contacts. Both loose and tight contacts are a problem. If the contact is loose, I must send it back to the lab to add porcelain to the contact and reappoint the patient. How do I communicate to the lab how much to add? With difficulty! If the contact is tight, then everyone holds his or her collective breath while I slowly and carefully adjust the contact, only to find that I have taken too much and it must go back to the lab. My friend David Block, at Aesthetic Porcelain Studios, has come up with a solution. He has developed a kit that you can use to bond a special composite to the porcelain to correct loose contacts. The kit includes porcelain etch, primer, bond, composite and polishing materials. You also can use this material to add to pontics that no longer fit the tissue. I am sure that this will be one of those materials that I will find many uses for as time goes on. I think it is a great product that deserves your attention. I can save the patient another appointment by using this material. Call David at (800) 544-9605 to order.
Pearl #3 - Personalized Video Postcards From National Dental Network. Video Postcards blend the impact of a television interview with the targeting power of direct mail. This is a six-minute, personalized video, professionally produced in a studio setting that is an easy and cost-effective way for dentists to bring their message to potential new patients. What patients really want from their dentists is a caring, sincere and personal interaction. In a world that is increasingly more apathetic, patients want personal service. The Video Postcard takes the direct mail piece or the new-resident mailer to a new level that captures the attention of the people you are trying to attract to your practice. This six-to-eight-minute video presentation creates the perception that you are the most up-to-date, state-of-the-art, caring dentist in your area. This is an up-close and personal interview that allows you to inform the viewer about your practice, your expertise, your views on dental wellness, the type of patient you are looking for and what it takes to become a new patient in your practice. You will become the recognized dental-care expert in your area. You have a distinguished practice and here is a way to tell your story. Differentiate yourself from the practice down the street. Call National Dental Network at (800) 803-6786 and ask for William Mays.
Pearl #4 - The Dental Practice Employee Appraiser by George Goldie and Associates. This computer program is the missing piece in the dental personnel-management program. How many of you are doing performance reviews on a regular basis? I did not until I began using this program. The system features preformatted appraisal templates for all office-staff categories. It has evaluation topics, including chairside skills, business skills, interpersonal skills, communication, hygiene skills, dentist skills, etc. The program essentially automates the writing of performance reviews and makes them more consistent, specific and complete. A built-in word processor creates your forms and then checks the document with the "Labor Law Scan Glossary" for words that may be construed as sexist, racist or otherwise inappropriate. It doesn`t matter whether you have two employees or 20; the program works. I did not know that my staff really wanted thorough evaluations until I started doing them well. Their enthusiasm has grown since they know I care enough to write a solid review. Call George Goldie & Associates at (415) 595-0431 to order.
Dr. Blaes has a general practice in the St. Louis area. He is known for his expertise in dental materials and techniques and his innovative systems designs. He writes and lectures on "How To Increase Productivity and Profitability." He may be reached at (314) 434-6808.
Pearl 1
Pearl 2
Pearl 3
Pearl 4