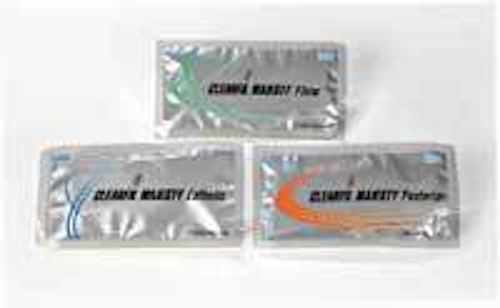 by Joe Blaes
CLEARFIL MAJESTY™ Esthetic, CLEARFIL MAJESTY™ Posterior, and CLEARFIL MAJESTY™ Flowby Kuraray America - As I travel the country giving seminars on dental materials, one common complaint is that composites have become very complicated and time consuming. Why can't we have just one shade? Finally, a trusted name in dental adhesives and composites has listened and responded. The Kuraray Labs and their scientists have created an entire new line of anterior, posterior, and flowable composites that have all the features and qualities you want. I have been using these materials for the past 10 months and have found them to be great products that will simplify your procedures for placing all-composite restorations. CLEARFIL MAJESTY Esthetic is a light-cure, radiopaque restorative composite resin that contains a proprietary nano-filled composite filler and a high refractive matrix for anterior and universal use. I have encountered a lot of problems with the multishade anterior composites. I don't like having to blend a number of shades to match the tooth. Majesty Esthetic has simplified my life! This composite can be applied in just one shade in a technique that Kuraray refers to as mono-layering, which makes it easy for me to restore anterior teeth with better, more natural-looking restorations. Majesty Esthetic is easy to shape and sculpt, does not stick to your instruments, and has a significantly longer working time without having to turn off operating lights. This product exhibits a light-diffusion property that is very similar to natural tooth structure, so that it mimics the shade of the tooth by causing light that hits the composite to spread out over a large area. If you are tired of using many shades, give Majesty Esthetic a try! CLEARFIL MAJESTY Posterior is a light-cure, radiopaque restorative composite resin composed of nano and micro inorganic filler. This material has an extremely high filler loading (92 percent by weight, 82 percent by volume) and a shapeable consistency that produces high surface hardness when cured. It has high mechanical properties (strength, durability), high curing depth, extremely low polymerization shrinkage and a simple, accurate shade selection. This is an excellent choice for posterior restorations. CLEARFIL MAJESTY Flow has a resin matrix that is reinforced with an extremely high filler loading of 81wt percent, which is similar to many universal composite resins. It has a low viscosity for good handling and easy placement, high mechanical properties (strength, wear resistance, durability), high radiopacity and very low polymerization shrinkage. These features make it a very versatile product with multiple uses, including as a universal composite resin, e.g., Class I and V. Order from your dealer or visit www.kuraraydental.com for more information.
S-Diamonds from Komet USA - When Komet USA asked me to try these new diamonds, I was skeptical. I was happy with my current diamond burs and did not really see a great need to change. They even sent me a few samples of my favorite diamond to try. I knew they had a great history, but the diamonds that were sent got covered up on my desk. While cleaning my desk, I came across them a few weeks ago and decided to give them a try. I was amazed. These diamonds really do cut faster than others, especially in my electric handpiece. The Komet brand may not be familiar to you, but they have been in the diamond instrument business delivering innovation and quality to the dental industry for more than 80 years. Many dentists tell me that preparing teeth for crowns is one of the most time-consuming steps in their practice routine. The S-Diamonds can change that with increased efficiency during the preparation sequence. The secret is the combination of a structured shaft (the blank) and a coarse grit that allows quick and effective tooth removal with improved cooling. The biggest problem with diamond cutting instruments is that they become clogged with tooth dust and debris, which causes them to stop cutting and begin producing heat at the tooth surface. The S-Diamond's faceted structure of the blank reduces clogging and heat generation, thus making the tooth preparation faster and better. You and your patients will welcome the time saved during this procedure. To order, call Komet at (800) 208-1630 or visit www.komet-usa.com for more information.
AdheSE® One VivaPen from Ivoclar Vivadent - Here comes a great adhesive packaged in an innovative delivery form that's sure to be a hit with your dental assistants and you. AdheSE One will impress you with several features. It is self-etching, light-cured, and can be applied in one step. It does not contain any organic solvents, and comes in the VivaPen, a unique delivery form. The adhesive pen is supplied with special exchangeable VivaPen brush tips that make it suitable for multiple uses. It can be disinfected by wiping, or it can be protected by using the VivaPen hygienic sheath. VivaPen is activated by a click mechanism until the brush cannula is wetted. Then, apply AdheSE One to the enamel and dentin by brushing for 30 seconds. Any excess material is removed with a strong stream of air, and then the layer is light cured for 10 seconds. One layer is sufficient because water is used as the solvent. These steps will produce a homogenous layer and prevent postop sensitivity. The VivaPen prevents unnecessary waste of adhesive because only the exact amount you need is dispensed. It is economical because the contents are sufficient for at least 80 applications. The patented stable monomers in AdheSE One enable the adhesive to remain unchanged when stored at room temperature, so there is no need to refrigerate the VivaPen. Order from your dealer or visit www.ivoclarvivadent.us.com for more information.
Embrace™ Esthetic Opaquer Kit from Pulpdent - One of my problems in practicing esthetic dentistry (by the way, I believe we all practice esthetics) is masking dark areas. It could be a tetracycline stain or dentin stained by decay or metal. Pulpdent has solved my problems with its innovative Embrace Esthetic Opaquer Kit. The kit provides a palette of five opaquing shades - bleach white, off-white, yellow, pink, and brown - for esthetic dentistry. These shades may be mixed to produce a wide range of color variations to mask out those nasty dark areas that make it difficult to match the shade of the rest of the tooth. I contend that the shade of the underlying tooth does more to affect shade than anything else. The Pulpdent Embrace line of products has some amazing chemistry that you should investigate. Embrace opaquers have all the advantages of the Embrace resin technology. They work well in moist oral environments and form chemical bonds to metal, ceramics, and tooth surfaces. Apply Embrace to slightly moist tooth surfaces. Ceramic and metal surfaces should be dry before applying Embrace resins. The material spreads easily with a brush for fast application, and cures with all curing lights. Curing time with a halogen light (300 mW/cm² minimum) is 20 seconds, and more powerful curing lights will cure faster. Embrace should be stored tightly sealed in the original container at a cool room temperature. The shelf life of unopened product is two years from date of manufacture. Be sure to re-cap immediately after use. Order from your dealer or call (800) 343-4342, or visit www.pulpdent.com for more information.
---
Summertime: When the world comes to Santa Fe
I think I'm at a bazaar in India, a market in Mexico, or a village in Africa. People in bright-colored traditional dress are weaving baskets, beading necklaces, stitching scarves. A medley of sounds - light-hearted laughter, serious bargaining, and a multitude of languages - fill the plaza. Exotic odors waft through the air.
A child stands transfixed, hypnotized by the shuttle of a small loom as it goes back-and-forth. The weaver smiles. She cannot communicate in words, but her smile says it all. She's glad to be here. No, "thankful" is a better word. This festival - the Santa Fe International Folk Art Market in Santa Fe, New Mexico - is giving her a new chance at the good life.
The 100-plus craftspeople come from more than 30 countries. Miao silversmiths from the southern Chinese province of Guizhou exhibit silver jewelry and embroidered clothing. Nancy Ngali from the Malaysian state of Sarawak demonstrates ikat weaving while Loida Mejia from Panama displays baskets made from the silky strands of the black chunga palm.
Last year 20,000 people jammed into the market plaza. Serious collectors and buyers are common on the first day while parents who are intent on introducing their children to the world come on the second day. Most of the artisans are accompanied by translators, who patiently help market goers talk with the craftspeople. In the middle of the plaza, dancers and musicians perform continually, adding to the festive atmosphere.
In 2006, the market resulted in $1.3 million in sales for the artisans. That's a far cry from the first market, held just two years earlier, when there were only 10 artists. Since then,it has become the country's largest venue for authentic, quality international folk art, and has become a major force in providing an economic base for folk artists in third-world countries.
For more about the Santa Fe International Folk Art Market, visit the Travel Articles section at www.dentaleconomics.com.
Story by Andrea Gross. Photo by Irv Green, DDS.