Pearls for Your Practice
Joshua Austin, DDS, FAGD, reviews the 3M Elipar DeepCure-S LED curing light, the C&B-Metabond Quick cement system by Parkell Inc., and TheraCal LC resin-modified calcium silicate by Bisco Inc.
Nov 15th, 2016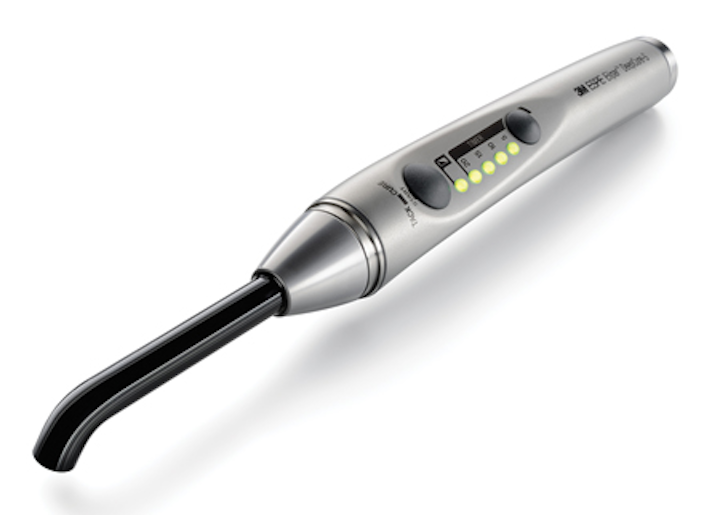 Joshua Austin, DDS, FAGD, reviews the 3M Elipar DeepCure-S LED curing light, the C&B-Metabond Quick cement system by Parkell Inc., and TheraCal LC resin-modified calcium silicate by Bisco Inc.
---
3M Elipar DeepCure-S LED curing light
If you read either this column or the Product Navigator e-newsletter regularly, you know how passionately I feel about curing lights. In my opinion, your curing light is the most important piece of equipment in your office. Next to your loupes, your curing light is the most likely piece of equipment to be used on any given procedure. It's of great importance to invest wisely in a proven, durable curing light.
Not only do you need a great curing light, you also need to check it on a regular basis to make sure that it is functioning properly. I know firsthand that a curing light malfunction is not always readily apparent to the naked eye. A couple of years ago, one of my assistants dropped one of my curing lights and broke off the tip of the light guide. She was scared that I would be upset and tried to fix it by supergluing the light guide back on. She was unaware that we would only need to replace the light guide and thought the whole curing light was a goner. Surprisingly, her superglue fix resulted in a curing light that still gave off what appeared to be the exact same level of light. Over the couple of weeks that followed, patients called and returned to the office with sensitivity. I started investigating our entire process. Everything checked out . . . until I got to the curing light. It was only putting out about one-tenth of its curing power. It became obvious that patients were returning with sensitivity because nothing under the surface of the restoration had cured. Needless to say, I had a sit-down conversation with my assistant about how the cover-up is always worse than the crime.
Since that happened, I have been very keen on curing lights, trying to learn as much about them as I can. Over the past few years, the industry has seen huge growth in the bulk-fill composite market, and last year, 3M debuted the Elipar DeepCure-S LED curing light. When using a bulk-fill composite material, it's crucial to use a light that will penetrate all of the bulk. The Elipar DeepCure-S is designed for just that.
While it has the same form factor as its predecessor, the Elipar S10, it has undergone a major overhaul under the hood. The DeepCure-S puts out about 50% more light than the Elipar S10. My photometer measured it at about 1,500 mW/cm2. The light guide, which was clear on the Elipar S10, is black on the DeepCure-S, which helps to collimate and concentrate the light output.
The DeepCure-S has a durable design, including an all-stainless steel case that should easily endure the slings and arrows of daily use in the dental office. The charging station is also great; it's small and low profile, so it looks good sitting on the counter. The built-in photometer is also useful for checking light intensity. We already know how important that is! The light has a lithium-ion battery that will run for about two hours-more than any office should need in a day-and it's easy to change. In the event that the battery fails, no special tool is required to replace it.
After using the Elipar DeepCure-S for the past month, I am very satisfied with it. It cures well and is very ergonomic. I know I can rely on it to cure deeply where other lights may not reach. Solo home run for 3M on the Elipar DeepCure-S curing light!
C&B-Metabond Quick cement system by Parkell Inc.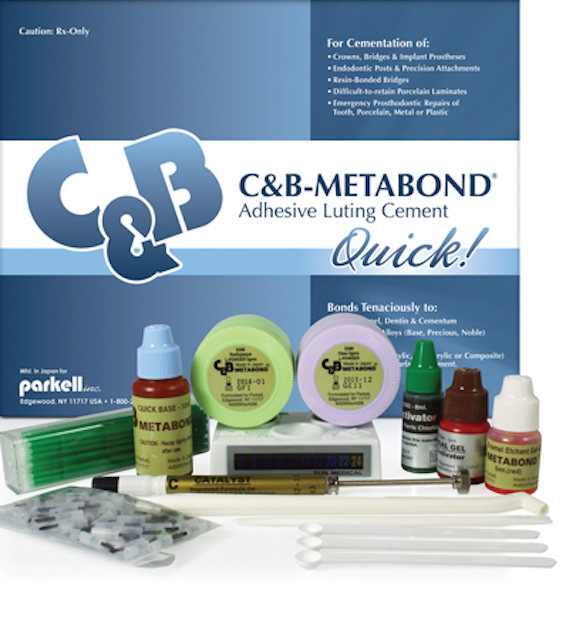 Severus Snape once quipped to Albus Dumbledore, "Have you ever considered that you ask too much . . . ?" I frequently think that when cementing a restoration. I wonder, "Am I asking too much of this cement?" Many times the answer is "no," but sometimes we do push the limits, particularly on short teeth. On teeth that have 3 mm or more of vertical wall height, almost any cement will work. As the length of wall decreases, the amount of work our cement has to do increases. Oftentimes on second molars, we can't just "prep deeper." We are frequently faced with restorative dilemmas in these situations. Should we risk having a crown with short walls or should we discuss adjunctive procedures, such as crown lengthening, with our patients? Those are hard conversations to have. Many dentists, myself included, will settle for a shorter wall and rely more heavily on the cement. For times like these, C&B-Metabond Quick from Parkell Inc. can't be beat.
The "Quick" part of the name is kind of a misnomer. The Quick version may be slightly quicker than the original, but it is definitely a technique-sensitive product. That being said, nothing is better when we need a cement to overperform. In fact, C&B-Metabond has a reputation for making the best out of seemingly impossible situations. It bonds to pretty much anything we might need to bond to in dentistry: enamel, dentin, ceramic, metal, composite, or acrylic. The 4-META monomer is what gives C&B-Metabond its name, and it's the reason the cement holds so well, penetrating difficult dentin for maximum bond strength.
The most important factor to consider when using C&B-Metabond Quick is the mixing. A couple of mixing methods are illustrated on the inside of the box; however, the bulk mixing method is probably the most commonly used. The technique-sensitive mixing process has multiple steps. Isolation is incredibly important, as this is true bonding.
You start with a special ceramic mixing dish that must be stored in the freezer. A special enamel etchant and dentin activator are applied, and the base liquid and catalyst are mixed in the well. The base and catalyst mixture is applied to the tooth structure and restoration. Powder is added to this same mixture in the chilled ceramic mixing well. The resulting creamy mixture is the cement. Once the cement is mixed in the chilled mixing dish, the working time is around two to three minutes. The cement is applied to the restoration and taken to place.
When an anterior crown breaks off at the gumline, or when an abutment breaks off of a fixed partial denture, C&B-Metabond Quick is perfect to have in your dental emergency situation kit. There are no "sure thing," long-term fixes for those situations, but C&B-Metabond Quick can at least buy you time to adequately plan and treat complex situations. When needed, C&B-Metabond Quick can bail you out of sticky situations. Solid double to the gap for Parkell!
TheraCal LC by Bisco Inc.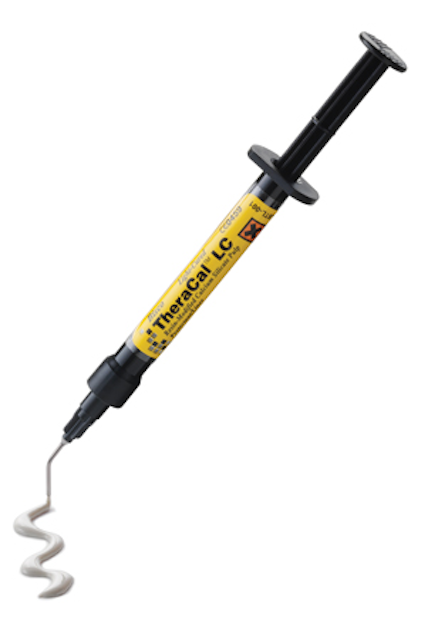 My memories of dental school are generally pretty good-good times and good friends. Although I loved dental school, there are many things from dental school that haven't carried over to practice for me. Drinking Miller Lite on Wednesday nights while playing washers is a great example. Another example is calcium hydroxide pulp capping. We used a lot of Dycal (Dentsply Sirona) and Vitrebond (3M) in dental school. Dycal would go next to the pulp, and Vitrebond would cover it so amalgam wouldn't be condensed into the pulp chamber. At the time, it was what we had, and it was the standard of care. Things are different today.
Indirect pulp caps are generally a hot topic among dentists. Some dentists place caps and liners under every restoration. Others never place a cap or a liner and tend to shame those who do. There is no easy answer. In my opinion, there is a place in restorative dentistry practices for an easy-to-use, reliable material for indirect pulp capping. TheraCal LC by Bisco Inc. is a great choice for this.
TheraCal LC is a resin-modified calcium silicate that is light cured and easy to work with. It comes in an all-too-familiar syringe with a metal applicator tip, just like a flowable composite. The material is directly applied close to the pulp and immediately light cured. It flows and handles easily, which makes application a breeze.
The main benefit of TheraCal LC is to trigger the tooth to lay down secondary dentin after the deep caries removal insult. It has an alkaline pH, which is much more soothing to the pulp than anything acidic would be. Coincidentally, many clinicians place a 35% phosphoric acid etchant on those deep areas, which can potentially irritate the pulp. A key to TheraCal LC is the tricalcium silicate particles in a hydrophilic monomer that doesn't wash out over time and shows up radiographically.
Deciding when to use TheraCal LC is certainly up to you. When I am doing a restoration close to the pulp, I place a layer of TheraCal LC. Will this prevent 100% of those teeth from needing endodontic therapy? Of course not! But data exists that shows an increase in healthy pulp where TheraCal LC has been used in deep restorations. I will take any advantage I can get. Line-drive single for Bisco on TheraCal LC!