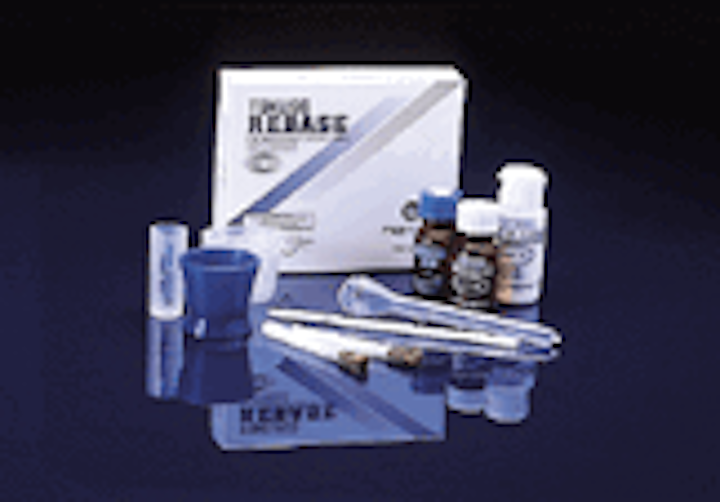 Joseph A. Blaes, DDS - Editor
Pearl #1-Tokuso Rebase by Tokuyama (Figure 2). This new product represents a breakthrough in hard chairside relining. This material and the accompanying technique allow you to achieve a tight, accurate fit while the rebase cures in the mouth. There is no methyl methacrylate for you or the patient to deal with. A newly developed acrylic monomer cures without heat or chemical irritation, so you can do a true in-the-mouth chairside reline and the patient won`t hate you for it. In the past few years, the light-cure reline materials have been highly touted, but these materials are composites and do not adhere well to the acrylic denture base. Tokuso Rebase supplies a "Rebase AID," which enhances the bond between the resin and the denture base. It is easy to mix, and the fine powder ensures good flow characteristics. So, if you want faster, better and easier chairside full-denture relines, try Tokuso Rebase. Since people are keeping their teeth longer than ever, many dentists are doing a lot more partial dentures. About six or seven years after the partial is made, it needs to be relined. Probably the best material to use, because of its great flow, is the Tokuso Rebase. You will find that the material has a great color stability. It definitely is the best of the chairside rebase materials. The lack of methyl methacrylate and the very low heat-setting reaction beat out all similar products. If you have a problem getting reline materials to adhere to the surface of nonprecious metals, such as metal-palate dentures, try Mr. Bond from Tokuso. It gives a strong adhesion between the rebase and the nonprecious metal, is easy to use and will give you a very durable reline. Run, don`t walk, to the phone and order Tokuso Rebase and Mr. Bond, or call Tokuyama at (800) 275-2867.
Pearl #2-FlossCard by Oramaax Dental Products (Figure 2). For years, I have given my patients samples of dental floss from various manufacturers, and I paid for the privilege of handing out those floss samples with the manufacturer`s ad on the package. With FlossCard, you can do something different-give away floss samples with your ad on the package. The FlossCard is a flat, credit-card dispenser personalized with your message and filled with 12 yards of floss. The card goes into your patient`s wallet or pocket and is there when he or she needs it. Since the FlossCard prominently features your name, address and phone number, it is far superior to any floss you may currently be giving out to your patients. My patients really love the dispensers, and we usually give each patient two and ask him or her to give one to a friend. Call (800) ORAMAAX (672-6229) for a free sample.
Pearl #3-Pro-Select by Pro-Dentec (Figure 3). This product is a new piezo-ultrasonic scaler/irrigation system that incorporates everything the dentist and hygienist have been asking for in this type of instrument. The entire handpiece, the tips, the cables and the bottles are ful-ly autoclavable. There are no more compromises in your infection-control system and no more wrapping cables-just put everything in the autoclave. If you have used the piezo-electric systems, you know how quiet they are for operator and patient. Since the Pro-Select 3 System is a closed, multifluid system for scaling and irrigation, the concerns about biofilm are eliminated. The system offers three new, interchangeable tips-right, universal and left Ultraslim tips-which provide all the versatility you will need. My hygienist is able to do more in less time and with less fatigue using the piezo-ultrasonic system. Another great plus for this product is that you control all functions with the multifunctional foot control. There is no need to return constantly to the control unit to make changes; the foot control does it all. The cable connections for this new system are very simple. There are no plugs to line up-just a simple snap on and off. The irrigator handpiece will warm the medicaments for subgingival irrigation, so there`s no more sensitivity when you want to irrigate. You can elect to scale with purified water or with medicaments; it`s your choice! This is a great, new product from a great company that stands behind its products with terrific, after-the-sale customer service. Your hygienist will love you! Call Pro-Dentec at (800) 752-2565 to order.
Dr. Blaes has a general practice in the St. Louis area. He is known for his expertise in dental materials and techniques and his innovative systems designs. He writes and lectures on "How To Increase Productivity and Profitability." He may be reached at (314) 843-3300.
Figure 1
Figure 2
Figure 3