Off the ice ... into the office
While growing up as a boy in Moscow, Russia, Stas Tkatch balked at the mere thought of visiting a dentist.
Dec 1st, 2005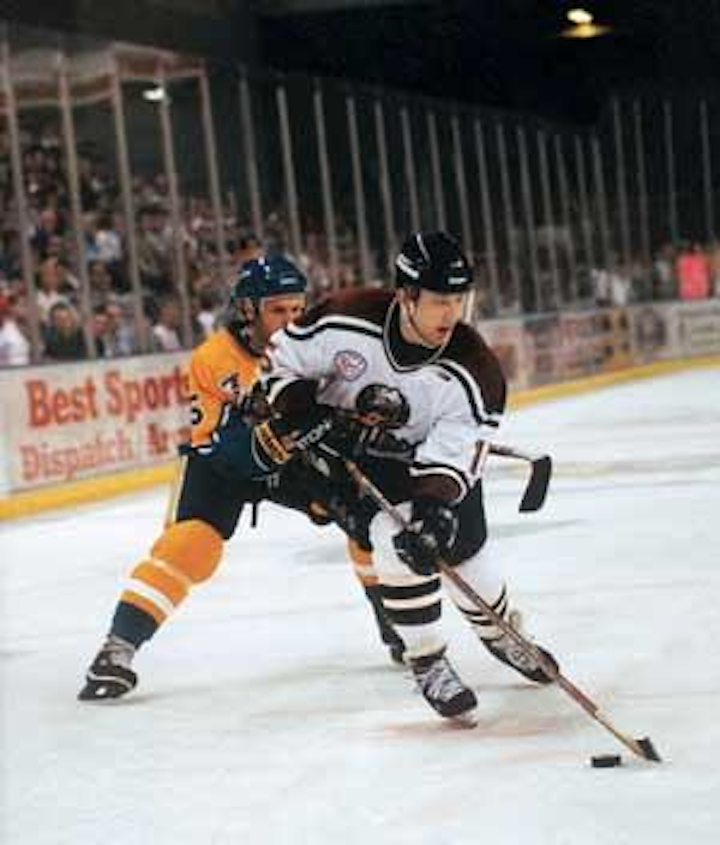 While growing up as a boy in Moscow, Russia, Stas Tkatch balked at the mere thought of visiting a dentist.
Then, as a youngster playing on elite Russian hockey teams - and later as a minor league hockey player in the United States -Tkatch and fellow opponents made their fair share of trips from the arena ice to the dentist's office in the rough-and-tumble world of competitive hockey.
Now life has come full circle for the Russian immigrant, who today is addressed more commonly as Dr. Tkatch. In fact, the 34-year-old father of three (his family includes seven-year-old twin girls and a two-year-old daughter) recently purchased a dental practice in High Point, N.C., solidifying his move off the ice and into the office.
"Everything is working very well at this point," said Dr. Tkatch, a 2002 graduate of the University of Tennessee at Memphis Dental School.
"While this is an old facility, it's a good practice as far as the clientele is concerned," he added. "We have a lot of referrals. I have benefitted from what Dr. (Willard) Ferrell had done here previously."
Dr. Ferrell owned the practice, which features three operatories, for approximately the last 30 years.
"But he decided it was time to slow down and think about retirement," said Dr. Tkatch, who describes his fellow dentist's "meticulous" style through the years as "one that showed patients he cared for them."
Dr. Ferrell remained on board even after selling the practice on May 15.
"I was worried," admitted Dr. Tkatch about his new role as owner. "But I am sure anybody who has just bought a practice is a little nervous."
Since becoming owner, Dr. Tkatch has concentrated on upgrading the facility.
"The building needs remodeling; we really are tight on space," the dentist said. "We also have very old equipment. But we are slowly upgrading that equipment."
He also is switching the office's emphasis on treatment from general dentistry to more of a cosmetic approach.
"For now, we are doing a lot of restorative crowns and some partial dentures and root canals," he added. "In fact, we are doing pretty much everything except orthodontics. But, in the long term, I want to do more restorative, esthetic dentistry. In the end, I find that more rewarding."
After just a few months, Dr. Tkatch has already seen the fruits of his labor despite having only a full-time staff of five. Besides Dr. Ferrell and himself, the staff includes an office manager, a hygienist, and a dental assistant.
"Even though we are a small staff, we have shifted into a different gear," the new owner said.
"Our production in September was the highest the practice has experienced in a long time. Our collections have gone up, too. Those results are giving me some assurances that I made the right decision in buying this practice."
Those assurances also might be reinforced based on the practice's annual production output entering the final months of 2005.
"We're not a million-dollar practice by any means," he said. "But we have done about $430,000 in production a year. Maybe we'll be up to $600,000 by the end of this year."
Before buying the practice in High Point, Dr. Tkatch served as an associate for three years for Dr. James McGhee in nearby Thomasville.
"Dr. McGhee had a tremendous influence on me," Dr. Tkatch said. "He is one of the best dentists I have ever known. He was a great mentor for me."
The Thomasville dentist, who specializes in cosmetic dentistry and full-mouth reconstructions, has a practice that differs significantly in terms of modern features from the one Dr. Tkatch purchased.
"Dr. McGhee's office is up-to-date, and very much the opposite of my current practice," the High Point dentist said. "It was like stepping from the 21st to the 19th century."
In many respects, Dr. Tkatch makes that same correlation when talking about what the dental field was like when he was a youngster - during the final stages of the Soviet Union's communist regime - as compared to dentistry at the same time in the U.S.
"When I was growing up, I would say dentistry in Russia was probably 50 to 70 years behind what it was here in this country," Dr. Tkatch said, labeling his dental experiences as a youth as that of the "spit in a cup" variety.
He pointed out that, in Moscow, dentists would make visits to schools once or twice a year for mandatory check-ups of students.
"Going to the dentist ... it was like you had no other choice," Dr. Tkatch said. "We would be examined, then any treatment that was needed would be performed. If necessary, we would be referred to a specialist.
"But there were no X-rays and no anesthetic was used at that time, even for drilling teeth," he continued. "It was very painful. I think the prevailing thought among dentists was 'if the patient's not hurting, he (or she) must be OK.'"
He also noted that, as a youth, there was a low level of education as far as home dental care was concerned.
Dr. Tkatch admits that his childhood dental experiences had a lasting impression.
"While in Russia, I never thought in a hundred years that I would become a dentist," he proclaimed.
At the urging of a friend, Dr. Tkatch eventually decided to pursue a career in engineering. So he attended the University of Moscow for five years, eventually earning a degree in nuclear engineering.
"Growing up, I never knew what I wanted to be," he said. "But I thought that if I could just get in (to college), I could learn it (engineering) and do it."
Besides going to college, there was something else the High Point dentist wanted and had pursued dearly for some time - a professional hockey career.
Picking up the sport at the tender age of seven, Dr. Tkatch spent a major portion of his life in his home country at ice rinks. It was not uncommon for him to devote eight hours a day on the ice in pursuit of his dream.
In 1992, when the opportunity came along to accept a contract with the Nashville (Tenn.) Knights of the East Coast Hockey League, Dr. Tkatch could not refuse.
So, at age 21, the Russian immigrant came to the U.S. to begin a minor league career that would span several teams. Besides Tennessee, stops included clubs in Iowa, Michigan, New York, and Wisconsin.
But several obstacles awaited Dr. Tkatch upon his arrival in the U.S., including a major one. He came to this country unable to speak English.
"Learning the (English) language was probably the biggest problem," he recalled. "I carried a phrase book with me everywhere I went. I learned how to translate between languages by using my fingers."
Also helping Dr. Tkatch make the adjustment to living in this country was his future wife, Robin, who was working in Nashville at the time. Robin, who hails from Mississippi, helped Dr. Tkatch and his roommate by transporting them around Nashville, and renting movies for the two hockey players to watch. She even taped words in English to objects in the players' apartment to assist them in learning the language.
Besides helping culturally, Robin indirectly had another major impact on her future husband's life.
After playing six years of minor league hockey, it was Robin's younger brother, Stuart Williams - at the time a dental school student at the University of Tennessee at Memphis and now a practicing dentist in Charlotte - who queried Dr. Tkatch about his interest in a dental career.
Despite his unpleasant dental experiences while a lad in Russia, Dr. Tkatch's perception of dentists had changed after coming to the U.S. This change can be attributed to Madison, Wisc., dentist Dr. Laurence Wildes.
While moving from city to city as a hockey player and needing dental care (Dr. Tkatch estimates he had 25 cavities as well as two root canals performed while still on the ice), he met Dr. Wildes while with the Madison Monsters.
"Dr. Wildes really opened my mind about dentistry," Dr. Tkatch said. "He took time to answer my questions."
With a new outlook on the dental field and dreams of a professional hockey career waning, Dr. Tkatch decided to give dentistry a try (much like he did when he opted to study engineering at the University of Moscow).
He was accepted into dental school in Memphis.
"I really wanted to try to do something with my own hands," he said of his decision to pursue a dental career.
Despite being a dental school student and having a wife and twin infants at home, Dr. Tkatch did not skate off the ice - at least not entirely.
Dr. Tkatch worked out an arrangement to play home matches for the Central Hockey League's Memphis RiverKings for the first three years of dental school. He didn't play the final year while preparing for his exams.
After dental school, Dr. Tkatch and his family moved to Thomasville, about a 20-minute drive from Greensboro, when he accepted the associateship with Dr. McGhee.
But, still, hockey beckoned the dental school graduate.
While at Dr. McGhee's office, Dr. Tkatch played a few minor league matches with the Greensboro Generals.
"But I was out of shape so I decided to retire (from competitive hockey) for good," Dr. Tkatch said.
Instead of playing, he was the team dentist for the Generals - providing treatment to players at Dr. McGhee's office - until the team franchise folded.
While his minor league career has ended, the High Point dentist still enjoys hockey, playing in weekend adult leagues.
"I don't want to be too far from the rink," he admitted.
It's no surprise Dr. Stas Tkatch prefers to be just a slap shot away from the sport now that - competitively at least - he's off the ice and into the office.