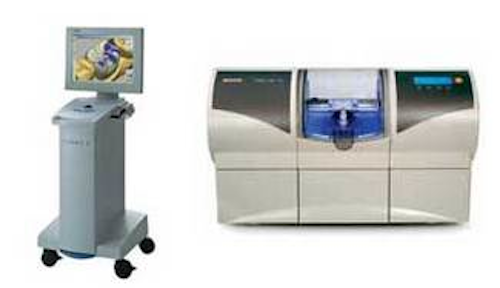 by Dr. Joe Blaes
CEREC® 3D V3.0software andMC XL milling machinefrom Sirona Dental Systems - With a double stroke of genius from Sirona, chairside CAD/CAM has leaped forward with innovative new software and the ability to produce a highly esthetic, finished restoration faster than ever before. The CEREC 3D software has been redesigned for the new user with powerful, straightforward tools and a simple, predictable workflow. The new software, based on Sirona's patented Biogeneric technology, has been developed to eliminate the troublesome learning curve, allowing dentists to easily create sophisticated dental restorations with a few clicks. The new Biogeneric software for inlays and onlays is like having thousands of sample teeth from which to choose, but letting the computer pick and optimize the result. The software effortlessly restores missing tooth structure in the most natural way possible, making highly esthetic and functional restorations within reach of everyone. The software also introduces a new Camera Crosshair, making optical impressions easier and more predictable than ever before. The new milling unit has an easy-to-read, intuitive display with light cues representing the stages of the milling process. The new MC XL will make a top-quality, precisely fitted restoration in as little as four minutes. This unit has twice the milling resolution, which means a perfect fit and a smoother restoration surface. You will find that the interior has been completely redesigned to last longer. The MC XL makes your life easier with a self-locking ceramic block holder and a large door for easy access to the milling chamber. The software downloads to the milling unit automatically, making the whole process easier than ever before. Now you will be able to complete a restoration faster with fewer hassles. Your patient will spend less time in the chair, which makes the whole process much better. The original CEREC 3 milling unit continues to be an option for dentists with lower production needs, and both the MC XL and the original milling unit are compatible with all CEREC 3 units. Order from Patterson Dental or visit www.sirona.com for more information.
VibraJect® R3 syringe attachmentfrom ITL Dental - This is one of those small, inexpensive products that we should all have in our offices. If you saw this product on the exhibit floor, you would probably walk by and not give it a second look, thinking that it could never do what it claims to do. In the case of the VibraJect syringe attachment, that would be a mistake. I don't have any patients who like to get "shots." So, I look for things that will make the administration of anesthetic as painless as possible. The VibraJect is a rechargeable, battery-operated motor that attaches to a conventional syringe, causing the needle to vibrate. This vibration stimulates the nerve endings and blocks the sensations to the brain. I know what you're thinking, but you're wrong - this really works! Most patients remark that they didn't feel anything associated with the injection of anesthetic. It can't get any better than that! Kids really like the VibraJect. Get yours by calling (800) 277-0073 or visiting www.itldental.com for ordering and more information.
"Dental Office Emergencies: Treatment and Avoidance" and "Comprehensive Head and Neck Examination" from GoToDDS - If a medical emergency occurs in your office, who is responsible for calling 911? Who is responsible for getting the oxygen to the site? Is your dental team prepared for a medical emergency that will happen in your office one day? I attended a seminar recently in which the presenter described a scene in a dental office. When the paramedics arrived, they found the patient dead in the chair and the office staff on their knees praying because they didn't know what else to do! This production from Dr. Mark Castle will prepare your entire office staff for any dental emergency. It includes an easy-to-follow DVD, an Office Policy Manual, and a workbook. One emergency could change your life forever! Be prepared!
Many dental offices do not perform routine cancer examinations for their patients. This DVD demonstrates how to perform a comprehensive head and neck examination. Your entire team will learn the four-minute protocol that can ultimately help to reduce the death rate from oral cancer. The package includes a laminated chairside quick guide. These products are a must for today's dental practitioners. To order, call (928) 525-9263 or go to www.GoToDDS.com.
SOLO™ Diamondsfrom Premier Dental Products Co. - The name says it all. Solo Diamonds are single-patient-use diamonds for no-hassle maintenance. I discovered long ago that single use is the way to go. When I calculated the time involved in properly cleaning and sterilizing reusable diamonds in my practice, I decided that my assistants were wasting a lot of their valuable time! Now, we do not sterilize burs and diamonds anymore, we simply throw them away and my assistants love me! So do my patients because they get a sharp, new diamond every time. No more burning teeth with dull diamonds! These new Premier diamonds come in all popular shapes in four diamond grits, including short-shanks, for complete crown and bridge, operative, and finishing procedures. These diamonds are presterilized to eliminate cross-contamination and are packed in individual pouches in a convenient dispenser box. Solo Diamonds are manufactured with natural diamond crystals for fast, aggressive cutting on precision-made stainless steel shanks. Order from your dealer or go to www.premusa.com for more information.
SeeMORE and SeeMORE PLUS retraction systemsby Discus Dental, Inc. - Since most dentists will not hassle with a rubber dam, a good retraction system is a must for doing adhesive restorative dentistry. A few years ago, Discus Dental introduced a great system for the retraction of lips, cheeks, and that pesky tongue, called the SeeMORE retraction system. I have used the system for almost four years now and it is my system of choice for seating veneer cases. Most retraction devices either retract the lips or cheeks only and are less ideal than using a rubber dam. SeeMORE utilizes a four-way mechanism that achieves lip and cheek retraction simultaneously for easier clinical access and better vision. Patient responses to this new system have been very positive. They are much more comfortable with this system than with anything I have used in the past. While offering isolation comparable to a rubber dam, the system has a regular and small size and is available in two designs: SeeMORE and SeeMORE PLUS. The SeeMORE PLUS design features an additional tongue cup for controlling the tongue, making it ideal for seating lower anterior cases. The clear color is unobtrusive, which helps to facilitate shade matching and taking images of the cases. This is a great system that will make dentistry more fun in your office! To order, call Discus Dental at (800) 422-9448 or visit www.discusdental.com for more information.
"Coding with Confidence: The 'Go To' Guide For CDT-2007/2008" by Dr. Charles Blair - In the mundane world of dental insurance coding manuals, only one predicts errors - before you make them! As a consultant with experience assisting thousands of dental practices to become more profitable and productive, Dr. Charles Blair has "seen it all." He now shares his vast experience and expertise with the dental community through this manual. This unique book is designed to predict typical coding errors and discover misuse and other common coding mistakes made by the dental practice. Every dental office needs this book! There's no greater return on investment. Eliminate many of your coding frustrations. Order this insightful, 300-page manual by calling (866) 858-7596, or go to www.drcharlesblair.com for a sample.