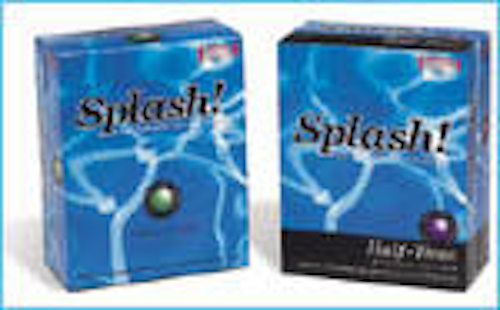 by Joseph Blaes, DDS
Pearl 1 — SPLASH!® Hydrophilic Impression Material by Discus Dental™. Welcome to the wonderful world of impression materials. Today's market is a real jungle of choices! You can have a fast- or slow-set tray material that you can use with many choices of wash impression materials, giving you unlimited choices in materials and much confusion. To test a new impression material, you usually have to buy a "big introductory kit" so you can try all of the possible choices and decide which one works best for you.
I can't tell you which material to use; however, the folks at Discus Dental have made a move in the right direction to simplify your selection. Their impression material — SPLASH!® — has a limited number of choices that cover all the possibilities in terms of what you need to get a great impression.

Two wash materials — Lite Body and Extra Lite Body — and two tray materials — Monophase/Medium Body and Heavy Body — are available. All materials come in either Regular set (4:30 minutes) or Half-Time® (2:15 minutes). You can order the materials either unflavored or in "Wild Berry" flavor. In terms of taste and smell, my patients love the Wild Berry flavor. As soon as you begin dispensing the material, you will notice a very pleasant odor. Splash!® is an addition-reaction vinyl silicone formula, available in 48 ml automix cartridges. The colors of the wash and tray material are vivid, and the combinations make the impressions easy to read.
Splash!® is an addition-reaction vinyl silicone formula, available in 48 ml automix cartridges. The colors of the wash and tray material are vivid, and the combinations make the impressions easy to read.
Splash!® is not supplied in kits. Automix cartridges are supplied two to a box, along with plenty of mixing tips so you can mix and match and order just what you need. Be sure to follow the clear instructions for use of the materials. The cartridges are well-marked with a simple color-coding system to make selection easy. My only wish would be a cap color that matched the material color. Oh well, you can't have everything!
All in all, I find this to be an exceptional impression material that consistently produces easy-to-read, bubble-free impressions with a dual-viscosity impression technique. The Lite Body and Extra Lite Body stays where you put it and does not slump, even on upper full-arch impressions. The model work is very good; the resulting restorations fit the teeth well with no remakes — just what you want from an impression material. You can be a great clinician and create beautiful tooth preparations, but if you cannot take an impression that will reproduce those preparations and the surrounding teeth for the lab, you will never get the beautiful restorations you expect. Give SPLASH!® a try.
Order by calling Discus Dental direct at (800) 422-9448, or order online at www.discusdental.com.
Pearl 2 — Cement-It® Universal C&B Resin Cementation System by Jeneric®/Pentron®. There are a number of situations where you need to have a self-curing resin cement. When cementing ceramic, composite, or carbon fiber posts, you will require a cement that sets in the dark. Additionally, when cementing ceramic or indirect composite crowns, bridges, inlays, and onlays, it is often better to use a self-curing resin cement.
Jeneric®/Pentron's® Cement-It® is a great resin cement that is convenient to use; all the necessary components are included in one well-packaged kit. This cement produces a high-strength bond and is easy to use. The base and catalyst of the luting cement are supplied in 3 ml double-barreled syringes. Place an automixing tip on the syringe, and you can quickly mix the amount of material you need and deliver it where you want it. The tip is small, allowing convenient placement of the material into a root canal for cementing a post or luting a crown or inlay for cementation. The kit also contains an acid etch, Bond 1 (a one-bottle system primer/adhesive), PrepEze Desensitizer, and a silane coupler. The kit includes well-done instructions on a moisture-resistant stock for use in the treatment room. This is a kit you will want to have on hand.
Order from Jeneric®/ Pentron® at (800) 551-0283 or www.jeneric.com.
Pearl 3 — TNE Noneugenol Temporary Cement by Temrex. This is a new, easy-to-use resin cement for temporaries. TNE represents a new type of resin-based temporary luting agent, which prevents one of the major time-loss problems in the dental office — re-cementing temporaries between prepping and seating appointments.
The material bonds to dentin and metals, does not leak or wash out at the margins, and does not come off between appointments. Isn't that what a good temporary cement is supposed to accomplish? Even with the excellent retention, it allows for easy removal. If you are cementing a composite or resin temporary, the cement will stay in the temporary, not on the tooth. No more picking temporary cement off the tooth before try-in and final cementation!
As with any resin temporary cement, composite build-up materials should be treated with the handy separating agent included with the cement, so that the cement does not bond to the composite and pull out your composite build-up with the temporary.
This is a two-part cement that dispenses and mixes easily into a creamy consistency. TNE cement has a two-stage cure. After one minute, once the TNE cement has started to set, you can easily remove the excess with a sharp scaler.
Temrex has also improved on its famous Bite Relator 2000 Dual-arch Impression Tray by adding additional models. Now there is a Wide Tray for arches that have bony protuberances or heavy tissue and an Extended Tray for longer arches. All of the trays have stainless-steel frames with disposable tray inserts. These trays last forever and are great for triple bite impressions. I have been using them for years; the addition of the new trays has only made them better!
Order from your dealer. For details, call Temrex at (800) 645-1226.
Pearl 4 — Aesthetic Dentistry — How To Create an Exceptional Aesthetic Practice by The Las Vegas Institute. Drs. Bill Dickerson and Nate Booth have teamed up to bring you a fantastic book on building the aesthetic practice. The book is about 10 dentists and their teams. Profiles of each practice include: The Journey, Core Beliefs, The Team, Marketing, High Tech and Materials, High Touch, The Case Acceptance Process, Advice for the Reader, and Vision for the Future. The book is jam-packed with practical, usable ideas from start to finish. Some of the dentists are young; some are more mature; some practice in large cities; others in small towns ... but all of them are actively creating the practices of their dreams. This is a must-have book if you want to make a change in your life! Act quickly and get the book for a special price!
Call LVI at (888) 584-3237.
Dr. Blaes has a general practice in the St. Louis area. He is known for his expertise in dental materials and techniques and his innovative systems designs. He writes and lectures on "How To Increase Productivity and Profitability." Dr. Blaes is a member of the American Academy of Dental Practice Administration. He may be reached at joeb@pennwell.com