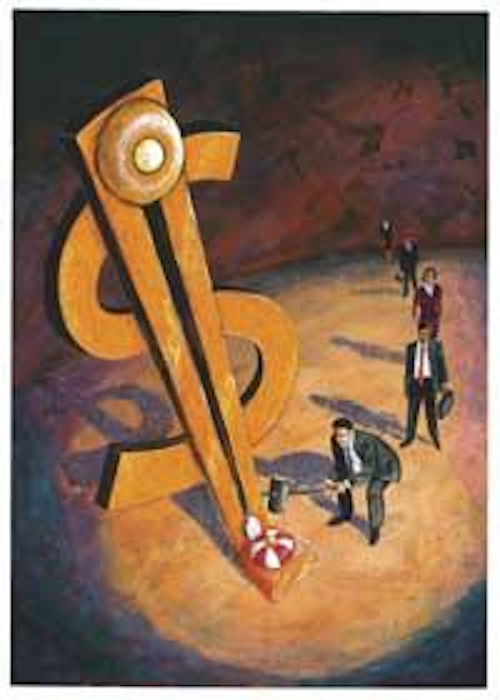 by Marilynn Belek, DMD
Of all the frustrations within the dental office, problems with insurance carriers rank highest on the list. After all, most of us became dentists to help others and promote oral health, not to push paperwork and wrestle with insurance companies for payment.
By the same token, dental insurance has helped to substantially improve the oral health of many patients, as well as positively impact profits for dental offices. People who have dental insurance are more than twice as likely to visit a dentist regularly as those who are without insurance. Insured patients opt for services and treatment they might otherwise neglect or delay.
As the chief dental officer for one of the nation's largest dental plans, it's normal for me to hear from or read about irate dentists at their wits end who are trying to comprehend why a claim was denied or not paid in full. Usually the issue involves a mistake or misunderstanding that can be remedied to the satisfaction of both parties.
Dentists who partner with quality insurance carriers can help facilitate a workable and rewarding relationship. Such relationships begin with the recognition that more than 130 million Americans are covered under private dental insurance. This, of course, means a huge number of claims. My company processes nearly 100,000 claims daily in California alone. Therefore, the realistic point-of-view is that it isn't a question of if but when most dentists will eventually need to work out a claims issue with an insurance provider.
The important question is this: How difficult is it for your office to work out claims issues when they occur with a particular dental insurance carrier? How responsive is that carrier to the problem? Does the plan employ dentists or a staff with dental experience who are able to understand your perspective and address your questions? And most importantly: How can you and your staff minimize the chance of difficulties arising in the first place?
In my 10 years of working with the insurance side of dentistry, I've personally encountered hundreds of "problem" claims. Some of these, to be sure, were problems of a carrier's own making: data not entered correctly, an X-ray separated from the claim when opened, or perhaps a subscriber name and ID not matching up with previously submitted eligibility information. Fortunately, these kinds of problems occur rarely, and the vast majority are resolved and paid expeditiously.
More often than not, payments are delayed not because of an error by the carrier, but because vital information necessary to process the claim is missing. Keeping a few general rules in mind when submitting claims can help smooth the way for quick and accurate payment, and make your relationship with insurance carriers more rewarding. Less frustration for dentists ultimately is beneficial for dental insurance carriers, whose very existence depends on a smooth, lasting partnership.
1 Put yourself in the shoes of the person reviewing your claim. Provide the narrative and documentation that you would need to understand why a patient required a particular treatment or would benefit from a proposed regimen. At Delta Dental, dental consultants who are licensed dentists review problem claims. But the dental consultant cannot directly observe a patient's condition, so your narrative should thoroughly address the causes and treatment.
For example, suppose you file a claim for a crown and submit an image or X-ray, but do not include a narrative. The dental consultant may be unable to detect the fractured cusp that necessitates the crown. Such a claim would likely be returned with a request for more information or the coverage perhaps denied altogether. The same is true of a crown provided for a tooth that appears to have a serviceable amalgam or composite restoration. A narrative that explains why any recurrent decay is only evident through a clinical examination makes the rationale for a crown more acceptable.
2 Anticipate policy-related questions. In general, dental consultants look for reasons to approve payment, not deny it. That is why it is advantageous to anticipate the questions a particular claim might raise and provide the reason it should be paid in advance. For example, if you replace a crown that is less than three years old — recognizing that most policies do not cover replacements for five years — anticipate the obvious questions and explain what event or circumstance made replacement necessary.
3 Understand the difference between what is covered and what is needed. Some necessary procedures will not be payable because the treatment is not a covered benefit, no matter what documentation is submitted. In such cases, it is important to understand that a recommended treatment may be perfectly appropriate — it is just not a payable claim under the terms of the benefit contract that covers the patient. For example, treatment for attrition or erosion is a common exclusion under most dental plans. The same principle applies to treatments that address cosmetic needs rather than dental disease. Basically, if erosion or cosmetics is the reason for treatment, no amount of explanation will allow the insurance representative to approve the claim for payment.
If something other than erosion or aesthetics necessitates treatment, you can make that more clear by — once again — anticipating these typical policy issues in your narrative and offering your professional assessment of the contributory factors (e.g., poor hygiene, personal injury, etc.).
4 No claim is denied for containing too much information. You know the old axiom, "A picture is worth a thousand words." Wherever practical, a photograph may tell the story. Few dental carriers will reimburse you for intraoral photographs, but if it saves you time, sending in photos to support your claim may be worthwhile.
With each of these rules, keep in mind that dental consultants are, or were, practicing dentists themselves. They speak your language and share your depth of knowledge about dental disease and treatment. Your knowledge and expertise about dentistry is more likely to come across clearly if you remember that your audience is a dentist just like you.