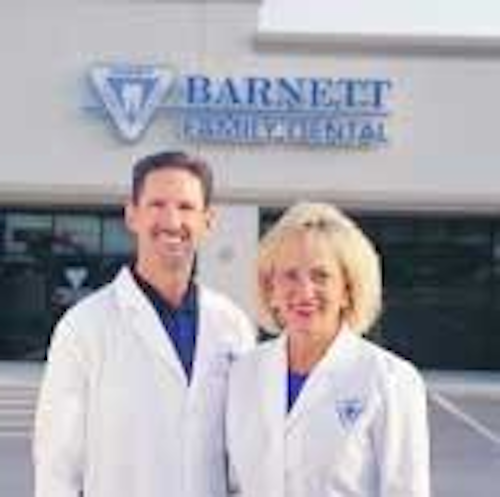 by Dr. Joe Blaes, Editor
It is a pleasure for me to introduce Barnett Family Dental in Ozark, Mo., as the first "Office of the Month." They have created a wonderful practice in a rural Missouri setting. When developing the practice, they first established their vision for the future. Their stated philosophy says it all: "Our ultimate purpose is to enable our patients to keep their teeth beautiful and healthy throughout their lifetime. We hope to help everyone achieve this goal in a nonthreatening and fun environment that promotes preventive and cosmetic dentistry."
Family ties and small town values brought Marc and Kelly to Missouri's Ozarks in 1984. Marc practiced in Nixa, Mo., and Kelly maintained a separate solo practice in Ozark, where they also established their home. The fall of 2001 brought exciting changes for this dental duo. They decided to combine their efforts and expertise into a new high-tech dental office in Ozark, which has become a bedroom community for nearby Springfield. I am sure you will agree that they have done a terrific job. They were the first runner-up in the Matsco Dental Office Design of the Year 2002 contest.
They have created an environment that provides a "pro-patient" atmosphere. The sounds, scents, and colors all reflect a sense of calm. Marc, Kelly, and their staff have paid particular attention to putting systems into place that will ensure that this "sense of calm" is evident in everything that they do. They also selected a site in Ozark that most people have to pass through in order to get to schools and into Springfield. This combination of a caring practice and location, location, location has led to tremendous growth in their practice.
Functionality of the equipment is very important for the practice because Kelly is left-handed and Marc is right-handed. This was resolved by using a rear-delivery system supplied by A-dec, along with A-dec chairs and stools. Each treatment room is set up in the same way so that all clinical assistants, hygienists, and doctors will know where supplies and equipment are located. All of the rooms are color-coded to facilitate instrument and supply distribution following sterilization.
The systems allow the practice to be efficient and effective in caring for patients and consistent in the product that they produce. The beautiful office not only attracts new patients, but it also attracts great staff members because they all want to work in one of the best offices in the area.
The practice management software is supplied by Dentrix Dental Systems. All of the other high-tech systems have been integrated or bridged so that they can be accessed through computers placed throughout the office. Every treatment room is equipped with digital X-ray using the Dentrix ImageRay system and the Planmeca Prostyle Intra X-ray system. The Instrumentarium Orthopanto-mograph OP100D will produce a digital panograph that can be stored in the patient's computer record. A Dentrix ImageCAM supplies intraoral images of patients for inclusion in the computer patient record.
The treatment rooms are equipped with A-dec high- and slow-speed handpieces, including the great A-dec/W&H electric handpiece. The office uses the Apollo 95E Plasma Arc system for light curing and the Den-Mat Virtuoso Plasma Arc for both light curing and in conjunction with the Rembrandt Sapphire Whitening Crystal attachment for one-hour in-office tooth whitening. Precise diagnosis of decay is accomplished using the Kavo DIAGNOdent system.
The Triangle Steri Center was supplied by the Patterson Dental Supply. This center is equipped with the Midmark M11UltraClave and the Statim 5000 by SciCan. The high- and slow-speed handpieces are cleaned and conditioned by the W&H Assistina 301plus system.
The air and vacuum systems (Dynamic Dry Dual Evacuation System) are supplied by the CustomAir division of the DentalEz Group.
Kelly and Marc understand the importance of supplying patients with information about the choices and options available in today's dentistry. They have made the CAESY patient education software accessible to all areas of the office including the treatment areas with flat screen monitors.
If you are ever on your way to Branson, Mo., you will pass right by the Barnett Family Dental Center. Be sure you stop in and say "Hi" to Kelly and Marc and their wonderful team.