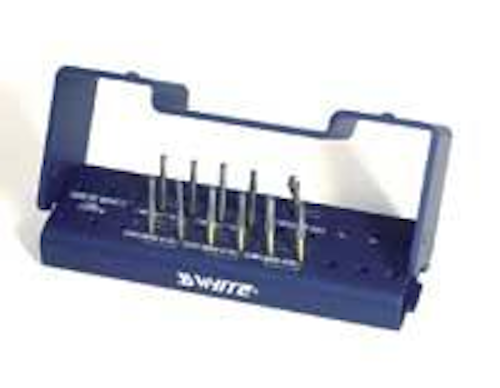 Joe Blaes, DDS
The Great White Ultra by SS White. When was the last time someone asked you to try a carbide bur instead of a diamond to prep a tooth for a crown? In my practice, the last time I can remember is probably 20 years ago when I was using an 1158 to start my crown preps and finishing them with a diamond. But I stopped using that bur long ago! SS White is introducing a carbide bur that I first saw as a prototype three years ago. I fell in love with it at first sight. This bur cuts through enamel and old restorative material like butter and it leaves behind a smooth surface. Simply take this bur to the dentoenamel junction and cut in a counterclockwise direction; you can watch the tooth structure disappear effortlessly. The Great White Ultra on first glance looks like a crosscut bur, but SS White has incorporated a unique blade geometry that allows tooth debris to expel off the bur rather than clogging up the cutting surface. Sharpened dentates placed on the cutting surface of the Ultra results in one of the fastest-cutting instruments ever developed, whether you are cutting a virgin tooth or a tooth with an existing amalgam or composite restoration. Combine all of this with an extra-thick neck design to eliminate breakage and a shape selection designed to meet today's preparation needs, and you have the ultimate crown preparation instrument. Last week, I prepped eight teeth for crowns and that didn't phase the Ultra at all. I suggest you give these new burs a try. I think you will find them as great as I did. Order from your dealer or visit www.sswhiteburs.com.
RelyX Luting Plus Cement by 3M ESPE. I have been using 3M's Vitremer Luting Cement since it first came on the market. It was great to have glass ionomer cement that did not cause extreme sensitivity. However, my clinical assistants never cared for the way it mixed. The tiny little scoop was difficult to fill and the dropper bottle never put out the same size drops. They always wondered if the proportions were correct for an ideal mix every time. Well, it took a long time, but 3M ESPE has finally addressed the concern by coming out with a paste-paste formula that makes getting that consistent mix fast and easy. RelyX Luting Plus Cement is a resin-modified glass ionomer formula in the very convenient Clicker™ dispenser. This self-contained delivery system is easy to use and it contains all you need to get started right out of the box. 3M ESPE has even made it impossible to put the cap on backwards. RelyX Luting Plus Cement can be used for routine cementation of PFM crowns and bridges, metal crowns, inlays and onlays, stainless steel crowns, all-zirconia or all-alumina strengthened core ceramic restorations (such as Lava™ or Procera®), endodontic pins and posts, and orthodontic appliances. My clinical assistants really like the ease of dispensing, mixing, and especially the easy clean-up after seating. Order from your dealer or visit www.3mespe.com for more information.
Intro™ Temporary Veneer Composite by Clinician's Choice. Imagine using a clear material to take an impression of your veneer case wax-up, making your matrix for veneer temporaries that will look almost as good as the finished case. Then imagine building those temporaries with a selection of the most popular aesthetic shades and then light-curing the composite material through the clear matrix. Well, imagine no more. Intro is your material of choice for easy, quick, light-cured veneer temporaries. Intro is a medium-viscosity material that exhibits exceptional aesthetics, strength, and durability. This material is much easier to use than other flowable composites that are more difficult to control. It is packaged in economical (30 percent less than other flowables) 3 ml syringes featuring easy-twist, pre-curved placement tips that make placing the material into the matrix very easy. If you want to go faster, the tips are easily trimmed for a larger opening. Light-cure and polish to a high shine with Groovy Diamond Polishing Brushes or use my favorite, Tempglaze, for an instant glazed surface. To order, contact Clinician's Choice at (800) 265-3444 or visit www.clinicianschoice.com for more information about this great product.
Proxitac™ Barrier-Free Matrix by Posi Products. Would you believe a Tofflemire matrix band with a hole where the contact should be? Well, that's what you get with Proxitac .0000" matrix bands. With the advent of an extrusion window aperture, it's easy to achieve an outstanding composite contact every time. Simply fill as you normally would, remove any interproximal flash and light-cure. Removal of the band is simple. Sever the metal at the top notch of the band and then gently tighten the retainer (still attached to the band) until the band effortlessly yields along the lower release notches. Finish the interproximal with a flame finishing bur and you have a nice, tight contact with little or no effort. It saves time by getting a great result the first time. To get your Proxitac matrix bands, contact your dealer. For additional help and a list of Proxitac dealers, call (866) 770-5049 or visit www.proxitac.com.
---
For the latest dental-related information and archived issues of Dental Economics, be sure and visit www.dentaleconomics.com