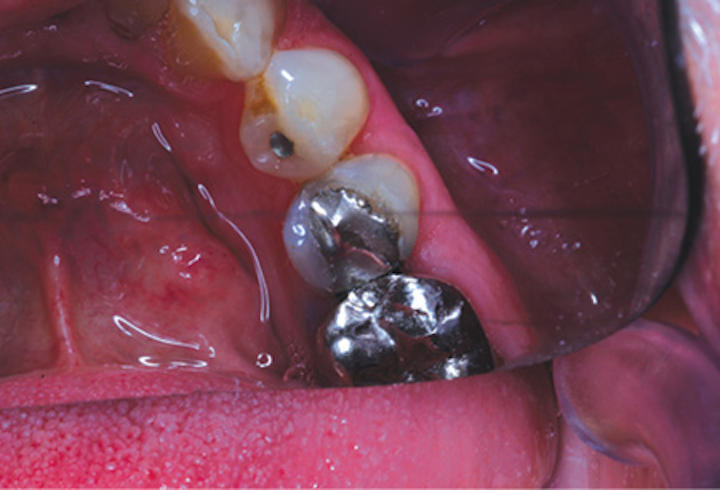 James M. Braun, DDS, MS
In the 33 years that I have been practicing dentistry, I have seen many industry changes, particularly when it comes to the materials, equipment, and techniques for taking impressions for crowns. While digital and traditional impressioning techniques require different steps, the final product of a perfectly fitting and lifelike restoration can be attained through both procedures.
I have been using traditional impressions since I started my career, and the restorative dentistry I offer in my practice is mostly based on these kinds of impressions and the lifelike models we derive from them. With that being said, we also use digital impressioning for some cases, and I have seen firsthand the amazing results that can be obtained with this procedure—one that has gained much popularity in the last five years.
The advantages of digital impressioning
I use digital impressioning when preparing for all-ceramic crowns if everything is in an easy-to-capture location. The shoulder margin preparation for ceramic crowns is easy to identify as long as it is not too deep into the sulcus and inflammation is minimal. Using a digital scanner is ideal for these procedures due to these benefits:
Streamlined process: Digital impressioning allows a dentist to connect almost immediately with his or her dental lab via the internet, which saves time and energy for both the dental team and the lab technicians. Based on the digital impression, fabrication and design of the restoration can be extremely accurate. Because the information is conveyed digitally, the dentist can skip the secondary step of creating a restoration model for the lab, which saves time and allows for a quick turnaround of the case. I prefer to use the 3M True Definition Scanner because of its precision and small wand size.
In-office milling: A huge advancement we have with digital impressioning is the ability to mill restorations right in our own offices (if we have the proper equipment), rather then sending our scans to a laboratory for fabrication. As the dental office, you are a bit more limited in what type of crown products you can offer patients and you may only want to produce simple restorations. A lot of dentists appreciate the options digital impressions offer because of their efficiency. We can see a patient, complete the digital scan, mill the restoration essentially chairside, and seat the final product all within a two-hour time span.
---
Digital impressioning procedure (figures 1–5)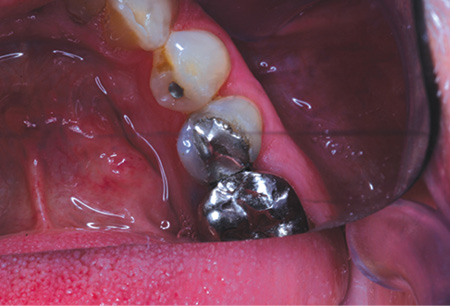 Figure 1: View of tooth No. 20 requiring a crown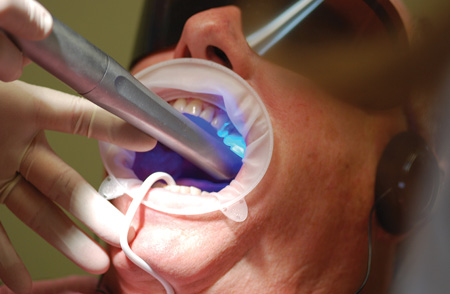 Figure 2: Using 3M True Definition Scanner to scan both arches, keeping lips and cheeks out of the field of vision using OptraGate by Ivoclar Vivadent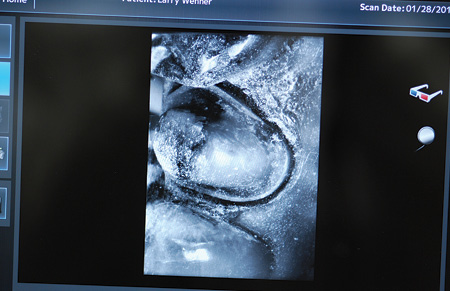 Figure 3: Scan of prepared tooth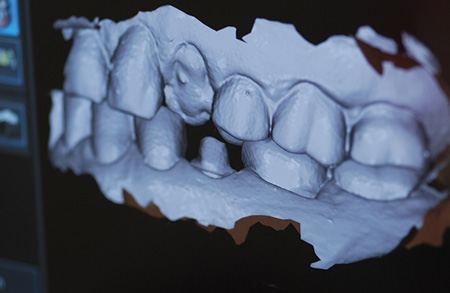 Figure 4: Case articulated and script filled out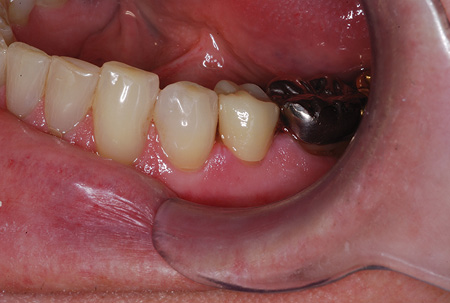 Figure 5: Completed crown No. 20 using 3M Lava Esthetic Zirconia
---
Most digital impressioning is completed from a scan alone, but there are times when you will need to have a model produced from a digital scan for complicated cases, such as when working with multiple crowns, bridges, or implants. Personally, I always appreciate using a model no matter which impressioning procedure I choose, as it allows me to make an overall assessment of the restoration—the fit, the appearance, and the occlusal scheme—before insertion. In my opinion, producing a model almost always guarantees a perfectly fitting final product. As long as you can offer a good scan with clear margins, good preparation design, and no defects, you will end up with a well-made final product.
Your final product truly depends on the lab with which you partner. That is exactly what the lab is—a partner. You should find a quality lab that will produce optimal results and have a variety of materials to choose from when creating the final product. The dentist and the dental lab should be knowledgeable about what restoration material will be best for the specific case and the patient, as well as possess the skills to produce a lifelike restoration. As a dentist, you can spend a lot of time and energy on your part of the puzzle, but if you don't have a quality lab, you've lost a key part of the job. Lab dialogue is key to case interaction and control, and ultimately the success of the case. Shade selection, substrate selection, and digital photography are also key elements for optimal results.
The staying power of traditional impressioning
I use traditional impressioning for most of my cases. Before I dive into the benefits, I want to specify that there are a number of important factors to look for when examining a traditional impressioning material.
First and foremost, you must have a delivery system that will accurately eject the impressioning materials over the prepared tooth. Also, both the light-body and heavy-body materials need to work properly. The light-body material must be free flowing and able to coat the tooth accurately without defects, voids, or flaws to provide a detailed representation of the tooth. The heavy-body material must act as a base and support material, providing a cushion that will harden quickly and retain an accurate impression of the prepared area. In my practice, I use Kerr AlgiNot to take preliminary impressions, and 3M Imprint 4 VPS impression material for the final impression because of the accuracy and quick set time.
These product features are vital since the ultimate goal of an impression is to see an accurate representation of the mouth that is free of defects and captures all details of the surface area and marginal fit. The best marginal fit of the final crown depends entirely upon the impression, as a properly made impression creates a final restoration that will eliminate any issues of decay or tissue irritation down the road. Focus on these goals:
Extreme accuracy: One of my favorite benefits of traditional impressioning is the ability to replicate the exact configuration of the tooth that I am preparing for a crown, bridge, or implant with a physical stone model. This preparation allows for precise detail replication of the identified tooth and helps me create a well-fitted, lifelike restoration.
---
Traditional impressioning procedure (figures 6–10)
Figure 6: Pre-op photo of tooth No. 7 requiring a crown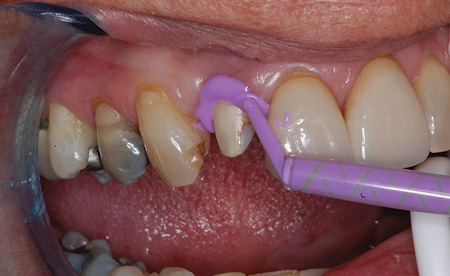 Figure 7: Injecting 3M Imprint 4 Light Body with a syringe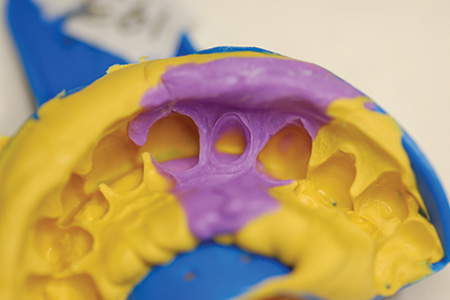 Figure 8: Final impression of tooth No. 7 with 3M Imprint 4 Super Quick Light and 3M Imprint 4 Super Quick Heavy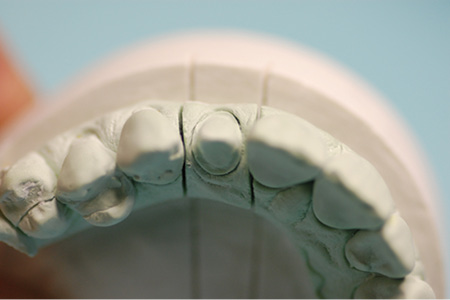 Figure 9: Model derived from impression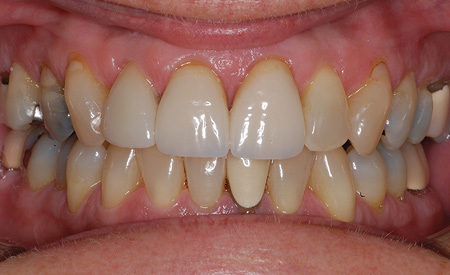 Figure 10: Completed all-ceramic crown No. 7
---
Quick setting time: Traditional impressioning is very efficient. A dentist can capture an impression in less than two minutes, which rivals the speed of a digital impression.
Capturing difficult details: One of the reasons why traditional impressioning is still so important in the industry is because of its ability to capture details that are deep into the gingival tissue and difficult to access. Digital impressioning can pose challenges when capturing these types of impressions because of the large size of some scanners, as well as the innate problem of dealing with soft-tissue displacement to gain access below the gingival margin. Traditional impressioning, however, with well-designed delivery syringes, allows a practitioner to deliver the materials directly to the prepared tooth. Because of this ability to capture details, the stone model created from these impressions is extremely accurate. The stone models that are created from these traditional impressions are scanned by the lab exactly like a tooth in the mouth would be, and the restoration is fabricated based on that information.
---
Going deep below the gingival crest
The biggest issue when taking an impression is how you deal with the soft tissue. Ask yourself, "How clear is my tooth prep? Is the gingival tissue creating problems or blocking what I need to capture?" These are the two things I always use in deeper preparations, no matter which impressioning procedure I follow:
• A traditional medicament-soaked cotton cord that displaces the soft tissue away from the tooth, ensuring we have unblocked margins that will be accurately captured by an impression. Over a couple of minutes, the gum will retract, giving us access to the very critical margin area.
• We also use a laser to remove some of the soft tissue in areas we need to capture tooth and marginal detail. This also gives us access to the area otherwise located below the soft-tissue margin, allowing us to better capture details critical to creating well-fitted restorations.
---
Finding a place for a pair of procedures
Traditional impressioning is a universal approach no matter where the tooth is located in the mouth or what depth needs capturing. With the help of fast-setting and detailed materials, capturing an accurate impression is nearly guaranteed. However, digital impressioning offers both an accurate final product as well as a streamlined and efficient process. It is clear that both techniques have a place in the office.
There are times when digital scanning is a wonderful tool, and with CAD/CAM and zirconia taking off, it certainly has its benefits,
such as streamlining processes and providing beautiful final restorations. But there are also times when a dentist needs to get into the molar area, work well below the gingival margin, or capture details of many teeth at once. The only way to do this with as much accuracy as possible is with traditional impressions and a stone model for replication.
Ultimately, choosing the proper procedure depends on what type of dentistry you are practicing and what services you want to offer patients. The dentist's knowledge of the differing techniques and lab capabilities is also crucial. We have new opportunities that weren't available some years ago, and everything—whether digital or traditional—is created with the patient in mind. Now, we can produce gorgeous final products and leave a wonderful, lasting impression on our patients.
Disclosure: Dr. Braun has received an honorarium from 3M Oral Care.
---

James M. Braun, DDS, MS, a University of Michigan graduate, has been in private practice specializing in prosthodontics for more than 30 years in Saginaw, Michigan. He presents seminars at national and international meetings, conducts hands-on workshops and webinars, and has written a variety of articles on esthetic restorative dentistry. Dr. Braun is a consultant to several major dental manufacturing companies on new-product development.