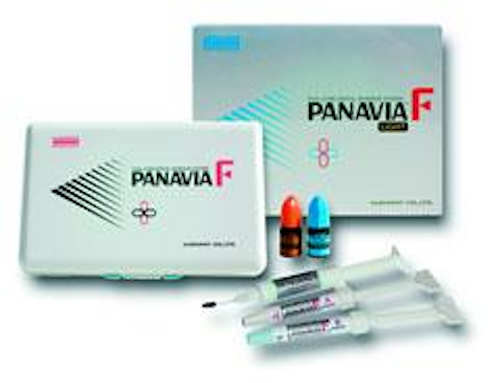 By John W. Farah, DDS, PhD
The editors of THE DENTAL ADVISOR™ proudly bring you the "Shared Secrets" column. Every other month, we will feature dental products and equipment that have received top ratings in THE DENTAL ADVISOR™. Take your practice to the next level with the help of our "Shared Secrets."
Panavia F Light
Kuraray America, Inc.
(800) 879-1676
+ + + + + / 97%, Vol. 19-1

Editors' Choice
Panavia F Light is a dual-cured, fluoride-releasing resin cement that is excellent for use with metal, composite and porcelain resto-rations. Panavia F Light is a designation for a new light universal shade, similar to Vita A1. This is in addition to two original shades: TC (tooth color) and opaque white.
The kit is complete and easy to use with detailed instructions for a variety of procedures. ED Primer, a self-etching solution, provides good adhesive strength. Removal of excess cement is easily accomplished prior to final set, which can be accelerated by light curing at the margins for 20 seconds or by covering the margins with Oxyguard II gel. Dentists reported no post-operative sensitivity and were very pleased with the light shade for use with indirect composite and ceramic restorations.
ELECTROtorque
KaVo America Corp.
(888) 528-6872
+ + + + + / 96%, Vol. 18-10

Editors' Choice
Many dentists are realizing the benefits of electric handpieces compared to traditional air-driven models. ELECTROtorque is a system that connects to an existing air-driven handpiece line and converts it to an electric motor system. The system in-cludes a variety of attachments that are excellent for both high- and slow-speed applications, including rotary endodontic instrumentation.
Advantages of this electric system over air systems include constant speed and torque during use, reduced noise, and much less vibration, especially at slow speeds. The halogen light source provides excellent illumination of the operative site, and the quick-connect feature allows easy changing of attachments. Dentists appreciated the light and water spray on even the slow-speed attachments.
NTI Serrated Diamond Finishing Strips
Axis Dental Corp.
(888) 654-2947
+ + + + + / 97%, Vol. 18-10

NTI Serrated Diamond Finishing Strips are excellent for opening and finishing interproximal contacts. The unique feature of this strip is the serrated central portion that allows the dentist to literally saw through a tight resin contact or remove interproximal cement. The cutting efficiency is excellent, and the strips remain effective even when wet. The strips are available in medium, fine, and superfine.
This is one small product that can save the dentist a lot of time!
Note: For information on "Shared Secrets" lecture seminars or to subscribe, contact THE DENTAL ADVISOR™, 3100 W. Liberty, Ann Arbor, MI 48103, call (800) 347-1330, email info@dentaladvisor.com, or visit www.dentaladvisor.com.
John W. Farah, DDS, PhD, an editor of THE DENTAL ADVISOR™, maintains a full-time dental practice in Ann Arbor, Mich. He lectures internationally on dental products, equipment, and materials. John M. Powers, PhD, an editor of THE DENTAL ADVISOR™, is a professor of restorative dentistry and biomaterials at UT Health Science Center at Houston. He also is director of the Houston Biomaterials Research Center.