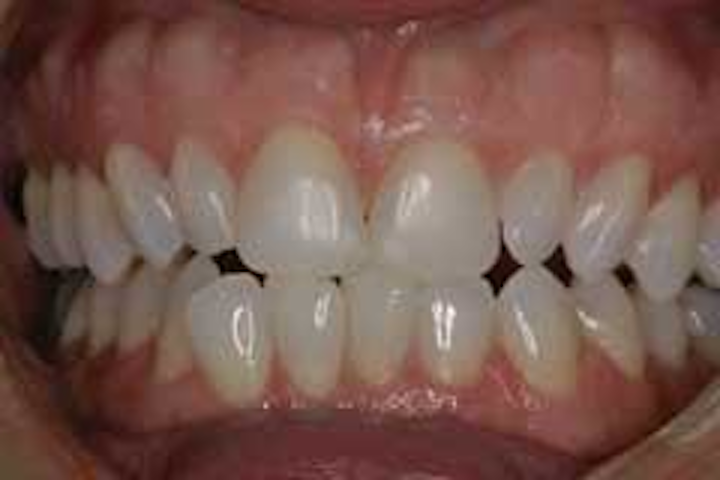 As dentistry and the professionals in it enjoy the results of the public's heightened awareness of the benefits of esthetic restorative treatments, we are challenged to elevate the level of clinical and technical skill we demonstrate when treating our patients. The visible signs of our abilities, obviously, are the restorations we place. Now that patients are increasingly knowledgeable about what can and can't be done to improve the appearance of their smiles, we must deliver nothing less than functionally sound, esthetic results every step of the way. This is especially true when we're faced with temporizing a patient who will ultimately receive veneer restorations.
With this is mind, it's important to remember that the temporary phase of treatment is just as essential to overall treatment profitability as the placement of the definitive restorations. A patient's temporaries are essential to creating the ideal veneer case in terms of identifying the proper look and feel of the final restorations, as well as to allow the patient to maintain their privacy and dignity by not letting anyone know they're "having work done." What's more, when a dentist's temporaries are done well, they are very much the template for the final veneers from many perspectives, including soft-tissue contouring, veneer length, width, incisal and gingival embrasures, and even color and characterizations.
Understanding the esthetically driven patient
Esthetically driven patients are usually, but not always, either high-profile individuals, or those who would like to be in that world. They want and need to feel entirely confident in the temporary phase of treatment or they will not proceed. Case acceptance and, ultimately, a dentist's reputation for his or her ability to perform this type of treatment with excellence depends largely on the temporization phase. This is, after all, where the patient is first going to "see" how his or her new smile will look. And the value of reputation and word-of-mouth referrals - as well as how these translate into future practice profitability - cannot be underestimated.
Because of their personalities, esthetically driven patients and those willing to make the investment in enhancing their smiles will usually not tolerate inconveniences in their schedules. This makes it very important to deliver temporary restorations that are right - both esthetically and functionally - the first time. Further, as a business person, the dentist should also not want to see the patient multiple times to correct problems with temporary restorations because it cuts into chair time that could otherwise be spent with new patients.
The economic implications of temporizing for veneers
Every practice is different, but to demonstrate just how temporizing for veneers affects practice profitability, let's assume we have a simple four-unit veneer case. In my practice, the preparation and temporization appointment requires two and a half hours. The first hour is for anesthesia and the mock-up (technique described later), and the second hour is for tooth preparation and impression-taking. The remaining half hour is dedicated to placing the temporaries. Therefore, one and a half hours are dedicated to fabricating the temporaries to ensure their functionality and esthetics, as well as make sure they will mimic the anticipated final veneers.
At $900 per tooth, and considering this is a four-unit case, the total production is $3,600; $1,440 is for preparation and impression time, and $2,160 is temporization time. With that in mind, any time spent redoing the temporary restorations as a result of breakage or to re-evaluate phonetics, esthetics, or function translates to an hour of doctor and assistant time that costs 25 percent of the four-unit case. If you require multiple one-hour blocks for additional repairs or changes to the temporaries, your losses on the case go up to 50 percent, 75 percent, etc.
Now, consider other ways in which improperly created temporary veneer restorations can detract from practice profitability. A lost hour to redo temporary restorations translates into other lost patient treatments. For example, an average new patient exam at $200 for the exam and radiographs, or a new restorative case - which equates to approximately $400 earned per hour - would be lost. Or, the practice could lose out on a potentially new crown and bridge or veneer case at $900 per hour.
Finally, a typical insert for four bonded veneer units is one and a half hours. If you cannot insert the case - whether because of color or contour issues - then you lose $750 an hour for the time lost immediately, in addition to the revenue that will be lost from the second slot that you rescheduled the insert into, pending the type of treatment you would have appointed.
Target the temporization process
Unquestionably, many articles in the literature have focused on simple and fast temporization techniques. Certainly, efficiency is important to profitability, but dentists cannot be penny wise and dollar foolish. Saving money on materials or incorporating quick techniques on the front end will likely lead to re-temporization on several occasions, frustrated patients and doctors, remakes of the definitive veneers due to problems with color and contour and, ultimately, patients dissatisfied with the process and the practice. Because any esthetically driven practice is built on word of mouth and reputation, maintaining profitability could be tough to accomplish if things do not go smoothly on a regular basis - particularly when temporizing patients for veneer restorations (figures 1, 2, and 3).
Profiting from temporizing for veneer restorations requires attention to a highly technique-driven process. There are two ways to initiate the process: either with a direct patient mock-up on preparation day so the patient can see the final results before the work begins - which is ideal when realistic - or an indirect mock-up with wax from your laboratory. The difference, other than knowing what the final product will be prior to initiating the work - which is enormous - technically is simply the matrix that is fabricated in order to create the temporaries.
In our practice when we mock-up a patient, we use a clear impression material (Clear Bite, Discus Dental) in a triple tray, with a light body wash on the mocked up teeth. We obtain two impressions - one for the temporaries and one for the laboratory to demonstrate the anticipated results.
After teeth are prepared, cleansed (figure 4), and impressioned, we spot-etch the preparations (figure 5), place a desensitizing agent (Systemp Desensitizer, Ivoclar Vivadent) (figure 6) and place a bonding primer (Optibond Primer) on the margins only, which prevents any microleakage that could lead to discoloration of the temporaries from the patient's point of view. We then load which ever matrix we have chosen with the temporary material - we use Integrity, although Protemp or Luxatemp could also be used - and seat the matrix for two minutes.
The matrix is then gently removed, and the bulk of the excess is removed with a Gracey 1/2 scaler, although any fine periodontal scaling instrument will do. All contours and embrasures are finished with fine diamonds, ultra-fine diamonds, 60-fluted carbides, and Soflex discs. Finally, we place a surface glaze (Palaseal, Heraeus/Kulzer) on the temporaries and light-cure them for 40 seconds.
In cases in which there is concern regarding retention (e.g., one or two veneers; ultra-conservative preparations where a feldspathic veneer is selected over a pressed ceramic such as IPS Empress), I sometimes substitute a flowable resin such as Heliomolar Flow (Ivoclar Vivadent) for the Integrity temporary material.
This technique has provided my practice with several benefits and advantages. First, it is the most efficient and predictable way to temporize, and that makes the process profitable. Second, our temporaries function well and do not come off, even without the use of temporary cement that would need to be cleaned off later. Finally, because this technique results in temporaries that do not experience microleakage, the temporaries look as good when the patient presents for the final insert as they did when they were made. And, because the temporaries are very strong, stable, and esthetic (figure 7), my patients have been pleased - and that speaks volumes for the technique.
"Front-end" time is well worth the effort
The bottom line is this: when temporizing for veneer cases, profitability is determined by how well the process helps build the esthetic practice's reputation, enables efficient time and appointment management, and contributes to final inserts that require no remakes due to color or contour discrepancies. Ultimately, happy patients spread the word about their experiences to other patients and dental specialists who see them, and it's usually the temporization phase that "wows" them first. My advice to dentists looking to profit from the temporization phase of veneer treatments is to see the forest through the trees, use the appropriate materials for the job - just as you would for any definitive restoration - and spend a little more time on the front end to save yourself and your patients inconveniences throughout the treatment process.
Dr. David R. Rice graduated from the State University of New York at Buffalo School of Dental Medicine in 1994. In 1995, he completed a general practice residency at the Allegheny General Hospital in Pittsburgh. He was trained in occlusion at Dr. Peter Dawson's Center, and in anterior esthetics at PAC-Live. Dr. Rice maintains a private practice in East Amherst, N.Y., and is on faculty at the State University of New York at Buffalo School of Dental Medicine. Dr. Rice may be reached at eastamherstfamilydental@yahoo.com.