New products to see at the CDA in Anaheim
Apr 1st, 2011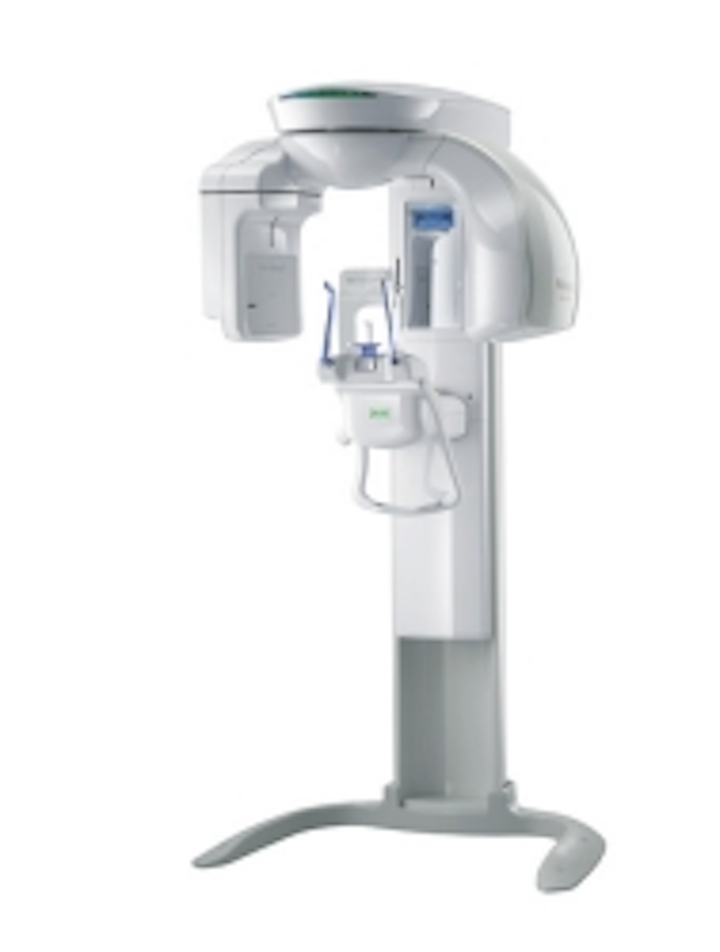 by Dr. Joe Blaes, Editor
Booth 116: PaX-Flex3D from Vatech America, Inc.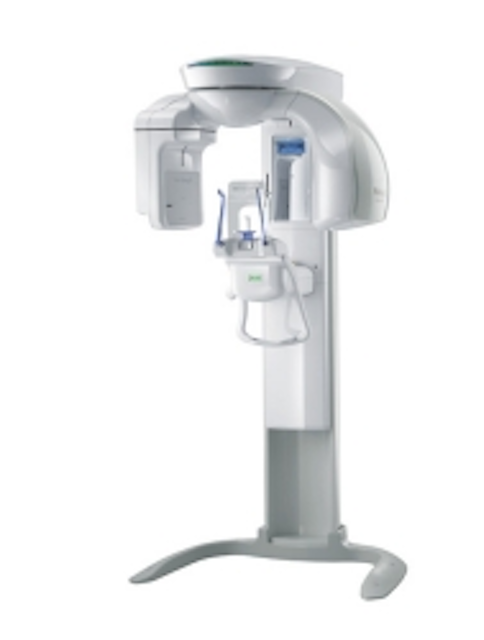 PaX-Flex3D from Vatech America, Inc. features any configuration, including True Digital Panoramic, Cone Beam CT, and Cephalometric imaging. The option of field upgrading to Cephalometric and Cone Beam CT can occur any time a practice develops imaging needs. With multiple field of view (FOV) upgrade options, patient exposure can be limited based on clinical need. Patient positioning and image capture are performed simply and accurately. Visit www.vatechamerica.com for more information.
---
Booth 234: Small DV mouthpiece from Isolite Systems, Inc.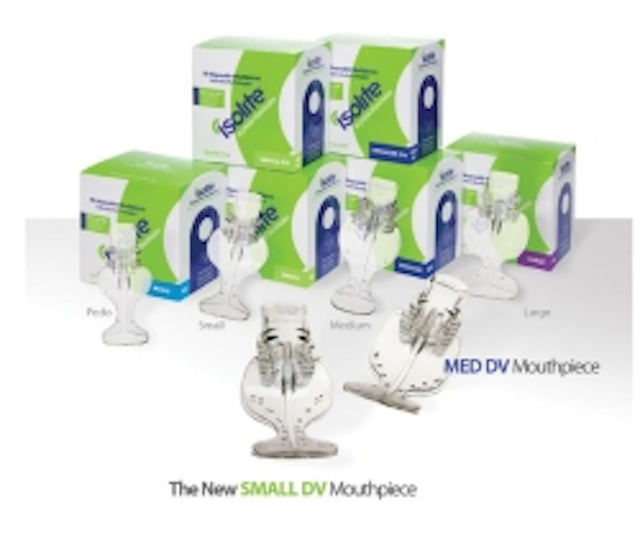 The small DV mouthpiece was developed for patients that need a small bite-block but have a relatively deep vestibule. The new shape and design of the Small DV mouthpiece allows for an even more complete tongue retraction and better fit in a patient's mouth. Its expanded cheek shield shape provides improved suction that goes deeper into the vestibule. The new design features a more stable bite block and provides additional suction capacity behind the bite block itself, assuring saliva does not pool behind the mouthpiece. Visit www.isolite.com for more information.
---
Booth 210: MX2 Micro Series Electric Handpiece from Bien Air Medical Technologies

You must see and experience this handpiece. The new Micro-Series Bien Air delivers a 28% smaller and 23% lighter handpiece with all the performance that you expect from an electric. It is simply amazing! The Micro Series has LED lights, torque control, endodontic functions, and autoclavable motor and handpiece. Both the motor and handpiece are maintenance free - no more cleaners and no more oil! Visit www.bienair.com for more information.
---
Booth 256: Disposable High-Speed Handpiece from Azenic DHP™

This product is engineered with exceptional cutting efficiency and unique ergonomic design. The DHP offers the performance of a metallic high-speed handpiece with the convenience and infection-control benefits of a disposable. This product is designed for single-patient use and will perform a variety of clinical applications: crown/bridge removal, tooth preparation, tooth extraction, and other standard high-speed procedures. Visit www.azenic.com or call (888) 347-7576 for more information.
---
Booth 308: PowerVac® G from Midmark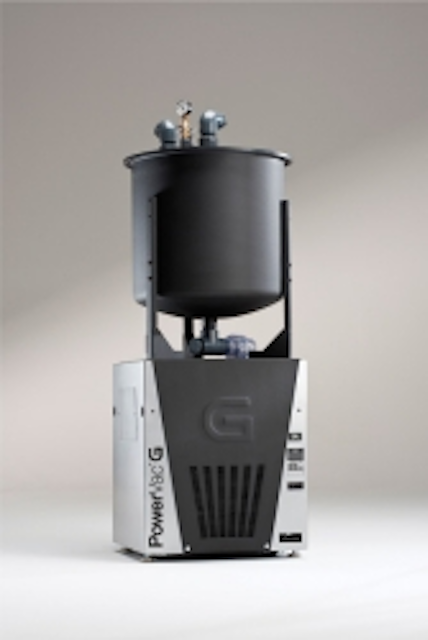 PowerVac® G is the industry's first intelligent, energy efficient dental vacuum that can save an office up to 83% of the energy required to run a similar-sized vacuum system. PowerVac G has a waterless design, saving dental practices up to 240,000 gallons of water a year. This system reduces noise as low as 48dBa, reduces heat by up to 30%, and has the best warranty. This offers dentists an environmentally and business-friendly solution. Visit www.midmark.com for more information.
---
Booth 434 (Patterson): Boil-n-Bite ArmourBite® Mouthpiece from Bite Tech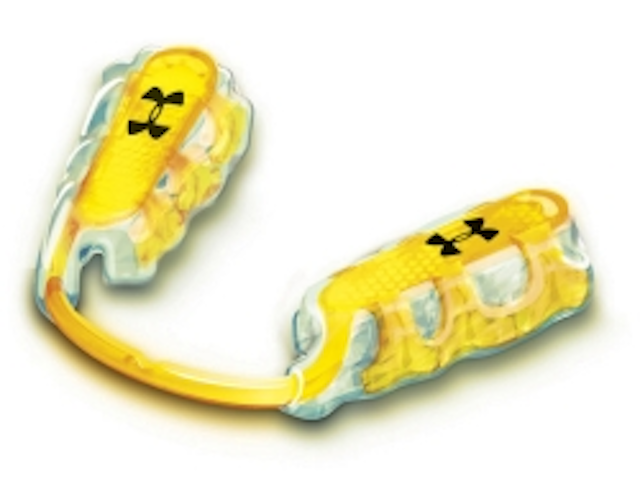 The new Boil-n-Bite UA Performance Mouthwear™ products provide an easy entry point for athletes seeking the benefits of UA Performance Mouthwear™ in a self-fit product. Don't miss the opportunity to be one of the first to introduce this line of products to your patients! Visit us and get an exclusive look at the new line of UA Performance Mouthwear™ products! Visit www.pattersondental.com for more information.
---
Booth 410: Evolution from Septodont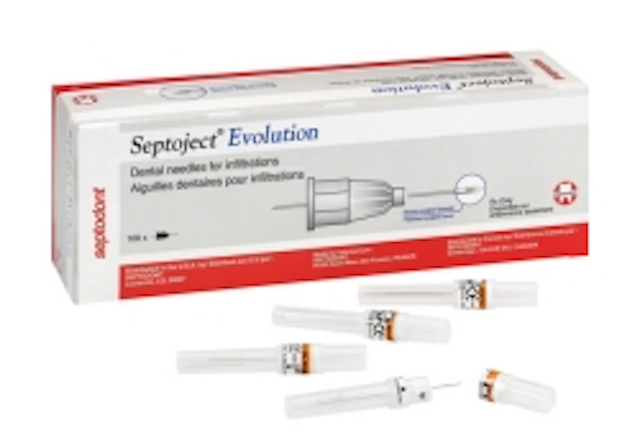 Septoject Evolution is an innovative needle with a patented scalpel designed bevel. This needle is the sharpest I have found, which means you will experience a smoother penetration with less tissue displacement. This means less discomfort for your patients, even when used for multiple injections. For you, the need for less force, combined with significantly reduced deflection, brings you better control and accuracy. These come in 27ga, 30ga regular lengths, and extra short. Visit www.septodont.com for more information.
---
Booth 450: Opalescence® Oh! from Ultradent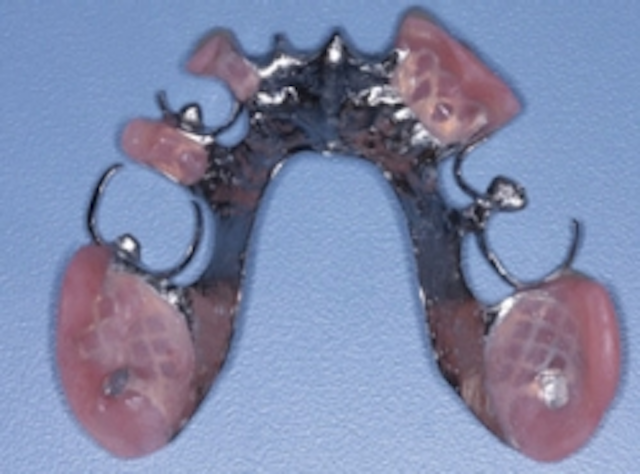 Opalescence® Oh! Disposable unit dose bulbs are filled with enough gel for one whitening tray. Opalescence Oh! eliminates guesswork and minimizes wasted gel. It whitens the entire smile and has an optimized combination of potassium nitrate and fluoride (PF) for increased enamel strength, minimized sensitivity, and reduced risk of caries. It has the sticky, viscous whitening gel used across the Opalescence line. With wear times that range from 30 minutes to overnight, Opalescence Oh! is available (with PF) in 10%, 15%, 20%, and 35%, in mint, melon, and regular flavors. Visit www.ultradent.com for more information.
---
Booth 502: RVG 6500 System from CareStream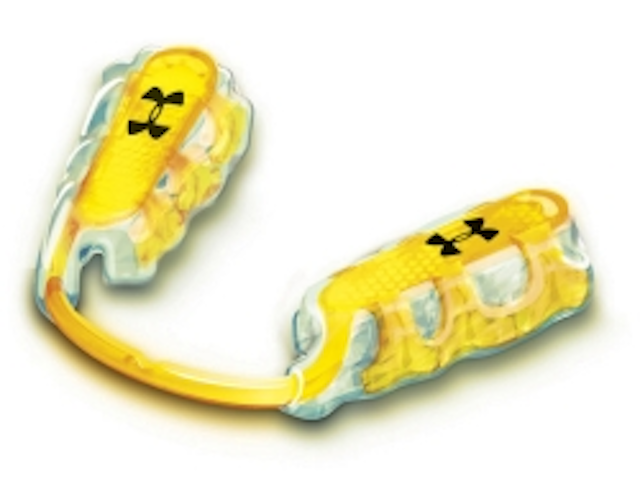 This system's groundbreaking Intelligent Positioning System (IPS) ensures accurate sensor placement during patient examinations by visually aiding alignment of the sensor with an intuitive, real-time display. Producing film-quality images, the system's Wi-Fi design enables users to move freely about their practice without cumbersome cords. The Wi-Fi capability even enables users to view and share acquired images on an Apple iPad®, fostering better patient communication. For more information, call (800) 944-6365 or visit www.carestreamdental.com.
---
Booth 722: Gluma® Desensitizer PowerGel from Heraeus Kulzer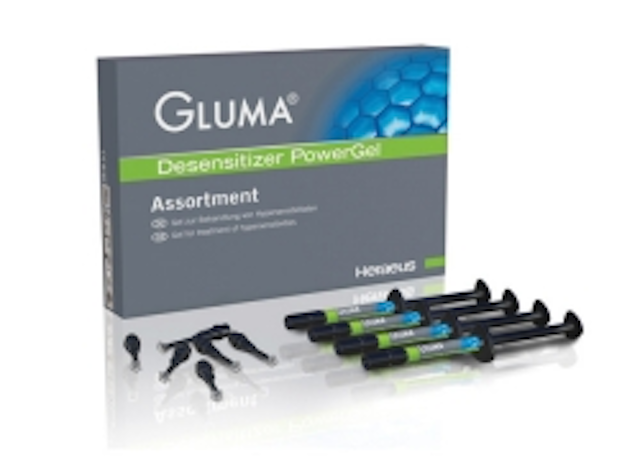 Gluma® Desensitizer PowerGel is a new one-step gel formula desensitizer that allows for accurate control and placement to reduce or eliminate dentinal hypersensitivity. The new non-drip, non-runny formula offers improved handling, easier control, and greater accuracy while delivering the same level of desensitization as Gluma liquid. Its green-color indicator provides visual ease of placement and rinse-clean capability. Visit www.heraeusdentalusa.com for more information.
---
Booth 587: Onpharma®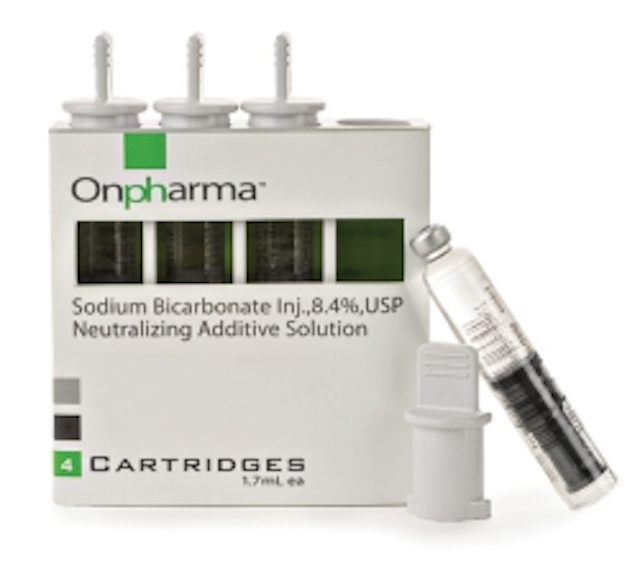 Onpharma® Sodium Bicarbonate Inj., 8.4% USP Neutralizing Additive Solution, when used with the Onset® Mixing Pen and Onset® Cartridge Connectors, represents the first and only automated, reliable, and convenient way to adjust the pH of lidocaine with epinephrine immediately prior to injection - a process that takes only a few seconds and results in a reduction in injection pain and increase in patient comfort. For full prescribing information and a bibliography of anesthetic buffering articles visit www.onpharma.com.
---
Booth 1106: SonicFill from Kerr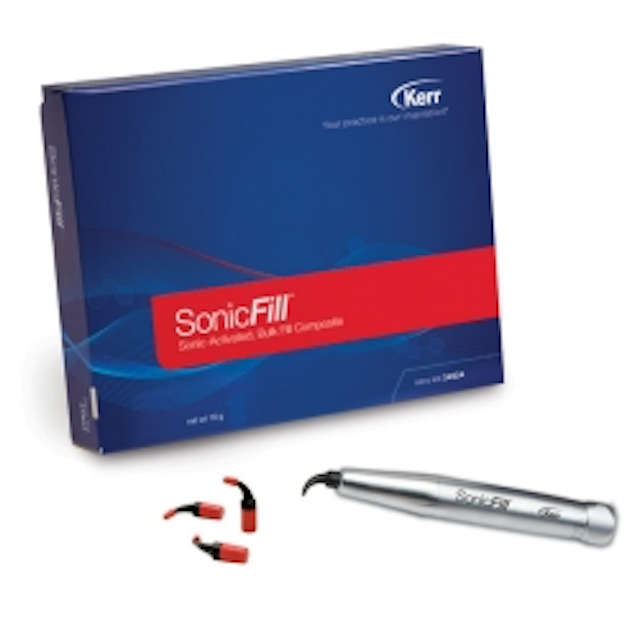 The Sonic Activated, Bulk Fill Composite System from Kerr uses a highly-filled thixotropic resin that reacts when sonic energy is applied. The carpule containing the composite is attached to a special air-driven handpiece. As sonic energy is applied through the handpiece, there is an immediate, rapid drop in the composite's viscosity (up to 87%), which provides a much better adaptation than ever before with no worry about voids. When the sonic energy is stopped, the composite immediately returns to a non-slumping, highly sculptable state that is easy to carve without being sticky. Visit www.kerrdental.com for more information.
---
Booth 1216: ShortCut with GingiBRAID+ Retraction Cords by DUX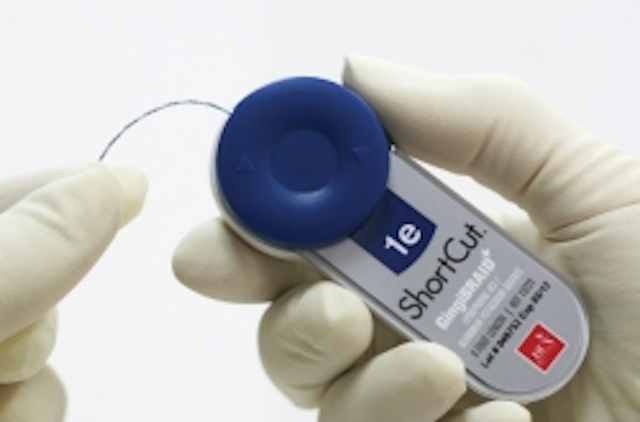 What a nifty idea! A container for GingiBRAID with a built-in cutter that allows you to cut any length of cord you need. This is a real time saver. No more searching for scissors to cut the cord. GingiBRAID is a specially treated retraction cord that has great absorbency, less memory, fast acting hemostasis, and low instrument penetrability. Visit www.duxdental.com for more information.
---
Booth 1306: DENTSPLY Professional Caviton® Focused Spray® slimLINE® 1000 ultrasonic insert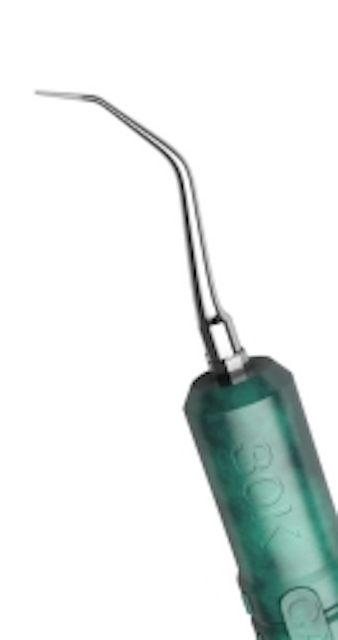 In the New Caviton® Focused Spray® slimLINE® 1000 ultrasonic insert from DENTSPLY Professional, Cavitron has combined the best features of the Focused Spray and slimLINE technologies to produce the Focused Spray slimLINE 1000 insert. This makes it ideal for dentists and hygienists who are looking for better ultrasonic access to interproximal and subgingival areas, and who appreciate the line-angle adaptation of 1000-design instruments to efficiently remove deposits. The result is a thinner tip that allows for improved access in hard-to-reach areas, including challenging subgingival areas, with minimal tissue distention for greater patient comfort. Order from your dealer or visit www.professional.dentsply.com for more information.
---
Booth 1306: A new system from DENTSPLY International and GlaxoSmithKline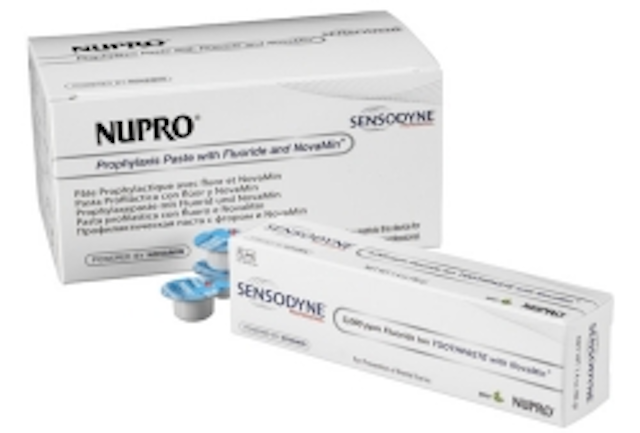 DENTSPLY's NUPRO brand and GSK's Sensodyne brand have created an effective system designed for the care of tooth sensitivity, from the dental office to everyday use at home. This collaboration is based on NovaMin's calcium phosphate technology. There are three distinct products: 1. NUPRO Sensodyne Prophy Paste that will provide immediate relief from tooth sensitivity. 2. Sensodyne NUPRO Professional Toothpaste that dental professionals can dispense for patients to use every day, with high fluoride for enamel and dentin remineralization with NovaMin technology. 3. Sensodyne for the everyday management of tooth sensitivity. Call (800) 989-8826 or visit www.professional.dentsply.com for more information.
---
Booth 1306: DENTSPLY Tulsa Dental Specialties GuttaCore™ Crosslinked Gutta-Percha Core Obturator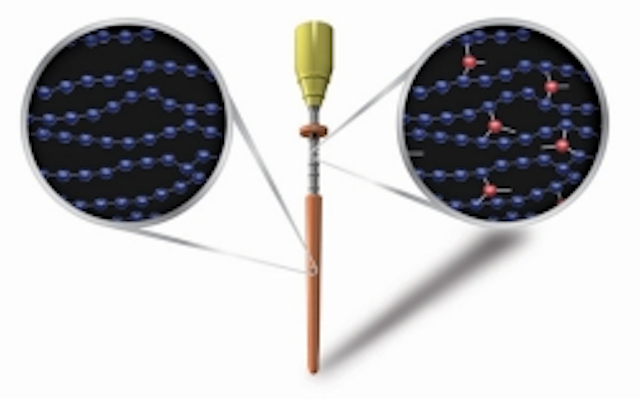 No other obturation material has been more universally trusted than gutta-percha. Until now, warm gutta-percha's flowing characteristics made it unsuitable for an obturator core because it melted when heated. Through a well-established scientific process, crosslinking connects the polymer chains and transforms the gutta-percha, keeping it from melting and making it subtly stronger, while retaining its best features. The handle bends off without affecting the seal. Learn more at www.guttacore.com or call (800) 662-1202.
---
Booth 1370: ORTHOpix 3-D Digital Study Models from Appliance Therapy Group
These high-resolution study models are accurate with no chipping and no worry of dropping them. You can access models quickly and securely from any computer, eliminating the storage of all models while freeing up valuable office space. Models are safely backed up on the ORTHOpix servers for 15 years. Use a VPS impression material for greater accuracy. Call (888) 777-1945 or visit www.orthopix.com for more information.
---
Booth 1431: C-Saw™ system with GP Separator from Danville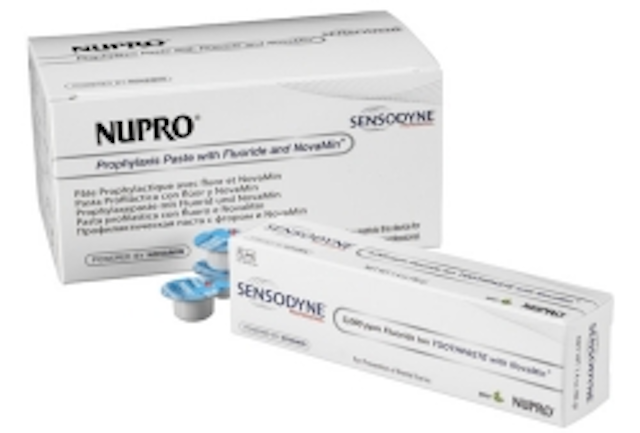 This is ideal for interproximal reduction. It provides rapid straight proximal reduction and protects the gingiva and tongue. In addition, natural contours are easily recreated. The full system includes an air-driven reciprocating handpiece with high torque, diamond blades, diamond strips in a C frame, and a unique GP Separator (proximal spreading clamp allows easy blade insertion) that protects the gingiva and tongue. Call (800) 827-7940 or visit www.danvillematerials.com for more information.
---
Booth 1380: GrandioSO from VOCO America, Inc.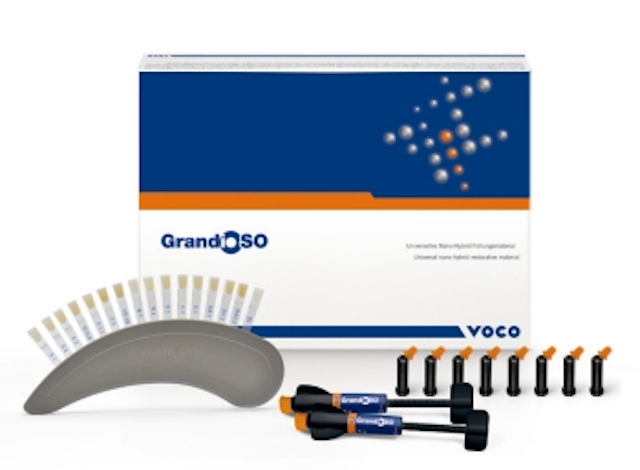 The leaders in nano-technology introduce an 89% filled universal nano-hybrid composite that combines a tooth-like modulus with low shrinkage and excellent polishability. The material has an extended working time under ambient light and, with its "intelligent shade" system, it will meet all your everyday needs. Order from your dental dealer, call (888) 658-2584, or visit www.vocoamerica.com.
---
Booth 1434: GC Fuji Temp LT Cement from GC America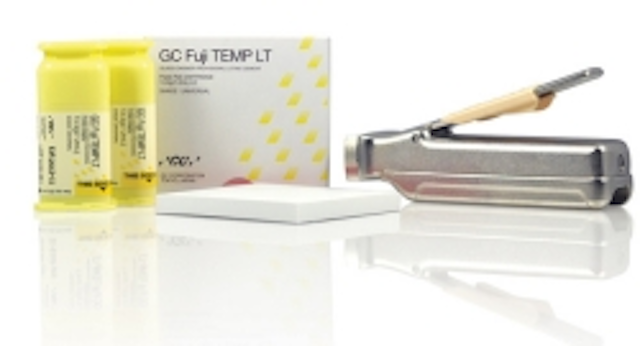 GC Fuji Temp LT Cement is a conventional Glass Ionomer Temporary (provisional) Cement for all types of all-ceramic, resin, and metal-based crowns and bridges, as well as implant abutments. It has excellent handling, low film thickness, great thermal insulation to prevent sensitivity, biocompatibility, and fluoride release and recharge. It is great for long and short term luting of provisional restorations, and is easily removed from an abutment surface with no adverse effect on the final cementation. Visit www.gcamerica.com for more information.
---
Booth 1616: Waterpik® Water Flosser For Kids from Water Pik, Inc.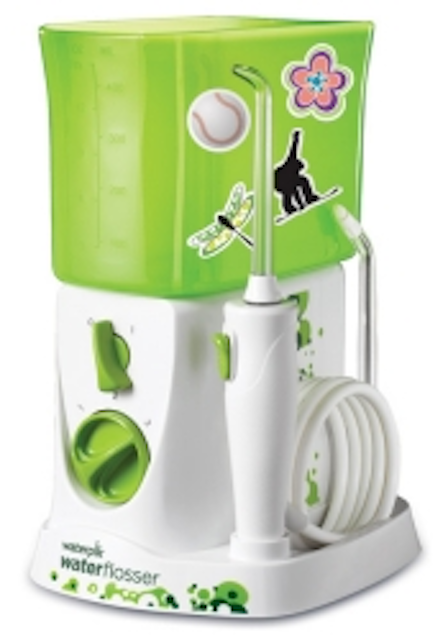 This is ideal for young patients who have orthodontic appliances and for those who struggle with traditional string floss. It is uniquely designed to accommodate smaller hands - ideal for ages six and up - and has been clinically proven to be twice as effective as traditional floss for reducing gingival bleeding. It includes two tips - one Classic Jet Tip and one Orthodontic Tip - as well as an extra safe, kid-proof electrical design, three pressure settings, and a compact size for easy storage. Visit www.waterpik.com for more information.
---
Booth 2156: Sheer White!™ Teeth Whitening Films from CAO Group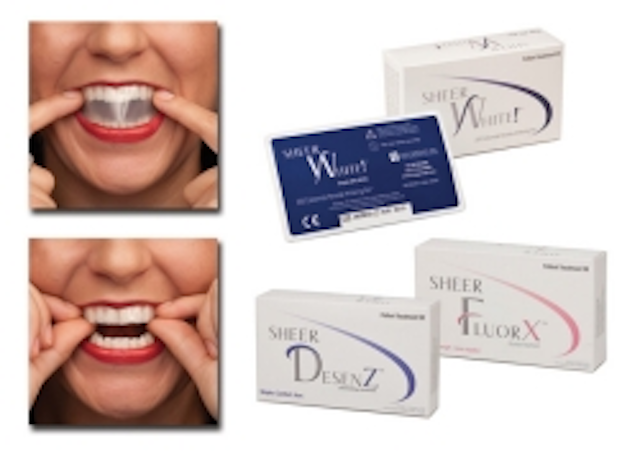 Sheer White!™ Teeth Whitening Films from CAO Group are easily applied, stay where placed, and whiten teeth fast. The proprietary SheerFilm™ material molds tight to the teeth to ensure complete contact of SheerWhite!'s 20% carbamide peroxide whitening gel, and to prevent washout of gel or leakage down the patient's throat. They are so comfortable your patients can speak clearly, and they can be worn at work or overnight. I tried Sheer White! at the Greater New York meeting and they are terrific. They are distributed exclusively through Henry Schein Dental. Call (877) 236-4408 or visit www.caogroup.com/dental for more information on SheerFilm's other uses.
---
Booth 1681: 3D Elite with CLEARimage™ Scanning Technology from PreXion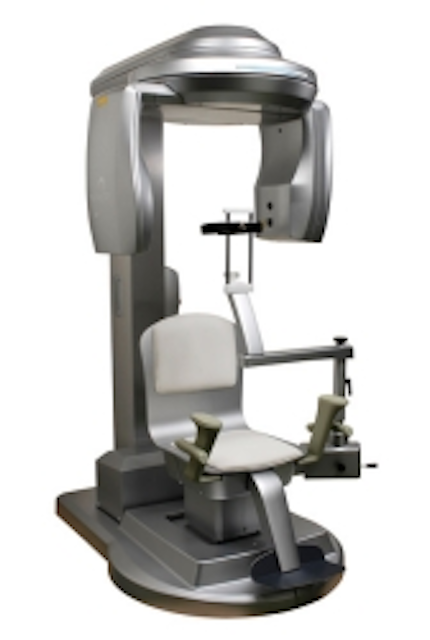 3D Elite with CLEARimage™ Scanning Technology is dedicated to providing the highest quality, high definition, low radiation dose and the most diagnostic 3D and MPR CBCT images. The new Elite system features: up to a 53% reduction in radiation; up to a 50% reduction in scan time; industry-leading 0.15mm and 0.101mm focal spots; powerful, intuitive software with implant planning, fusion/stitching function and Endodontic Tracing Tools; and GREEN computer/server that reduces energy consumption by 50%. For more information, visit www.presion.com.
---
Booth 2230: Luxatemp® Ultra from DMG America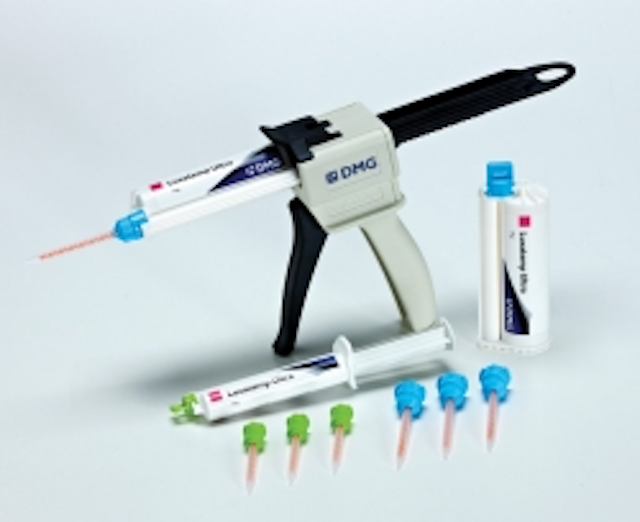 Luxatemp® Ultra from DMG America is the next generation of the brand that set the benchmark for esthetic provisional materials in dentistry more than 20 years ago. I know this because I started using Luxatemp that long ago. New Luxatemp Ultra incorporates a proprietary technology that gives it increased strength when used for temporary crowns, bridges, inlays, onlays, and veneers. It continues to deliver great esthetics, and the fluorescence makes temporaries look beautiful and more natural in any lighting. The material is highly accurate, with outstanding adaptation to margins, and is also faster curing and easier to handle than ever before. Visit www.dmg-america.com for more information.
---
Booth 2326: SL3™ from Discus Dental
SL3™ from Discus Dental is a soft-tissue diode laser with best-in-class portability, convenience, and value. SL3 integrates many award-winning features of NV Microlaser, including disposable fiber tips, battery operation, and wireless foot pedal activation into a desktop laser package at a truly affordable price. Come by the Discus booth for a hands-on demonstration, or visit www.discusdental.com/lasers.php for more information.