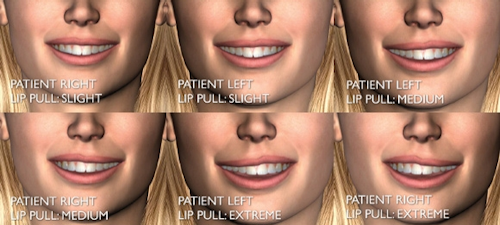 Joseph J. Massad, DDS
For more on this topic, go to www.dentaleconomics.com and search using the following key words: immediate denture, prosthesis, esthetic, edentulous patient, Dr. Joe Massad.
Welcome back! In virtually every presentation, I am questioned about the uncertainties of the final esthetic result of immediate dentures. Most dentists inform their patients that immediate dentures are temporary trial prostheses that will later serve as spares. They also inform patients that cosmetic adjustments can be performed more artistically when definitive prostheses are fabricated after healing, which may take six months to a year. Further adjustments and lining procedures will be required while extraction sockets heal and bone remodels.
However, patients do not always understand that there are certain limitations due to their facial muscle tone. To better demonstrate the final appearance, it is best to allow patients to see their existing smiles compared to a series of cartoon images showing how the smile is affected by the variances of facial and lip tonicity. The end result will be determined by many factors; however, in Part 1 of this two-part series, I will go over only one of these important factors. This month, we will focus on how the face affects the overall results.
All patients have, to some extent, uneven muscle tonicity when smiling, and generally this is considered normal and not unattractive. However, dentists are still confronted with the occasional patient who thinks the dentist changed their midline or thinks that the teeth look unnatural and off horizontally. Lip pulls generally are noted on one side of the face when analyzing a patient's smile.
The simple figures below allow patients to choose which figure best matches their own smiles and how muscle tone may affect the appearance of the final prosthesis. In the absence of lip and face enhancement procedures, it may be very difficult, if not impossible, to eliminate the uneven tooth display due to a severe lip pull with a dental prosthesis.
Educating and providing examples help patients take much of the burden onto themselves and away from the caring dentist.
See you next month. I hope my pleasure in dentistry will also be yours ... Joe Massad.
Dr. Joseph Massad may be reached at (918) 749-5600 or at joe@joemassad.com.
To see Dr. Massad's video tips, visit www.dentistryIQ.com