Flexible partial dentures are here to stay
Welcome back! This month's tip concerns flexible partials. I don't think I have given a lecture in the last 10 years without someone ...
Sep 1st, 2011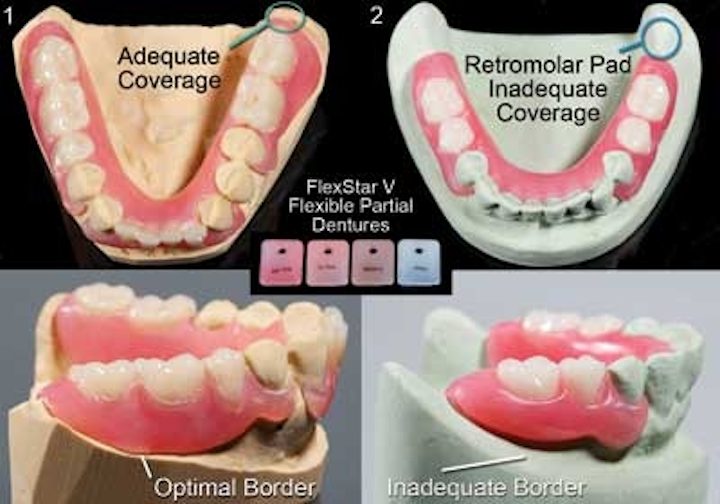 Joseph J. Massad, DDS
For more on this topic, go to www.dentaleconomics.com and search using the following key words: prosthesis, flexible partial dentures, stability, retention, Dr. Joe Massad.
Welcome back! This month's tip concerns flexible partials. I don't think I have given a lecture in the last 10 years without someone in the audience asking me my opinion of flexible partials. I believe, initially, many of us were a little hesitant to do flexible partials since they were not considered a conventionally acceptable method of replacing missing teeth. Also, because of the flexure, many were concerned that the vertical might be compromised.
For the last 50-plus years, our standard has been making partials with a tooth apron frame of cobalt chrome metal supporting the acrylic base holding the prosthetic teeth and metal clasps, or precision attachments for retention.
The flexible partials seen in the figures below are stain- and odor-resistant, very thin, and virtually unbreakable. Rather than a methyl methacrylate based acrylic, it is a nylon that can negotiate small tori in areas otherwise impossible with cast partials.
As long as we understand the materials of a flexible partial, then it is much easier to consider these for provisional type prostheses with the patient's informed consent. I think we all realize that most prostheses are provisional, depending on the life expectancy of the material combined with the integrity of tooth, bone, and tissue structures.
Flexible partials are generally utilized in my office for patients who economically cannot afford conventional partials or as an interim appliance. Patients are fully informed that if any part of the partial breaks or a tooth comes off, it may need to be totally replaced. I treat flexible partials as provisional restorations; however, I build them more like a complete denture design, thereby covering the necessary areas to minimize movement.
Many of the flexible partials I have evaluated do not cover the optimal portion of the retromolar pads and tuberosities, and do not extend to the functional peripheral borders, which is necessary for optimal retention and stability. I believe it is necessary for us to consider the same peripheral coverage as we do for complete dentures. Figure 1 is a flexible partial which has teeth bilaterally. This flexible partial does not necessarily need to cover the retromolar pad due to the retention of multiple teeth remaining. However, I believe it would be optimal to do so.
In Figure 2, note that this flexible partial denture, which is virtually a free-end saddle configuration, does not cover the retromolar pad. In further analysis, this partial has underextensions which would not be optimal and would also trap food particles in and around the borders. The design of any type of partial denture prosthesis should follow appropriate tooth and tissue design for accurate stability and retention.
In conclusion, I advocate the use of flexible partials for patients who fit the criteria and as a comfortable interim prosthesis, as long as we follow accepted design standards and allow our patients a comfortable and dignified functional restoration. We should always help our patients by allowing them, with informed consent, alternative restorations that will allow them a segue to future restorations. I believe that this can be achieved very professionally and ethically. Flexible partials should not be considered outside of the standard of care when utilized in this fashion.
See you next month. I hope my pleasure in dentistry will also be yours ... Joe Massad.
Dr. Joseph Massad may be reached at (918) 749-5600 or at joe@joemassad.com.