What causes changes in occlusion?
I have been practicing for several years, and I've observed many changes in occlusion in my patients that have occurred without any intervention on my part.
Jul 15th, 2013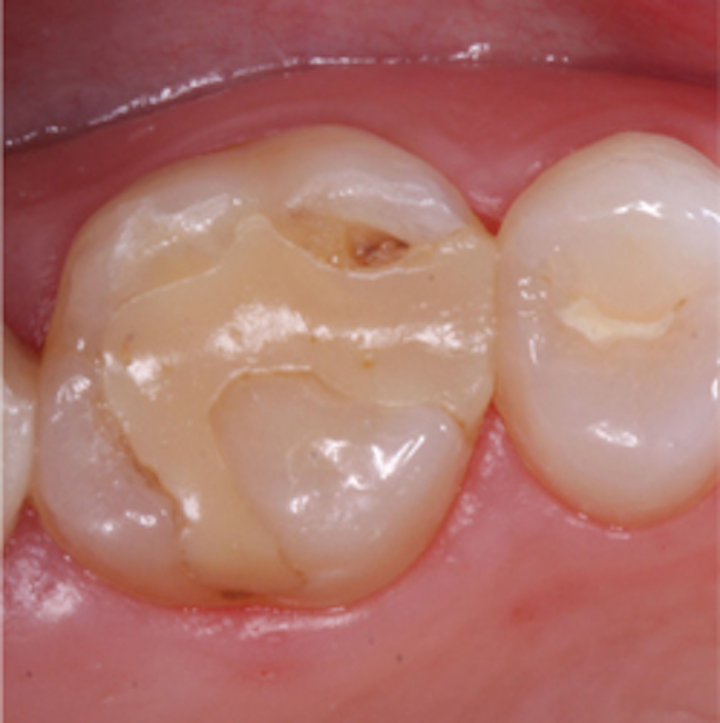 by Gordon J. Christensen, DDS, MSD, PhD
Q I have been practicing for several years, and I've observed many changes in occlusion in my patients that have occurred without any intervention on my part. What factors cause these changes, and what can I do to reduce or control the changes?
A Your question is a very important one, and many years of practice are necessary to see these changes in occlusion occur. I will discuss the various factors that change occlusion over a patient's lifetime, some of which you can influence (Fig. 1), and others that are beyond your control (Fig. 2).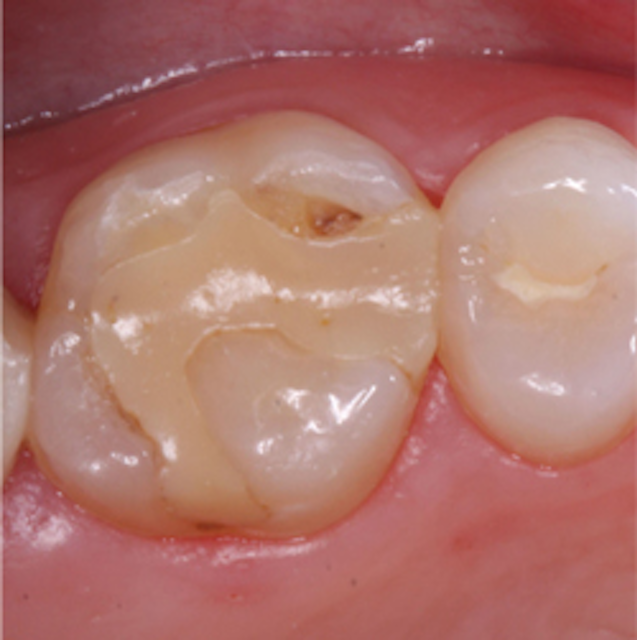 Fig. 1 -- This patient has had a tooth removed from a complete arch of teeth, causing collapse of occlusion. If she had had the missing tooth replaced when it was removed instead of later in life, she would have had a much less complicated restorative challenge.
If you or I were to discuss occlusion with almost any other dentist, we would receive a different view on the importance of occlusion, the presence and potential causes of deviant occlusal conditions, the diagnosis of them, and how to treat each of them.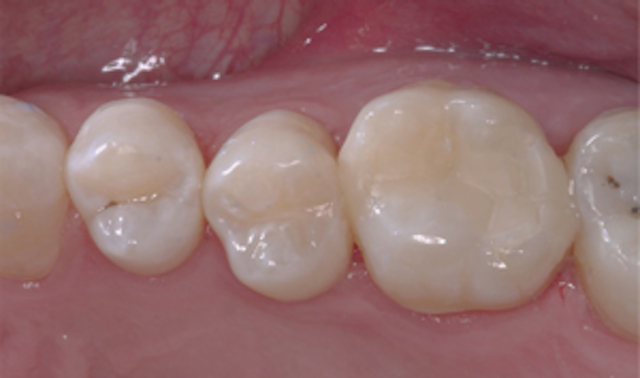 Fig. 2 -- The occlusion of this patient is obviously not normal. She has had many permanent teeth not form and the retention of numerous primary teeth. However, there is nothing a dentist can do to prevent the malocclusion. Only a combination of orthodontic, surgical, and restorative procedures can overcome the esthetic and functional challenges.
In my opinion, human dental occlusion is one of the most confused and controversial areas of the profession. There are numerous, highly opinionated groups who feel they're right and others are wrong. The respective occlusal groups agree on only a few basic concepts. This situation has caused many dentists to omit most occlusal diagnosis or treatment from their practices.
As a prosthodontist with many years of experience observing thousands of patients who have occlusal problems, I am convinced that occlusion is a constantly changing, dynamic state that is almost never the same from day to day.
What are the apparent causes of changes in occlusion? If we can agree on the reasons for changes, it may be possible to prevent or treat some of the occlusal maladies that dentists see on a daily basis.
In contemplating this subject, I consulted with a well-known and respected dentist who has been long associated with occlusion, Dr. John O. Grippo, concerning his views on the causes of change in occlusion. I combined Dr. Grippo's thoughts with my own observations and information in the literature, and I have summarized in my reply here the reasons for occlusal changes and what we can do to prevent them.
The following conditions are usually identified as being related to tooth movement. Other than the first few conditions, it is impossible to prioritize them on the basis of severity or magnitude of tooth movement. The list is in approximate order of most to least commonly occurring, based on my opinion and observations.
Tooth extraction without subsequent restorative dentistry
This is probably the most common cause of tooth movement and is well known to all dentists. The result of removal of teeth without any placement of restorations to avoid surrounding or opposing tooth movement often results in significant tooth movement in all directions. Such movement is usually nearly impossible to return to a normal state.
Prevention: When possible, place restorations preventing tooth movement, such as a fixed or removable partial denture.
Movement of teeth related to differences in wear characteristics of restorative materials
Resin-based composites were introduced as restorations for Class II locations in about 1968 with a material named Adaptic from J&J. At that time, many dentists initiated use of resin in Class II situations, only to see occlusion collapse and teeth drift mesially as a result of resin wear. Nonworking interferences were created as the occlusal aspects of the resin wore or "plucked" away. As proximal resin wore, the affected teeth moved into abnormal mesial-distal relationships with teeth on opposing arches. Fortunately, current restorative materials have better wear characteristics, and this malady has been somewhat overcome. However, restorative material wear is often dissimilar to tooth wear.
On the opposite side of these statements, some restorative materials, such as numerous ceramics used in crowns and fixed prostheses, rapidly wear opposing teeth. All dentists have observed extreme opposing tooth wear caused by abrasive restorations.
Prevention: Use restorative materials with wear characteristics that are similar to enamel.
Dental carious lesions develop on the occlusal and proximal surfaces
These conditions, rampant in some geographic locations, allow teeth to drift both occlusally and proximally with resultant collapse of occlusion.
Prevention: When possible, restore affected teeth into normal occlusal relationships as soon as possible.
Wear of teeth caused by parafunction
Many patients in any typical general practice have bruxism or clenching habits. These patients have occlusal collapse, their teeth move mesially, and incisal guidance and canine rise increase (clenching) or decrease (bruxism). The result of these changes makes rehabilitation of occlusion in middle age very difficult because of extreme tooth wear.
Prevention: Observe the presence of parafunction habits early in life and conduct treatment, such as occlusal splints, to reduce the effect of the conditions.
Periodontal disease
As the periodontium decreases in support as a result of ongoing periodontal disease, the teeth become mobile. They move in every direction, often allowing occlusal collapse and creating a "long centric" from centric relation to maximum intercuspation.
Prevention: Early diagnosis and treatment of periodontal disease, orthodontic treatment if necessary, and retainers to maintain teeth in optimum locations.
Iatrogenic dentistry
Unfortunately, dentists have bad days just like people in other professions. Restorations are often left too high or too low or without adequate contact relationships. These conditions stimulate tooth movement. Dentists can inadvertently cause negative conditions related to occlusion.
Prevention: Negative clinical situations caused by a dentist that could contribute to occlusal problems are often observed. Patients should be tactfully advised of the challenges of this type of treatment provided by a previous practitioner, and with the patient's acceptance, remedial treatment should be accomplished.
Orthodontic treatment
Obviously, orthodontic treatment purposely causes tooth movement. However, when teeth are moved to the desirable functional and esthetic locations, they are unstable for a significant period of time. Most orthodontists provide stabilizing removable splints or rigid splinting to allow the mobile teeth to become stable. Even with these precautions, many completed orthodontic patients have drifting teeth, open contact areas, and ensuing occlusal problems.
Prevention: Immediately after orthodontic appliances are removed and teeth are still mobile but in their desired locations, I suggest a minor occlusal equilibration to stabilize the patient's occlusion that was previously held in the proper position by orthodontic appliances. In my opinion, the lack of occlusal stabilization after removing orthodontic appliances is one of the significant reasons for teeth moving into undesirable locations.
Tooth or restoration proximal surface wear
When teeth are extracted, it is common to see wear on the proximal surfaces of the extracted teeth. The phenomenon causing this wear, often called "mesial drift," is significant. Enamel-to-enamel contact areas that occur over time can wear on both the mesial and distal surfaces as a result of the "anterior component of force," a well-known subject in occlusion. However, abrasive or nonabrasive adjacent materials wear at different rates, allowing abnormal movement of teeth in a mesial direction.
Prevention: Nothing can be done about natural movement of the occlusion in an anterior or mesial direction when enamel is contacting enamel on the proximal surfaces. However, dentists should seek and use products for restorations on proximal surfaces that wear at a similar rate with enamel. Occlusion should be monitored and changes recorded on a routine basis to ensure that the mesial movement of teeth is in a stable position and not causing occlusal discrepancies. Diagnostic casts, especially postorthodontic treatment casts, also provide valuable information about changes in occlusion.
Diet
Many people eat highly abrasive foods that wear teeth aggressively. Consumed routinely, such foods cause occlusal changes.
Prevention: Advise patients to avoid abrasive foods or reduce their consumption of them.
Biocorrosion/abfraction or the effects of stress combined with endogenous and exogenous acids
The combined mechanisms of biocorrosion/stress (manifested as abfraction) were introduced by Grippo, Simring, and Schreiner in their landmark paper, "Abfraction, abrasion, biocorrosion, and the enigma of noncarious cervical lesions: a 20-year perspective." This concept has led to many debates internationally; however, it is not my purpose to continue the debate. The significant point is that there is obvious tooth structure missing in the Class V areas, primarily on the facial surfaces of the teeth, and to a much lesser degree on lingual surfaces, usually attributed to increased salivary flow to these areas. However, changes in occlusion are apparent in the formation of Class VI lesions, which manifest as invaginations or dimples on the occlusal and incisal surfaces. It appears that a combination of chemical and biochemical activity, termed biocorrosion, and concentrated stress initiate such tooth destruction frequently observed by dentists.
Prevention: Reduce or eliminate acid presence in the mouth from regurgitation of many causes. Reduce obvious occlusal discrepancies.
Traumatic accidents
These occur frequently and cause major changes in occlusion due to tooth avulsion, teeth pushed into supporting bone, broken facial or jaw bones, temporomandibular joint damage, and broken teeth. In my experience, a person who has had a significant accident requires several years for the occlusion to stabilize, during which time the person needs frequent evaluation and potential treatment to help the occlusion to be stable.
Prevention: There is nothing preventive that can be done after an accident. However, promotion and delivery of athletic mouthguards for those involved with body contact sports, and overall preventive education about driving and other hazardous activities, is advisable.
Skeletal growth differences – variations in skeletal growth or pathological skeletal growth
The result of large people reproducing with small people can be children with abnormal skeletal growth patterns. Such children often have peculiar occlusal patterns and subsequent abnormal occlusion and tooth movement. Additionally, many pathological skeletal developmental challenges, including cleft palate, are often difficult to treat.
Prevention: There appears to be little that can be done for prevention of these conditions. However, dentists should be observant and follow such deviant occlusal conditions as they develop. Appropriately timed orthodontic or surgical treatment can be accomplished to correct them.
Summary
Dental occlusion is a constantly changing condition. Many factors cause tooth movement, some slowly and others rapidly. Dentists should monitor, record, and evaluate occlusion routinely, instituting preventive procedures to reduce or eliminate occlusal changes, or to treat those that are treatable. That is our goal, but in my opinion the profession has a long way to go to reach that goal. Occlusion is still a relatively neglected part of dentistry and has been the traditional battleground of dentistry for decades. Almost every aspect of dental practice is concerned with occlusal function and occlusal therapy, but there has been obvious lack of practitioner concern regarding concepts, principles, and methods for evaluating and treating dysfunctional relations of the masticatory system. It is time to become more involved with this vitally important area of dentistry.
References available upon request
Gordon Christensen, DDS, MSD, PhD, is a practicing prosthodontist in Provo, Utah. He is the founder and director of Practical Clinical Courses, an international continuing-education organization initiated in 1981 for dental professionals. Dr. Christensen is a cofounder (with his wife, Dr. Rella Christensen) and CEO of CLINICIANS REPORT (formerly Clinical Research Associates).
In this monthly feature, Dr. Gordon Christensen addresses the most frequently asked questions from Dental Economics® readers. If you would like to submit a question to Dr. Christensen, please send an email to info@pccdental.com.
---
Additional information on this subject
PCC has the following hour-long DVDs available on occlusion. They can be ordered individually or in a package.
"Occlusal Splints – Predictable, Frequent Use" (Item #V3104)
"Simple TMD Therapy for Your Practice" (Item #V3106)
"Uncomplicated Occlusal Equilibration" (Item #V3105)
"Bruxism and Clenching – Prevention and Treatment" (Item #V3162)
For more information, view our website at www.pccdental.com or call PCC at (800) 223-6569.
More DE Articles
Past DE Issues