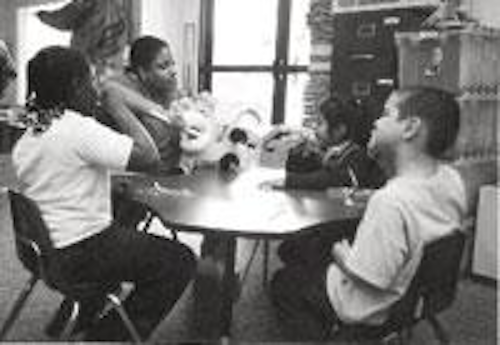 Dr. Keith Phillips
Lenape Dental Health, a nonprofit organization in West Chester, Pa., recognized a need for on-site care in long-term care facilities. Lenape began by providing comprehensive dental care at Pocopson Home, Chester County's long-term care facility, using a portable dental clinic. Dr. Jean Kountz founded Lenape in 2000 after many years of experience with older adults, and she continues to provide dental services. According to Dr. Kountz, the benefits of on-site care cannot be underestimated: "A gentleman with advanced Alzheimer's disease was not able to cooperate for dental care when he was brought to our office from his nursing home. When we began to provide services in his facility, he was much less confused and fatigued. Over the course of several appointments, we were able to provide cleanings, fluoride treatments, and all the fillings he needed." Its successful venture into portable care prompted Lenape's Board of Directors to extend services to the Southeastern Veterans Center, bringing the total to 700 residents with access to comprehensive dental care through their respective organizations.
The Lenape team admits their work is not always easy. This past September brought unusually heavy rains to Chester County, resulting in severe flooding and numerous power outages. Many of the bridges crossing historic Brandywine Creek were closed, leaving Pocopson Home on one side and the dental equipment on the other. Even though she had no electric power, clinic manager Tara Mills-Taylor and equipment manager Ron Hatton found a way across the rain-swollen creek to get the equipment in place for the clinic. In spite of all the obstacles, the team managed to see every patient scheduled for that week — a real tribute to the dedication of everyone involved.
Lenape teamed up with the Chester County Family Academy and the local dental society to initiate Scholar Seals Dental Care©, a new program at high-risk schools. Sharing equipment and staff with its long-term care program, Lenape provides examinations, radiographs, prophylaxis, fluoride treatments, sealants, and recall appointments on-site, as well as education in oral hygiene and diet. The Lenape staff has a close relationship with the school; some children even call Mrs. Mills-Taylor "Aunt Tara." Uninsured families are referred to the Chester County Maternal and Child Health Consortium (CCMCHC) to help them sign up for CHIP or Medical Assistance, and children with active caries are referred to area dentists who either accept the child's insurance or volunteer their time.
Board member Peg Huebner spearheads an annual event called "Smile, Chester County!" to bring together groups and individuals from all areas of the community who are interested in dental health. The theme for 2004 is dental care for special-needs children, and the keynote speaker will be Dr. Sheldon Bernick. An award commemorating pedodontist Miles Felix's years of service to special-needs children will be accepted by his son, Dr. Eric Felix, who continues the work.
The future holds expanding opportunities for Lenape. Board President and Family Academy Principal Lorraine Anderson works to help extend Scholar Seals Dental Care to meet requests from other high-risk schools. Lenape also supports the efforts of other dental providers in long-term care through the local dental society. In conjunction with the Chester County Domestic Violence Center and Drs. Jay Kaufman and Gloria Mejia of the University of North Carolina, Lenape is helping to determine the dental needs — and how to best meet the needs — of domestic-violence center clients.
Dr. Kountz continues to be amazed that even though Chester County is counted among the wealthiest counties in Pennsylvania, it is still a challenge to meet the needs of so many people. She agrees with Dr. Jacob Freedland, a champion of dental-access programs for more than 50 years, who said, "You don't have to go overseas to be a missionary!"
For more information on the wonderful programs offered by Lenape Dental Health, please write to 698 Patrick Henry Circle, West Chester, PA 19382. Lenape representatives may be reached by phone at (610) 793-3194 or you may contact Dr. Kountz via email at j.kountz@att.net.
Dr. Keith Phillips maintains a private practice in Winston-Salem, N.C. He is president and founder of The Giving Hand Foundation, a nonprofit organization committed to the start-up and development of free medical and dental clinics. Dr. Phillips also serves as a teaching associate at the L.D. Pankey Institute, and is a former faculty member of the University of North Carolina School of Dentistry.