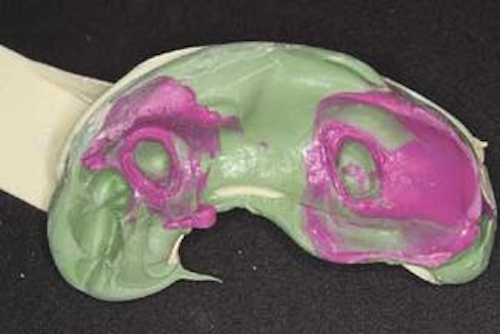 Michael DiTolla, DDS
Welcome to the first installment of my new monthly article in Dental Economics, "From the Laboratory." As the director of clinical education and research at Glidewell Laboratories, I have the opportunity to evaluate thousands of preparations, impressions, and lab prescriptions on a weekly basis; and the opportunity to follow these cases to completion. The more cases I observe, the more I realize there are some common characteristics to successful indirect restorations. Likewise, there are some common mistakes that can condemn a case to mediocrity despite the dentist's best intentions. Fortunately, there are a finite number of prep and impression mistakes, and nearly all of them can be corrected or prevented.
Dr. Gordon Christensen has estimated that more than one-third of the 60 billion dollars in services billed by dentists is for crown and bridge services. Many of the dentists attending my lectures tell me the percentage of their incomes from crown and bridge and other lab-fabricated restorations is even higher than that. Hence, it is critical that we master the ability to deliver quality fixed and removable prosthodontics that function well, are aesthetically pleasing, and will last several years or more.
Many dentists also comment about their confusion regarding the myriad of indirect restorations available, and wonder how to decide when to incorporate these restorations into their practices. This column will look at all the products available today, and offer candid opinions regarding the indications and contraindications of these materials. I also will share information from the Glidewell Research and Development department where materials are tested to verify manufacturers' claims regarding strength, wear rates, etc.
It is my hope that I can help you to invest money in your practice wisely with candid reviews of products and equipment I have had the opportunity to test. For example, over the last two years, I have had the chance to use all of the digital shade-taking systems. This is a technology whose time is now. Nevertheless, you may be surprised to know that one of the cheapest systems is the best one I tested! How often does that happen? We will go over the pros and cons of digital shade-taking along with my purchase recommendations in a future installment of this column.
I also would like this column to help improve the state of American crown and bridge. I've heard Gordon Christensen at his CRA Update courses say on many occasions that 90 percent of American crown and bridge impressions do not have the margins clearly represented around the entire prep. Obviously, that leaves a lot of room for improvement. I've included some pictures of a few of the problems we see in the lab every day. They are examples of some of the topics I will address in future installments.
Figure 1 shows two of the more common problems we see in crown and bridge. The first problem is selecting the wrong impression tray. When a bridge extends from a cuspid to a second molar, a quadrant tray is contraindicated. Besides the prepared teeth, the only teeth the technician can use for excursive movements are one central and one lateral incisor. Needless to say (or so you would think), a full-arch tray should have been used in this and all other bridge cases. Second, if you take a look at the margin of the second molar on the lingual, there is a huge void in the impression right at the margin. Sadly, this was the only impression the doctor sent to the laboratory, and the dentist will be called to take a new impression on this patient.
Figure 2 shows a single prep that did not quite adhere to the principles of atraumatic preparation. This is a doctor who likes to "pack cord with a high-speed and a diamond." By creating a 4-mm trough around the prep, you do eliminate the need for retraction cord, but at what cost? Will the gingiva grow back properly? Will the crown margins be exposed? Of course, the bigger problem is the lack of margins on the preparation. One of the reasons I prefer chamfer margins is the ability to verify them on the prep and in the impression.
We will spend several columns on perfecting preps and impressions so you can demand the best from your lab technicians. We also will look at removable protheses, the myriad of attachments available, and spend time looking at one of dentistry's most underutilized (but more profitable) procedures — the bite splint.
I want to know what restorative or lab topics you would find valuable. E-mail your questions, comments, and suggestions to me at mditolla@glidewell-lab.com. I look forward to your input!
Dr. Michael DiTolla is director of clinical research and education at Glidewell Labs in Newport Beach, Calif., where he also teaches over-the-shoulder courses on topics such as aesthetic restorative dentistry. Dr. DiTolla also teaches a two-day, live-patient, hands-on laser-training course that emphasizes diode and erbium lasers. In addition, he teaches a two-day, hands-on digital photography course emphasizing intraoral and portrait photography, and image manipulation. More information on these and other courses can be found at www.ditollaseminars.com or by calling (888) 535-1289.