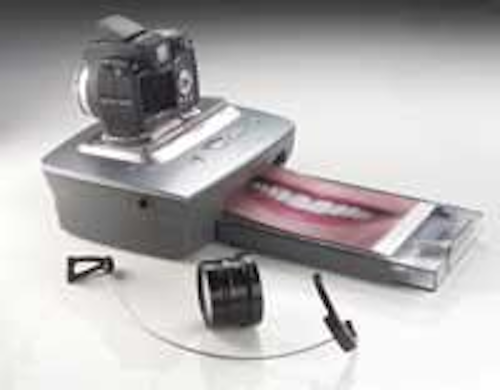 Joe Blaes, DDS
Kodak DX6490 Zoom Digital Camera by the Eastman Kodak Company. Right on the heels of the very popular DX4900 digital camera comes another easy-to-use digital camera with a printer that gives prints in 90 seconds right from the camera. The DX6490 Dental Digital Camera system includes everything you need to capture as well as print beautiful dental images. In addition, you can download those images to your computer and store them in your patient record. The Kodak Easyshare DX6490 camera is a 4 megapixel auto focus camera that has been preset for optimized dental imaging and is packed with several helpful accessories. Included is a high quality Kodak Dental Close-up Lens II to provide high-resolution images for the macro views. Use of the distance guide and close-up lens will support fast and accurate imaging. The auto focus feature means that all you have to do is push the button and the camera does all the work. A 10X optical zoom allows you to frame the exact images you want. The DX6490 has 16 MB of internal memory and a 64 MB memory card. If you want a print to share with your patient or to document treatment, simply put the camera in the Easyshare Printer Dock. Images are printed directly from the camera with just the push of a button. The Easyshare Dock also recharges the camera batteries. The camera has a large 2.2-inch LCD screen with a dental positioning grid that makes it so easy to frame images and get just the shot you need. This grid eliminates doing a lot of manipulating of your images later. The system is designed to work right out of the box and it comes with an illustrated dental users guide that provides brief, to-the-point instructions for quickly capturing and managing your images. If you are looking for an everyday camera for your office and for fun, order the Kodak DX6490 from your dental dealer today. Contact Kodak at www.kodak.com/go/dental for more information.
Venus from Heraeus Kulzer. There are many choices today for the new micro hybrid composites. Venus has several unique properties that make this a composite you should take a look at. You will immediately like the great handling of this medium viscosity composite. Venus will not slump or stick to your instruments, making sculpting of composites easier than ever. The composite material is easy to place in both anterior and posterior restorations. I find that my margins tend to disappear into the surrounding tooth shades so that I get really lifelike restorations. Finishing is easy, and the material will polish to a glass like finish. What makes Venus really different is the user's guide and CD-ROM that give you step-by-step instructions on how to create the perfect restoration. From shade selection and preparation to application and finishing, this helpful guide includes the steps for every type of restoration imaginable. Order from your dealer or visit www.hereaus-kulzer-us.com for more information.
Demetron Shade Light from SDS Kerr. If you are like me, at some time in your career, you have had to redo restorations because the shade was wrong. Now you can either blame this on the lab or take the blame yourself (where it really belongs). You know how this makes you feel (frustrated and embarrassed) and how expensive it is to your practice (all profit in a procedure is lost when you do a remake.) If we all had dental chairs that face the north when the sun is in the perfect position and no clouds or smog to filter it, the shade matching process would be a snap. Unfortunately, this is not the case for any of us, so we all struggle to get the shade right. Basically, we struggle or we spend thousands of dollars to match shades with a computer. Enter the Demetron Shade Light. This small, battery operated light provides its own perfect neutral lighting right where you need it, when you need it. Another bonus if your office has an L.E.Demetron 1 curing unit in the office is that its batteries and charger can be utilized with this unit. Get the Demetron Shade Light and get the shade right the first time, every time. Order from your dealer or visit Kerr at www.kerrdental.com
Flexichange Restorative Instruments from Dentsply Caulk — It seems to me that most instruments today are double ended. I have a problem with that because many times I like one end of an instrument and never use the other end. Usually it gets passed to me with the wrong end, so I end up being a baton twirler to get the right end. Flexichange Restorative Instruments put an end to these problems. First, they have great, ergonomically designed handles that are available in 12 colors for easy color-coding. The best part is the tips of these instruments are interchangeable, allowing you to customize your instruments with the tips of your choice. If you need to replace worn or damaged tips, this system makes that easy as well. So now you have restorative instruments designed for your clinical environment. Customize and assemble the instruments that you need and then order from your dealer or visit www.dentsply.com for more information.
Pearl update: Optima MX™ by Bien Air. You probably know I love electric handpieces! The Optima MX is a new device that allows total control of the only two electric handpieces you will ever need to do any dental procedure. This control operates like a palm pilot. It has a stylus that allows you to make with changes quickly and easily. Add to this a new micromotor that is brushless and autoclavable, and you have the best of all worlds. This outstanding motor allows speeds of as low as 100 rpm all the way up to 40,000 rpm with full torque in all speeds. The motor has a heavy-duty design with a quick disconnect coupler that has easy 360-degree rotation. Give this one a try! I think you will really like it. Order from your dealer or visit www.bien air.com for more facts.
Pearl update: ESA (Extended Straight Attachment) by Preventech. This is one of the best products in recent history for the dental hygienist! Imagine replacing the heavy nose cone of your handpiece with a plastic nose cone and prophy angle all in one that will reduce the weight by 50 percent. That's a no brainer, right? The problem: It is available only for Star Titan, Midwest Rhino, and Shorty handpieces. Now the friendly folks at Preventech have come up with a solution for all you folks who do not own those handpieces. They will give you an ESA MATE low speed handpiece when you order an economy box of ESAs. That amounts to a savings of $400.
This is a limited time offer, so order from your dealer now, or visit them at www.preventech.com for more information. Don't miss out on this deal.