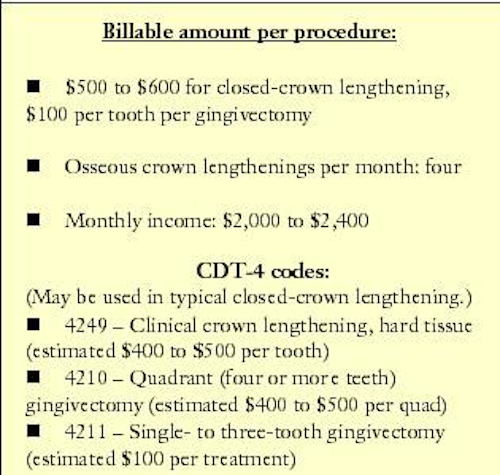 By Brendan Dwyer, DDS, FAGD
Like most dentists, I am constantly thinking of ways to improve the services I can offer my patients. Three years ago, I found a near-perfect solution to a common patient complaint.
The solution — a hard-tissue laser with multiple uses, including cutting hard tissue such as enamel and dentin, soft tissue such as gingival and endo, and even osseous tissue — allowed me to offer an alternative to traditional needle-and-drill dentistry. For the first time, I was able to offer true laser dentistry and eliminate anesthesia and drills from many of my patients' treatment plans.
"Needle-less" to say, my patients were thrilled, and their positive reactions have driven practice growth ever since.
Nevertheless, there is the issue of cost vs. return. Are these lasers really worth it? In every hard-tissue laser purchase (yes, they are expensive; and yes, they are worth it), return on investment becomes a critically important issue. How does a dentist survive after adding another lease payment to the heap of monthly bills? How does a dentist convince a spouse, office manager, or himself or herself that spending tens of thousands of dollars on a laser is a wise decision?
Here's how.
Procedure 1)— osseous crown lengthening
The laser I purchased three years ago (Waterlase®, BIOLASE Technology, Inc., San Clemente, Calif.) still is the only laser cleared by the U.S. Food and Drug Administration for cutting and shaving bone. A key component of every osseous crown lengthening (closed or exposed) is the safe, precise, and atraumatic removal of excessive bone tissue to achieve biologic width.
Most dentists view ossesous crown lengthenings as troublesome, messy procedures that include patient risks such as lengthy, painful, and unpleasant post-op recoveries. With my hard-tissue laser, the procedure is quick, easy, and, in many instances, achievable by merely inserting the tip of the hard-tissue laser beneath the sulcus and, at the proper energy settings, safely removing necessary amounts of bone with no thermal necrosis at the margin.
Rather than referring these complicated procedures to a periodontist or a specialist, the all-tissue laser allows for safe, precise removal of bone tissue. These procedures can become an integral income generator in your practice. After troughing around the prep and knowing the tissue will remain exactly where I left it, I can take impressions in a bloodless field, place the temporaries, and confidently send the patient home with a smile.
Procedure 2)— sulcular debridement
Another bread-and-butter procedure typical practices may not perform regularly is sulcular debridment. With my all-tissue laser, the procedure is easy, fast, and effective.
Using the all-tissue laser, it's simple to insert a periodontal tip into the sulcus and "paint" the diseased epithelial lining. Using the proper power settings to remove a safe amount of diseased celluar tissue ensures the process does not damage the cementum or pulp canal near the sulcus.
Better yet, when performed with an all-tissue laser, the post-op comfort level for the patient is remarkable. Nearly every patient who receives this treatment reports having left prescribed pain medication unopened, having no post-op suppuration or bleeding, and having experienced unprecedented levels of post-op comfort.
More important than making a few bucks for my practice, I've built a strong dentist-patient bond that probably will last throughout the rest of my patient's adult life.
The insurance reimbursement is nice, too.
Procedure 3)— subgingival Class V with soft-tissue involvement
Another type of procedure that is remarkably easy with an all-tissue laser is a Class V with subgingival involvement. The defects usually occur on the facial surfaces of anterior teeth, which means the dentist has to start cutting tissue and removing the defects in an important area of a patient's smile line.
The all-tissue laser allows for fast, safe, precise removal of carious lesions — and even better, with a few adjustments to the settings, any gingiva encroaching the carious lesion can be removed precisely with no blood. Within minutes, the defects have been removed, the excess gingiva trimmed away, the prep site has been laser-etched, and composite material is under the faint glow of a curing light.
I am under the faint glow of knowing I am achieving results my patients have never before experienced. After a few moments of treatment — remember, I rarely use needles, and I rarely use my high-speed drill in operative dentistry anymore — they exclaim, "You're finished?" or, "That's it?"
I nod, smile, and send them to the front desk to submit their insurance information. In reality, my practice performs dozens of these procedures per month, plus many others not previously available with traditional drill-and-fill dentistry. More surprising is the laser's effect in treatment planning. We also are saving teeth we previously would have extracted. We have more fixed prosthetic solutions and fewer removable prosthetic solutions than we had prior to owning the laser.
If you are on the edge of plunging into laser dentistry, consider purchasing a hard-tissue laser with the capability to cut soft tissue, hard tissue, and bone. Cutting these tissues is integral to completing the three bread-and-butter procedures. Then, develop your skills to quickly complete these three bread-and-butter procedures and your laser will pay itself off.
Remember, a typical lease payment is about $900 to $1,000 per month. A typical return on investment on these three procedures is $7,700 a month in added revenue, at a minimum.